It's an incredibly diverse region, and here in the UK we're lucky enough to have the Med right on our doorstep, so it's no surprise that it remains the most popular destination for British cruisers year after year. Every major cruise line sends its ships to the Mediterranean during our summer months, though the experience on offer can vary dramatically. There are certain ports that appear on every cruise line's Mediterranean itineraries, and rightly so: the likes of Venice, Barcelona and Dubrovnik are popular for a reason. But a small ship cruise opens up a whole different side to the Mediterranean, allowing you to visit the smaller ports and secluded bays that a bigger ship just can't reach.
At Mundy Cruising we specialise in ships that carry guests in the hundreds, rather than the thousands, which makes for a very different atmosphere on board: more intimate, more spacious, with a level of personalised service that has more in common with a boutique hotel than a mainstream cruise ship carrying 5,000 passengers. Even within the small ship category you have a fantastic breadth of choice in the Mediterranean, from resort-style ships offering dining choices and entertainment venues aplenty, to tiny 100-guest vessels that are more like travelling on your own private yacht.
The key embarkation and disembarkation ports in the Western Mediterranean include Lisbon, Barcelona, Nice, Monte Carlo and Civitavecchia (an hour or so from Rome), and you can expect itineraries taking in the highlights of the Spanish Costas, the Balearic Islands, the French Riviera and the Amalfi Coast, as well as voyages that skirt the coast of North Africa. Later in the summer and through to the autumn you will also find cruises heading for the year-round sun of Madeira and the Canary Islands, and sometimes onwards to West Africa.
Meanwhile in the Eastern Mediterranean you have the blissful beaches and archaeological treasures of Greece and Turkey, the medieval towns and scattered islands of Croatia and the Adriatic, and the myriad cultures and faiths of the Holy Land. Key turnaround ports in the Eastern Mediterranean include Piraeus (for Athens), Venice, Istanbul and Haifa.
And don't forget the many other islands scattered across the 'Middle Sea', from Corsica and Sardinia to Sicily, Malta and Cyprus and look out for longer sailings that travel all the way from west to east (or vice versa), and sometimes beyond.
Peak season in the Med naturally coincides with the hottest summer months, though we prefer to visit in May or September, when the crowds are thinner and temperatures are more comfortable. Certain itineraries, such as those visiting the Greek Islands, tend to get booked up early, so it pays to plan ahead. Having said that, there are often bargains to be had in the Med if you're not too fussed about where you go, particularly earlier or later in the season.
To assist you in choosing the right ship, here is our guide to the best small ship cruise lines visiting the Mediterranean:
Windstar's fleet of six small ships - three with sails, three without - are a lovely size, ranging from the 148-guest Wind Star to the 342-guest Wind Surf. The atmosphere on board is laid-back and friendly, with no dressing up for dinner, and entertainment is low key. Windstar have a great selection of Mediterranean itineraries focusing on specific areas, including the Greek islands, the Amalfi Coast and Croatia. Fares offer great value, though they are not fully inclusive - drinks and gratuities are extra.
Silversea are a natural choice for a Mediterranean small ship cruise, with their Italian roots and their 'classic' fleet ranging in size from the 274-guest Silver Wind to the new 728-guest Silver Nova and Silver Ray. Silversea pioneered the luxury all-inclusive concept, with all your meals, alcoholic drinks and even butler service included in the fare, and their extensive Mediterranean programme includes lots of tiny ports that other lines rarely visit.
Seabourn are a great option if you're looking for a longer voyage, offering a great choice of extended itineraries that showcase the amazing diversity of the Mediterranean. Their ships are spacious and contemporary, and you can choose between the 458-guest 'triplets' - Odyssey, Quest and Sojourn - or the newer, and slightly larger, Encore and Ovation, both carrying a maximum of 604 guests. Fares are all-inclusive, and there are often great savings to be had if you're flexible on your dates and itinerary.
Regent are one of the most inclusive of all the all-inclusive lines; as well as your meals, drinks, gratuities and taxes, even laundry, your fare also includes your flights, overseas transfers and a selection of shore excursions in every port. These included excursions are a particular boon if you're visiting archaeological sites, museums or galleries where you need a guide to really understand what you're seeing, and they're great if you're visiting a port where the points of interest are some distance away, such as Livorno (for Florence and Pisa). Regent also offer excursions themed around food and drink, wellness and off-the-beaten track 'Go Local' experiences. Ships range in size from 490 to 750 guests, and the accommodation is particularly spacious.
The SeaDream experience is everything we love about small ship cruising, with a laid-back, al fresco style on board and some fantastic Mediterranean itineraries visiting charming little ports, exclusive yacht harbours, sleepy islands and idyllic beaches. Their twin yachts each accommodate just 112 lucky guests, with all meals, drinks and gratuities included in the fare. There is also a watersports marina at the back of the ship, with toys including kayaks, paddle boards, jetskis and Laser sailboats.
French cruise line Ponant have recently undergone significant expansion, with the addition of six sparkling new 184-guest 'Explorer class' yachts. This is in addition to their existing fleet of four 264-guest ships and the petite 64-guest sailing ship Le Ponant, so you have a huge choice of itineraries. On board you can expect chic, contemporary design and the best of French hospitality, plus a marina at the back of the ship for watersports and zodiac excursions. As you might expect, Ponant's Mediterranean programme includes some appealing voyages to Corsica and the south of France, along with cruises focusing on Croatia, the Greek islands and Italy. Look out too for occasional voyages in the Black Sea and even as far as the Red Sea via Lebanon and Israel.
Hapag-Lloyd cater principally to the German-speaking market, but their stunning 500-guest MS Europa 2 operates bilingual cruises in German and English, and has been consistently rated the best cruise ship in the world by the Berlitz Guide. The ship's Nordic-inspired interiors are flooded with natural light, there are seven different restaurants to choose from and there is a real emphasis on wellness, with a huge spa. Fares can be high, and do not include alcoholic drinks or gratuities, but a shipboard credit helps to offset your bill. Options in the Mediterranean include cruises that start or end in Mallorca, an unusual routing that allows you to tack some beach time onto your cruise, and Hapag also have some lovely voyages down to the Canary Islands.
Oceania's port-intensive itineraries are perfect for those who really like to make the most of their time ashore and spend plenty of time exploring, with lots of overnight calls and late evening departures. The style on board is relaxed and unfussy, and Oceania are particularly noted for the quality of their food. The smaller 'R-class' ships, carrying 684 guests, are a lovely size, while the larger 'O-class' and newest 'Allura class' ships can accommodate 1,250 and 1200 guests respectively, ideal those looking for more facilities on board. Standard fares do not include alcoholic drinks or gratuities, but these are often included in their regular promotions.
Scenic's discovery yachts, Scenic Eclipse I and II, cater to just 228 guests and usually operate expedition voyages in some of the most remote locations on the planet, but these super sleek vessels are just as at home in the warm waters of the Mediterranean, when they visit briefly early or late in the season, as they are in the freezing polar oceans. Offering an outstanding level of luxury with all-balcony accommodation and a vast choice of dinning venues for such a small ship their all-inclusive pricing also includes shore excursions. Although if you want to try out one of the ships twin helicopters a supplement will apply!
Having followed a similar path as sister brand Scenic, Emerald have expanded from their popular river cruise and touring programme and introduced a small ship cruise experience. Their 100 guest yachts, Emerald Azzura and Sakara, look fantastic and offer a laid back and informal atmosphere on board. A single main restaurant (plus pool café) and smaller step out style balconies for the majority of balcony grade stateroom differentiate it from the Scenic ships as this is targeted at the premium market. Fares are not fully inclusive, with drinks outside of mealtimes being extra, but your flights, transfers, meals, wine and beer with meals, WiFi, gratuities and even excursions in key ports are included. An excess of Mediterranean itineraries offer focused country and region specific sailing as well as voyages that enjoy a collection of the area's best highlights.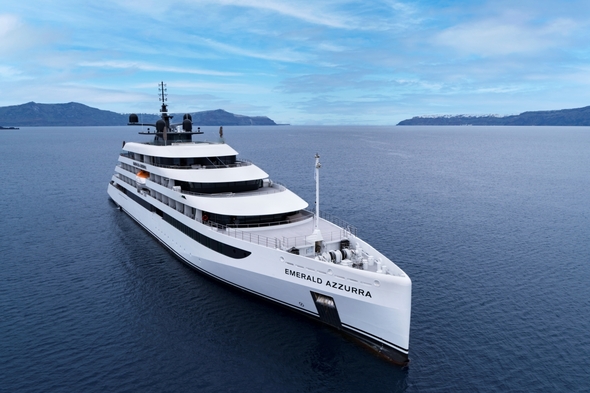 There is something incredibly romantic about cruising the Greek islands or the Amalfi Coast under the billowing sails of a traditional tall ship, and this is what Star Clippers are all about. In the Mediterranean you can choose between the 227-guest Royal Clipper, and the 170-guest, four-masted Star Flyer. Itineraries on offer include Riviera round-trips from Cannes, in-depth explorations of Croatia and Montenegro, and Greek island cruises exploring the Cyclades and Sporades. The style on board is relaxed and informal, offering a 'premium' rather than a 'luxury' experience, and the very reasonable fares are on a full board basis, with drinks at an additional cost.