This is thanks to our unwavering commitment to our guests, placing our customers at the heart of everything we do, from the booking experience, to our website, and even what motivates our team. Below are some of the most recent awards, accolades and accreditations that we've received.
---
Company Awards, Accolades & Accreditations
Investors in People Accreditation
Investors in People is the international standard for people management, defining what it takes to lead, support and manage effectively. It enables organisations to benchmark against the best in the business on an international scale and Mundy Cruising is very proud to have received an Accreditation.
Aspire Awards
Luxury Cruise Agent of the Year 2023 - Winner
Independent Agency of the Year 2019 - Shortlisted
Travel Weekly Agent Achievement Awards
Cruise Agency of the Year (Small Agency) 2023 - Winner
Small Agency Website of the Year 2018 - Shortlisted
Cruise Agency of the Year (Small Agency) 2018 - Shortlisted
Wave Awards
Best Specialist Cruise Agent 2022 - Winner
Best Specialist Cruise Agent 2020 - Shortlisted
TTG Luxury Travel Awards
Luxury Cruise Agency of the Year 2023 - Shortlist
Luxury Cruise Agency of the Year 2022 - Winner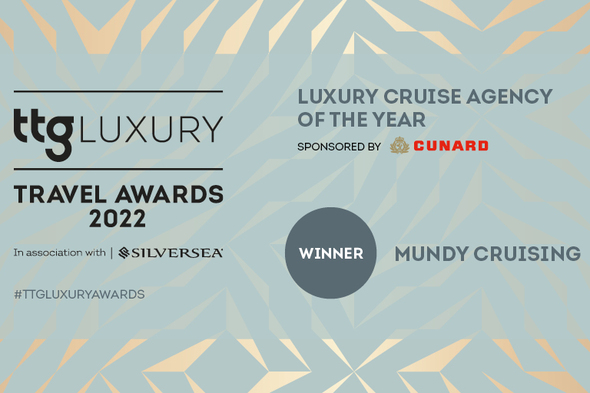 Cruise Trade News
Best Companies to Work for in Cruise 2020 - Winner
TTG Top 50 Travel Agencies
Top River Cruise Agency 2022 - Shortlisted
Top Ocean Cruise Agency 2021 - Shortlisted
Top River Cruise Agency 2021 - Shortlisted
Top River Cruise Agency 2020 - Shortlisted
Cruise Awards by Cruise Adviser
Best Luxury Agent 2022 - Shortlisted
CLIA River Cruise Excellence Awards
CLIA Innovation Award 2018 - Shortlisted
Crystal Cruises
Platinum Agency Award - 2019, 2018, 2017, 2016, 2015
---
Individual Awards, Accolades & Accreditations
Cruise Line International Association (CLIA) - Master Accreditation
Sharon Trigg
Hayley Meades
Catherine Ellis
Helen Fensom
Janet Welsh
Cruise Trade News - Cruise Stars Awards
Alexander Loizou - Cruise Agent Marketing Rising Star 2016
Travel Weekly Agent Acheivement Awards
Sharon Trigg - Winner - CLIA Cruise Master Award 2021
Silversea - Advocates Award
Hayley Meades - November 2019
Cathy Ellis - September 2019
Alexander Loizou - September 2019
Helen Fensom - January 2019 & April 2023
Sharon Trigg - March 2018 & June 2018
Regent Seven Seas Cruises - Unrivalled Performer
Sharon Trigg - December 2019
Tauck Academy Certified Agent
Hayley Meades
Cathy Ellis
Cunard Academy