When thinking about an all-inclusive luxury cruise, you can set those thoughts aside. Instead, expect beautifully presented dining in a variety of restaurants, drinks made to a mixologist's specification with premium spirits, an excellent choice of pouring wines, a house Champagne, and of course no tipping expected, nor indeed accepted in some instances. The whole idea is that you have paid your cruise fare up front, and once on board the hospitality team can simply focus on giving you the very best experience, with attentive service and great food.
Make sure you check out in advance exactly what is included to avoid any disappointment or upset later on. Sometimes you will find there is a basic drinks package on offer, but if you have discerning tastes, it might not suit you. Some cruise lines will include no shore excursions or tours on land, others a straightforward one per day, or, in the case of Regent for example, a huge number of options. No cruise line includes spa treatments, but some will give access to the sauna and steam room free of charge. Likewise in the gym, classes may be included, but private training is probably not.
Occasionally there will be the opportunity to spend more - for a fine wine for example, a private dining experience, or an enhanced tour with small numbers or a very unusual and costly experience: look out for these, as they often represent huge value.
So which cruise lines are we talking about exactly? Here is our guide to the best of the best when it comes to all-inclusive cruising:
The most inclusive of all-inclusives comes from Regent Seven Seas Cruises. Dining in a choice of venues, drinks, gratuities... all these you might expect. But they also present a huge array of included shore excursions along different themes: Go Local, Wellness, Gourmet Explorer plus their new 'Eco-Connect' and 'Behind the Design' tours. This is particularly appealing when cruising in areas where you're likely to want to take a lot of organised excursions - Northern Europe, for example, or Alaska. Regent also include flights, sometimes with upgrades for those booking higher categories of accommodation. Certain categories also command an included overnight stay ashore, and look out for included pre- or post-cruise land programmes on selected sailings.
Now Crystal are firmly back in the ultra-luxury cruise arena, following the company's purchase by A & K travel group, it is only right that they should appear in this list. On board Crystal you will enjoy a wide choice of dining options, along with an exceptional quality drinks menu and pouring wines. To ensure everyone on board has the opportunity to enjoy the delights of Umi Uma by Nobu Matsuhisa, or the delicious new Osteria d'Ovidio, complimentary visits to these speciality restaurants are limited to one per cruise (voyages up to 11 days). If you can get a reservation for a second visit on board, a nominal fee will be charged. You can also enjoy 24-hour room service, butler service and extensive fitness facilities including a full-sized paddle tennis/pickleball court, plus a range of entertainment options, with some world-class performances.
Seabourn's spacious resort-style ships offer a fantastic all-inclusive experience, featuring the Grill by Thomas Keller, overseen by the eponymous three-Michelin-starred chef. You might want to consider paying extra for a very special day at The Retreat, at the top of the ship, where you can enjoy the delights of a private cabana for a tranquil sunshine experience looked after by your own concierge. Included in the fare is the attractive Seabourn Conversations programme, led by an impressive line-up of luminaries with wide-ranging interests and expertise, bringing you stimulating lectures and private conversations, plus an evening entertainment collaboration with Sir Tim Rice.
Silversea was the pioneer of all-inclusive at sea, with meals, drinks and gratuities included in the fare. Since those early days the inclusive offering has been further enhanced with a wide range of dining options, particularly extensive on the newer ships such as Silver Moon, Silver Dawn and Silver Nova, who also have the culinary S.A.L.T. Programme on board. In addition you can enjoy one included shore excursion per port, flights, overseas transfers and UK return chauffeur service between your home and the airport. Butler service is included for every single suite, to further enhance the shipboard experience. And on board the Silversea Expeditions ships, experience full immersion in off-the-beaten-track destinations with included exploration by zodiac or kayak.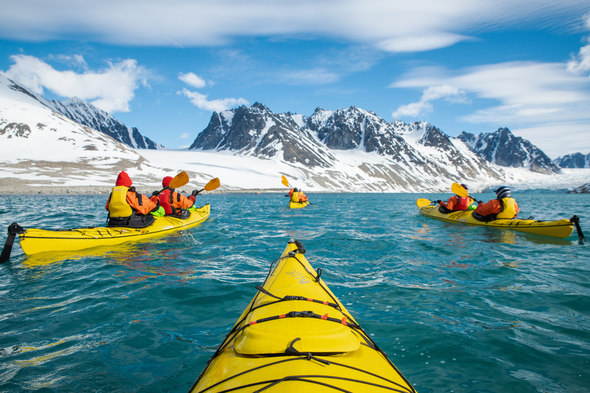 SeaDream brings the ultimate in small ship exclusive travel - as they say, 'It's Yachting not Cruising'. Guests enjoy the relaxed camaraderie at the Top of the Yacht bar, the magical al fresco dining, and the excitement of watersports off the marina at the back of the ship - all with nothing more to pay. A memorable highlight in the Caribbean is the extraordinary beach barbecue lunch towards the end of the cruise, with Champagne and caviar in the surf. A small selection of shore excursions is on offer at an additional charge.
It's also worth considering other cruise lines with 'semi all-inclusive' offerings, which could provide everything that you need. Viking's ocean ships, like their river vessels, include wine and beer with lunch and dinner, a shore excursion in most ports of call, and gratuities. They highlight their policy of 'no nickel and diming': so with Viking, what you see is what you get, and frills are extra!