The art and architecture is extraordinary, and history buffs will enjoy the tales at every port of call. The clear air of the Baltic, the light-filled nights in the height of the summer, the glorious lush forests and the long sandy beaches distinguish the area from all others, with picturesque islands evoking childhood memories of Moomins! Add in great food and drink, wonderful opportunities for hiking and cycling, and magical music too, and you have the perfect multi-faceted destination.
To really make the most of a trip to the Baltic, we recommend cruising on a small ship, which for us means no more than 1,000 guests. This will allow you to visit some of the smaller ports that the big ships can't reach, and you'll enjoy extra space and enhanced service on board. For those who prefer the intimacy of a ship with fewer than 500 guests, there are some key Baltic bonuses, not least the possibility (not guaranteed) of being moored in the centre of St Petersburg at the English Embankment or Schmidta Embankment, which obviously means you are closer to the action, and will need less travelling time for city excursions.
Here is our guide to the best small ship cruise lines visiting the Baltic:
Windstar's fleet of small ships, three with sails and three without, offer a laid-back and unpretentious vibe, perfect for easy going travellers. In 2022 and 2023 look out for an extended Baltic programme featuring 7- and 10-day itineraries on the freshly 'stretched' all-suite Star Legend with 312 guests.
Francophiles and lovers of a chic and stylish joie de vivre will find Ponant's newest 184-passenger Explorer class ships hard to resist next summer, with Le Champlain visiting the Baltic in 2022. Look out for Ponant's prestigious partners on board - on certain cruises there is an outstanding music programme, or other cultural enhancements with Christies, for example. Fares include lavish French cuisine, and drinks of course, and your light and airy accommodation is appropriately Scandi-style, perfect for a Baltic cruise.
In 2022 the 604-guest Seabourn Ovation will operate leisurely 7-day Baltic cruises, including the all-important three days in St Petersburg. This comfortable and elegant ship, with its spacious accommodation and all-inclusive pricing, is an excellent choice for a small ship Baltic cruise, with lovely indoor and outdoor space. Baltic itineraries can be combined with Norwegian voyages to create a longer cruise.
The 500-guest Europa 2 is the highest rated ship in the world according to the Berlitz Guide to Cruising and Cruise Ships. Her 12-day bilingual Baltic cruise departing on 17th May 2022 is a wonderful opportunity to test out whether you agree, and to sample the light-filled Nordic elegance and contemporary relaxed style of this lovely ship. Alternatively, if you are happy in a more formal, German-speaking environment, there are also plenty of options on the 400-guest Europa.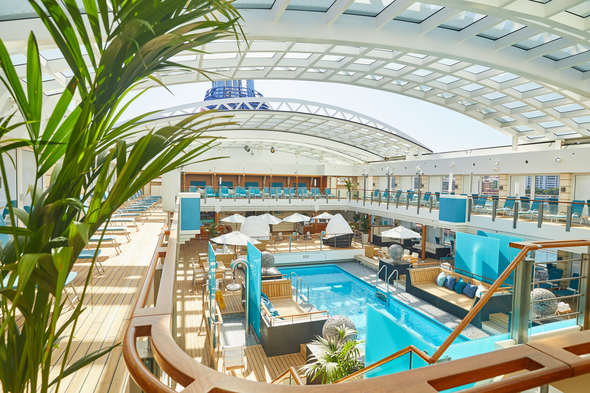 In 2022 Silversea's new 596-guest ship Silver Moon offers a selection of Baltic options, with plenty of time to explore ashore before returning to your stylish home from home for relaxed elegance and plenty of dining options. Silversea's inclusive pricing covers your drinks and gratuities, as well as dining in a range of venues.
For food lovers who enjoy unpretentious cruising, Oceania's 684-guest Sirena cruises the Baltic on a 14-night voyage departing 17th September 2022, sailing round-trip from Portsmouth and visiting some more unusual ports of call away from the crowds.
Regent's sparkling new 750-guest Seven Seas Splendor departs Southampton on 2nd June 2022 on an intriguing 12-night Baltic itinerary. Regent's all-inclusive shore excursion programme is perfect for a Baltic cruise, with so many treasures to explore, as well as trips out to the country, gastronomic delights, bicycle tours, and Regent's keynote 'local' options. If the date doesn't suit, there are plenty more to choose from.
Travel on one of Viking's 930-guest vessels through summer 2022 on 10-night itineraries to Russia and the Baltic Sea, cruising between Copenhagen and Stockholm, or on 14-night itineraries which include both the Baltic and the beauties of southern Norway and the fjords, a nicely balanced and unusual itinerary. Viking's many airy Nordic style ships are interchangeable, and all offer value pricing which includes a shore excursion in most ports, gratuities and wine, beer and soft drinks with lunch and dinner.