In our opinion, nothing could be nicer than to take a small ship cruise from the UK, although of course 'small' is a relative term. Whether you want to avoid the crowds and queues of the megaships while still enjoying excellent facilities and entertainment on a resort-style ship, or you prefer the intimacy of a tiny but spacious vessel such as the 50-guest Hebridean Princess, there is going to be an appealing voyage for you in 2021, or perhaps in 2022 if you would prefer to travel next year.
Options include longer cruises and itineraries visiting the Baltic, Norway, Iceland and even Greenland, or southwards to France and Spain. For many, a British Isles cruise will have a magic all of its own. Here is our pick of the best small ships cruising from UK ports:
This little gem of a ship, known to many as the Queen's favourite (she has chartered it twice for family celebrations), is the perfect choice if you want to explore the beauties of Scotland's Western Isles and more. Just 50 fortunate guests can travel in cosseted country house style, with plenty of tables for two at dinner, and tiny group tours ashore including walking and cycling, visiting private stately homes, and enjoying a wee dram at a remote distillery. Inclusive fares, whilst high, cover every detail of your trip from the moment you embark, and you will travel in unpretentious style as truly welcome guests.
Newly created Crystal Expedition Cruises, part of the award-wining Crystal group, brings the stunning Crystal Endeavor to UK waters in 2022. With just 200 guests, this is the most spacious cruise ship in the world. Her itinerary takes you from Greenwich to Edinburgh, and she will explore the Scilly Isles, Wales, Ireland and Scotland as well as the Shetlands and Orkneys. Grab this rare chance to experience such an extraordinary ship close to home.
Silversea's elegant Silver Spirit, with a guest capacity of 608, will operate two 12-day itineraries from Southampton on 3rd September and 15th September 2021, giving you the choice of a round Britain cruise or a more southerly exploration in the English Channel. Why not combine them for a leisurely 24 days close to home, for a reminder of why travellers from around the world flock to our beautiful shores every year.
Star Legend, one of Windstar's three newly stretched motor yachts, with a new capacity of just 312, will set sail on a London round-trip around the British Isles on 4th September 2021, with a wonderful send-off at Tower Bridge. Inquisitive travellers will love Windstar's laid-back style, combining beautifully spacious accommodation with relaxed and unpretentious open seating dining and a low key friendly vibe, perfectly suited to its unusual port-intensive itineraries.
Seabourn Ovation's 14-day roundtrip from Dover departing 17th September 2022 takes 604 guests on a magical exploration of the British Isles. Along the way you will visit castles, prehistoric fortresses, medieval churches and abbeys, and stately homes, all alongside extraordinary natural beauty and cosmopolitan cities.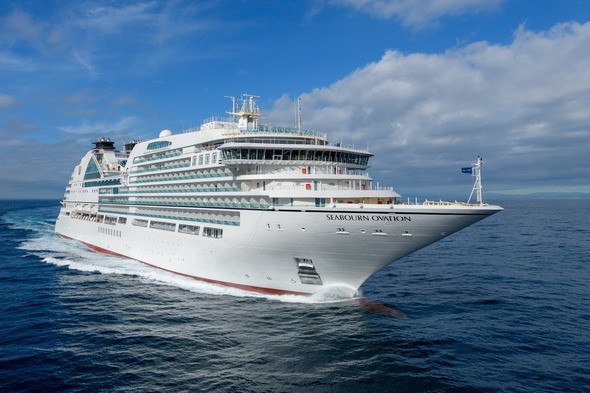 Oceania's pretty little 684-guest Sirena has lots of ex UK itineraries to choose from in early and late summer 2022. If you enjoy the unpretentious style and excellent dining options on the Oceania ships, you have so many options with various 10- and 12-day cruises, which can be combined to create 20- and 22-day explorations. Tour the British Isles or try south, east, north or west: you are spoilt for choice on this mouthwatering range of Southampton round-trips.
Regent's magnificent new ship, the 750-guest Seven Seas Splendor, joined the fleet in February 2020. Her spacious accommodation, huge range of dining options, beautiful observation lounge and inviting deck areas are perfect if you wish to explore from the UK in style, as she resumes service in September 2021. And remember, on Regent all your shore excursions are included in the fare.
The elegant 848-guest Crystal Symphony returns to the UK in summer 2022. Widely acclaimed as the 'World's Best', this stylish vessel is loved by her guests for her spacious lounges and public areas, her flexible dining options, and her outstanding programme of activities on board. Choose a short 8-night round trip from Dover, or why not combine a series of northern cruises to create a comprehensive 43-night exploration of glorious scenery, magical cities and fascinating prehistory.
Saga's new boutique style vessels, Spirit of Discovery and Spirit of Adventure, have been purpose-built for the UK market, each carrying 999 guests. Cruising year round from the UK, these ships offer a range of itinerary durations and destinations, enabling you to travel the world, or indeed closer to home, without having to negotiate any complicated arrangements. Indeed, Saga will even send a chauffeur-driven car to collect you and take you to the port, and travel insurance is included in your fare. There are great rates for solo travellers too, and every single guest on board enjoys their own balcony.
Debuting the world's largest square-rigged sailing vessel, the Golden Horizon, in July 2021, brand new cruise line Tradewind Voyages has designed an inaugural season of ex UK cruises exploring the UK and Scandinavia. A highlight is the 4th August 2021 English South Coast and Islands voyage, a 10-night sailing that includes time to soak up the unique atmosphere of Cowes Week. This maritime-themed itinerary includes an overnight stay in Cowes, with plenty of time to enjoy the regatta and explore the beautiful Isle of Wight, plus calls at the historic harbours of England's south coast, ample opportunities for fish and chips, and time on both Jersey and Guernsey.