In our opinion, nothing could be nicer than to take a small ship cruise from the UK, although of course 'small' is a relative term. Whether you want to avoid the crowds and queues of the megaships while still enjoying excellent facilities and entertainment on a resort-style ship, or you prefer the intimacy of a tiny but spacious vessel such as the 50-guest Hebridean Princess, there is going to be an appealing voyage for you.
Options include longer cruises and itineraries visiting the Baltic, Norway, Iceland and even Greenland, or southwards to France and Spain. For many, a British Isles cruise will have a magic all of its own. Here is our pick of the best small ships cruising from UK ports:
This little gem of a ship, known to many as a favourite of Her Late Majesty Queen Elizabeth II (she chartered it twice for family celebrations), is the perfect choice if you want to explore the beauties of Scotland's Western Isles and more. Just 50 fortunate guests can travel in cosseted country house style, with plenty of tables for two at dinner, and tiny group tours ashore including walking and cycling, visiting private stately homes, and enjoying a wee dram at a remote distillery. Inclusive fares, whilst high, cover every detail of your trip from the moment you embark, and you will travel in unpretentious style as truly welcome guests.
Also of interest to many will be Lord of the Highlands, a recent addition to the Hebridean Island Cruises fleet and infused with the same relaxed house party atmosphere as the Hebridean Princess. Operating along the intricate waters of the Caledonian Canal, with the elegant appeal of a vintage Pullman carriage, it caters to just 40 guest and is perfectly in keeping with the line's unmistakably Scottish heritage.
In June 2023, the ever-popular 388-guest Silver Shadow sets sail on a not-to-be-missed round-trip from Southampton exploring the Norwegian Fjords, circumnavigating Iceland and travelling the Scottish and Irish coasts on an amazing 29-night sailing of discovery.
In 2024, two spring sailings depart on 6th April and 20th April on board brand new expedition vessel Silver Endeavour, traveling between London and Edinburgh exploring the dramatic Scottish Islands including Iona, Skye, St Kilda and more. Using the ships Zodiacs, discover a haven for birds including Atlantic puffins, razorbills, common guillemots and northern fulmars as well as seals and basking sharks. Then on 14th May Silver Dawn, the newest classic Silversea vessel, featuring incredibly popular Sea And Land Taste (S.A.L.T.) culinary programme of excursions and venues, enjoys a more sedate sailing around the British Isles from Southampton.
Ponant's sleek 184-guest Explorer class yachts bring a touch of French flair to the coastlines of Scotland, Wales and Ireland in 2023. you can enjoy an 8-night voyage on 3rd May from London to Glasgow on Le Bellot, visiting the charming towns of Cowes, Penzance and Fishguard, as well as Liverpool, Dublin and Belfast. Then on 5th May Le Dumont d'Urville teams up with Smithsonian Journeys on an 8-night voyage between London and Glasgow exploring the rich history and culture on both sides of the Irish Sea.
On 19th June 2023 Le Champlain, sets forth on one of a series of sailings between Glasgow and Rosyth (Edinburgh) visiting the magnificent Scottish archipelagos of Shetland, Orkney and the Hebrides, lands of magic and legends, with stunning scenery and amazing wildlife.
2024 sees the London to Glasgow sailing repeated and on the 18th May a brand new itinerary operated on the slighly larger 264-guest Le Boreal explores Shetland, Orkney, the Hebrides and the wild and spectacular Faroe Islands on a Glasgow round trip journey.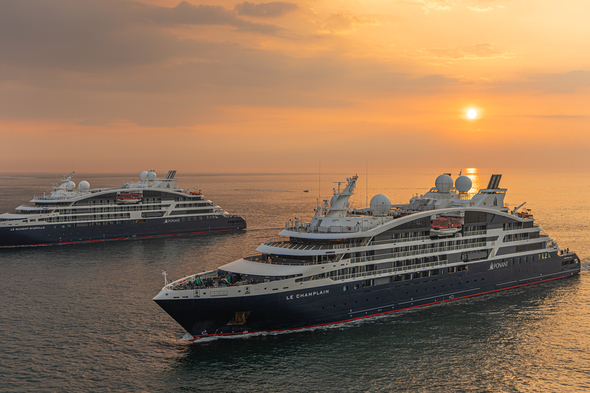 Seabourn Ovation departs UK shores heading to Bruges then travels south to the shores of France including calls to Saint-Malo and Bilbao on the 23rd April. This is followed by a genteel UK round-trip on 5th May calling both departing and returning to Dover. A similar 14-night 10th September round Britain voyage again focuses on our own nation's highlights with calls in Scotland, Wales, Northern Ireland, England and Ireland.
In 2024 it's the turn of the lovely 450-guest Seabourn Sojourn to delight with two excellent sailings from Dover. The first sailing on 27th July is a 14 night round trip to circumnavigate Iceland, the second on 10th August is a breathtaking voyage to the North Cape, the northernmost point of mainland Europe, and the tranquil Norwegian Fjords.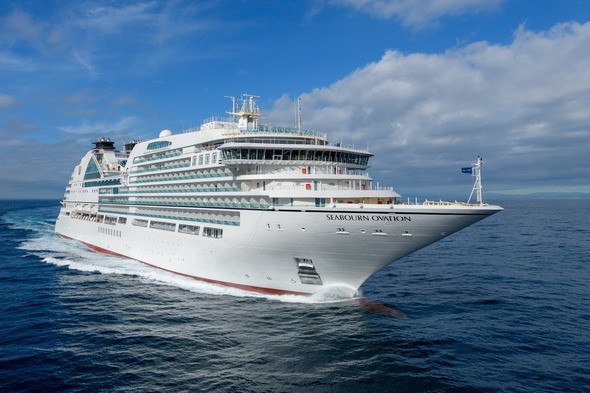 In 2023 Oceania have a choice of vessels and itineraries operating from the UK, with a notable sailing on the 1238-guest Riviera. On this unusual itinerary, sail southwards out of Southampton to explore the perimeter of the Bay of Biscay as you visit France and Spain departing 1st June 2023 on a 10 night itinerary. Highlights include two magnificent days exploring around Bordeaux, and a late evening to enjoy the amazing food in Bilbao. A similar 12 night sailing operates in 2024 on Marina departing on 10th September, calling to Bruges and enjoying the same overnight in Bordeaux and late night in Bilbao.
The brand new 1200-guest Vista also explores close to home on a single Southampton round-trip as part of her inaugural 2023 season, calling at Edinburgh, Glasgow, Liverpool, Belfast, Dublin and more.
Regent's magnificent new ship, the 750-guest Seven Seas Splendor, joined the fleet in February 2020. Her spacious accommodation, huge range of dining options, beautiful observation lounge and inviting deck areas are perfect if you wish to explore, with options to travel the Atlantic Coasts of France and Spain in May 2023, or UK and Irish shores in June 2023. In 2024 Splendor offers an appealing little hop across the channel departing 12th August exploring beautiful Bruges, the Normandy beaches, Honfleur, Rouen and even Paris, not to mention the spectacular scenery of Brittany from Cherbourg.
Additionally, the splendid Seven Seas Voyager will be sailing a round-Britain route in August 2023. And remember, on Regent all your shore excursions are included in the fare.
Launching in Jul 2023, we expect Explora Journeys to quickly carve out a slice of the luxury cruise market with a fleet of resort-style vessels offering spacious accommodation, a fantastic range of dining and plenty of facilities. The inaugural season of the 922-guest Explora I includes a 9-night 24th August 2023 Southampton to Glasgow voyage with an overnight call in Edinburgh, along with time in Newcastle and Invergordon, Stornoway, Oban and Liverpool.
The magnificent 8 guest luxury barge Magna Carta sails serenely along the River Thames between Hampton Court and Henley-on-Thames. You will get the chance to explore your own country as a tourist, visiting picturesque riverside towns, pretty villages and numerous royal palaces.