In our opinion, nothing could be nicer than to take a small ship cruise from the UK, although of course 'small' is a relative term. Whether you want to avoid the crowds and queues of the megaships while still enjoying excellent facilities and entertainment on a resort-style ship, or you prefer the intimacy of a tiny but spacious vessel such as the 50-guest Hebridean Princess, there is going to be an appealing voyage for you.
Options include longer cruises and itineraries visiting the Baltic, Norway, Iceland and even Greenland, or southwards to France and Spain. For many, a British Isles cruise will have a magic all of its own. Here is our pick of the best small ships cruising from UK ports:
This little gem of a ship, known to many as the Queen's favourite (she has chartered it twice for family celebrations), is the perfect choice if you want to explore the beauties of Scotland's Western Isles and more. Just 50 fortunate guests can travel in cosseted country house style, with plenty of tables for two at dinner, and tiny group tours ashore including walking and cycling, visiting private stately homes, and enjoying a wee dram at a remote distillery. Inclusive fares, whilst high, cover every detail of your trip from the moment you embark, and you will travel in unpretentious style as truly welcome guests.
Silversea's newest ship, the 596-guest Silver Moon, sails round-trip from Southampton in September 2022 on a 13-night exploration of the Norwegian Fjords. Silver Moon features a new dining concept, S.A.L.T. (Sea And Land taste), showcasing local flavours from each destination with special restaurant menus, cookery classes and shore excursions. Highlights of this cruise include the charming Hanseatic wharf of Bergen, the dramatic Geirangerfjord and the picturesque little village of Flåm.
In June 2023, the ever-popular 388-guest Silver Shadow embarks on a not-to-be-missed round-trip Southampton voyage exploring the Norwegian Fjords, circumnavigating Iceland and travelling the Scottish and Irish coasts on a particularly interesting 29-night sailing.
Ponant's sleek 184-guest Explorer class yachts bring a touch of French flair to the coastlines of Scotland, Wales and Ireland in 2022, starting with a short 6-night round-trip voyage from Glasgow on Le Dumont d'Urville, departing on 17th June. Marvel at the iconic Eilean Donan castle and Iona's famous Abbey before crossing the Irish Sea to explore Belfast and Dublin. Sister ship Le Champlain also offers two sailings between Edinburgh and Glasgow in July and August 2022, sailing north to the fascinating Shetland and Orkney islands.
Looking ahead to 2023, you can enjoy an 8-night voyage on 3rd May from London to Glasgow on Le Bellot, visiting the charming towns of Cowes, Penzance and Fishguard, as well as Liverpool, Dublin and Belfast. Then on 5th May and Le Dumont d'Urville teams up with Smithsonian Journeys on an 8-night voyage between London and Glasgow exploring the rich history and culture on both sides of the Irish Sea.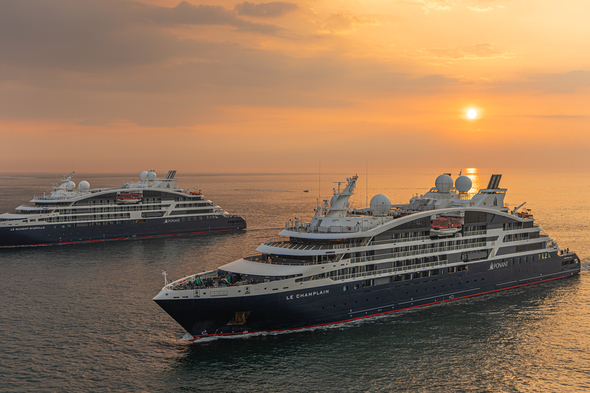 Seabourn Ovation's 14-day roundtrip from Dover departing 17th September 2022 takes 604 guests on a magical exploration of the British Isles. Along the way you will visit castles, prehistoric fortresses, medieval churches and abbeys, and stately homes, all alongside extraordinary natural beauty and cosmopolitan cities.
In 2023, Ovation returns to UK shores with three fantastic voyages. Departing 23rd April, the first is the 10-night round-trip voyage from Tilbury - 'Land Of Fjords & Fairytales' including Oslo, Gothenburg and Copenhagen, and a transit of the Kiel Canal. In May a 21-night Baltic voyage includes two separate overnight calls in St Petersburg as well as visits to Helsinki, Stockholm, Tallinn and more. Finally, a 14-night 10th September round Britain voyage focuses on our own nation's highlights with calls in Scotland, Wales, Northern Ireland, England and Ireland.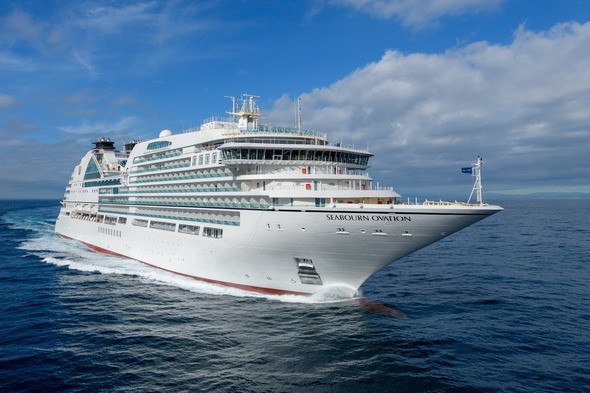 Oceania's pretty little 684-guest Sirena has lots of ex UK itineraries to choose from in early and late summer 2022. If you enjoy the unpretentious style and excellent dining options on the Oceania ships, you have so many options with various 10- and 12-day cruises, which can be combined to create 20- and 22-day explorations. Tour the British Isles or try south, east, north or west: you are spoilt for choice on this mouthwatering range of Southampton round-trips.
In 2023 there is a choice of vessel as well as itinerary from Oceania with the 1250-guest Riviera offering a June voyage visiting France and Spain as well as an August British Isles itinerary. The brand new 1200-guest Vista also explores close to home on a single Southampton round-trip as part of her inaugural season, calling at Edinburgh, Glasgow, Liverpool, Belfast, Dublin and more.
Regent's magnificent new ship, the 750-guest Seven Seas Splendor, joined the fleet in February 2020. Her spacious accommodation, huge range of dining options, beautiful observation lounge and inviting deck areas are perfect if you wish to explore from the British Isles in style, with options in both May and September 2022.
Travel the Atlantic Coasts of France and Spain in May 2023, or UK and Irish shores in June 2023. Additionally, the splendid Seven Seas Voyager will be sailing a round-Britain route in August 2023. And remember, on Regent all your shore excursions are included in the fare.
Launching in May 2023, we expect Explora Journeys to quickly carve out a slice of the luxury cruise market with a fleet of resort-style vessels offering spacious accommodation, a fantastic range of dining and plenty of facilities. The inaugural season of the 922-guest Explora I includes a 9-night 24th August 2023 Southampton to Glasgow voyage with an overnight call in Edinburgh, along with time in Newcastle and Invergordon, Stornoway, Oban and Liverpool.