We love to keep secrets, but we can't resist whispering the names of a few of our favourite secret ports: if you want to know how to visit them, just give us a call...
1. Terre-de-Haut (Iles des Saintes), Guadeloupe
Les Saintes is a volcanic archipelago in Guadeloupe, a little piece of French paradise in the sunshine, so sniff out great food along the high street, hire an electric bike to explore Fort Napoleon, or work up an appetite as you climb Le Chameau: magnificent views!
2. Saba, Netherlands Antilles
Fun fact, this island boasts the highest point in the Netherlands, the top of the dormant Mount Scenery volcano. Sheer cliffs plunge into the surrounding waters, and it boasts the smallest airport in the world, so access is tricky but well worth it.
3. Bequia, St Vincent & The Grenadines
Lovely Bequia's beautiful and largely deserted beaches can be quite a trek to reach on foot, so hire a local taxi boat to take you to Princess Margaret beach on the Caribbean side of the island, hire a lounger and while away a lazy morning in the gentle surf. Then, it's off to Mac's for the perfect lunch: his famous lobster pizza.
4. Staniel Cay, Bahamas
Staniel Cay, in the Bahamian Exumas island chain, is a sandy island paradise of turquoise waters teeming with marine life and - yes, really - swimming pigs who will be delighted to see you, especially if you have remembered to bring them something nice to eat. They really love watermelon rinds!
5. San Blas Islands, Panama
The San Blas Islands off Panama, mostly uninhabited, are everything you want a desert island to be: fine sand, coconut palms, crystal clear waters for snorkelling. And why have they not been touristified? It's because the indigenous Guna people control their island paradise, and ensure they remain just that.
6. Soper's Hole Marina, British Virgin Islands
Soper's Hole Marina, on the western side of Tortola, is arguably one of the most picturesque anchorages in the Virgin Islands. Its facilities are quite sophisticated, and it is well known amongst yachtsmen, but far too small to welcome any but the most tiny cruise ship.
7. Half Moon Caye, Belize
At the southeast corner of Lighthouse Reef atoll is Half Moon Caye, designated a Natural Monument under the National Parks System of Belize. A marine conservation area, it is an amazing dive site with great marine life and coral, whilst on land it is the breeding site for red-footed boobies and nesting place to three species of turtle.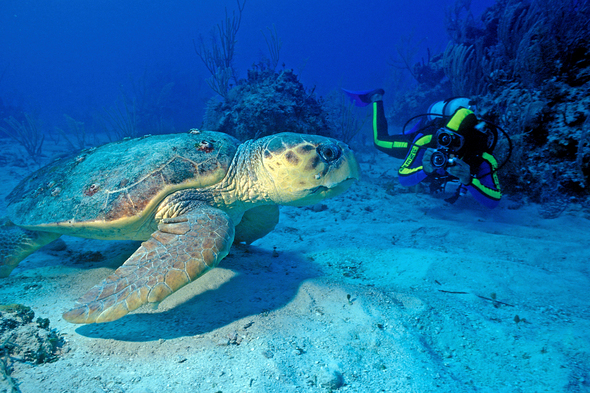 8. Canouan Island, St Vincent & The Grenadines
Canouan Island may seem unassuming, but it is set to be the next hideaway for the rich and famous, with some of the most luxurious hotel operations in the world opening their doors there. No cars, wonderful beaches and stunning scenery make this island extra special, and for a great perspective, climb Mount Royal to survey the whole scene.
9. Vieques, Puerto Rico
Isla de Vieques, just off the coast of Puerto Rico, has all the charm of the Caribbean of the past: beautiful, uncrowded and welcoming, with amazing wildlife including Paso Fino horses roaming free. And if that's not enough, the world famous Mosquito Bay is the brightest bioluminescent bay in the world.