Scenic's stunning 228-guest Scenic Eclipse and just-launched sister ship Scenic Eclipse II are certainly more reminiscent of luxury superyachts than traditional cruise ships, with cool and contemporary décor on board.
This sits alongside gadgets like a helicopter, seven-seater submarine, fleet of zodiacs, kayaks, snorkelling and scuba diving gear that allow guests to immerse themselves among the likes of Antarctica and the Arctic, as well as classic warm-weather yachting destinations like the Mediterranean and the Caribbean.
It's in the name! SeaDream Yacht Club aim to offer an intimate, yacht-like experience - in their own words, 'it's yachting, not cruising'. This is reflected in the al fresco and casual experience on offer, with an unpretentious style - don't expect flashy interiors - and service that is second to none.
These 100-guest ships are able to access the most exclusive yachting harbours and coves across the world, from St Barths to Positano, and on board, guests enjoy the likes of Balinese double sunbeds, movies under the stars and a marina at the back of the ship with kayaks, paddle boards, a slide, jetskis and Laser sailboats.
The luxury Ritz-Carlton brand's first foray into cruising exceeded expectations with the first of their three yachts, Evrima, launched in October 2022. These superyacht-style cruises place an emphasis on cutting edge design, intimate spaces and lots of outdoor space, with just 149 luxurious suites, and offer voyages to the Mediterranean, Caribbean and beyond.
The Marina at the back of the ship offers direct access to the water, comfortable loungers, and extended wings to create even more outdoor space on what feels like your own personal superyacht. Ilma & Luminara, the second and third yachts from Ritz-Carlton, are set to join the fleet in 2024 and 2025 respectively, and are a little larger with 228 suites, all with private terrace.
Formerly the 'Yachts of Seabourn', these lovely little 312-guest ships offer a chance to live the yacht life, with relaxed and informal days, refined yet comfortable evenings and a friendly and welcoming crew, and a marina on the back to ensure you can enjoy the complimentary watersports when anchored in hidden bays and tiny coves.
These sociable ships have plenty of outdoor deck space, perfect for soaking up the sun in warmer destinations like the Caribbean and the Greek islands. A romantic outdoor restaurant on deck under the stars enhances the al fresco yacht feel, and guests can enjoy deck barbecues with music and entertainment.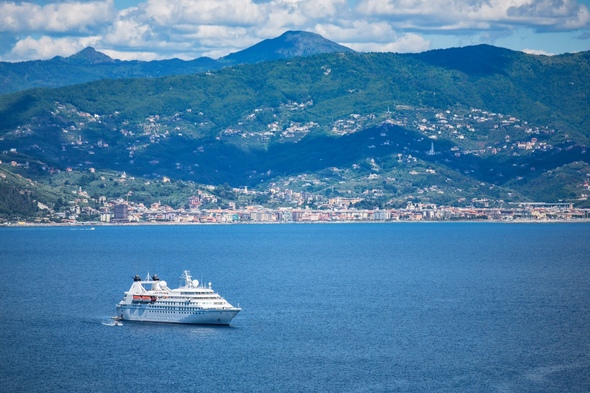 All of Ponant's vessels offer an intimate experience but their Explorer ships, named after six of France's most famous explorers, have a real yacht-style feel, with just 92 all-balcony suites decked in a chic Scandi style, ample outdoor space and an state-of-the-art hydraulic marina at the back of the ships for easy boarding and zodiac embarkation.
The innovative Blue Eye Lounge is the spectacular centrepiece, with two oversized portholes reinforced with 18 layers of glass looking out into the deep blue sea on voyages around the world, from French Polynesia to the Norwegian Fjords.
Emerald Azzurra is Emerald's first luxury yacht, with a striking profile and stylish decor, set to be joined by sister ship Emerald Sakara in 2023. The ships' intimate sizes allow you to explore smaller ports and hidden coves designed to cruise warm weather destinations such as the Dalmatian Coast and the Greek Islands.
These 100-guest small ships offer suites that almost all feature a private balcony, and itineraries have been designed to showcase smaller ports that the bigger ships can't reach, with facilities including a watersports marina, infinity pool and wellness area.
Several expedition cruise lines now also offer their fair share of yacht-like ships, such as Silversea's 100-guest Silver Origin, which feels like an intimate yacht experience as you get to know like-minded guests while discovering the fascinating Galapagos region.
Offering a similar onboard experience in Antarctica, 200-guest Silver Endeavour features state-of-the-art technology that allows for access to some of the most remote locations of the globe in a yacht-like atmosphere.
Seabourn's new 264-guest Venture and Pursuit both offer sleek, modern interiors, with all veranda, all ocean-front suites and stylish dining combined with a range of equipment to help you explore, from the polar regions to the Pacific Islands, including two custom-built six-person submarines, Zodiacs, double sea kayaks, mountain bikes and e-bikes.
The cosy Expedition Lounge is the heart of the ship, with craft cocktails from master mixologist Brian Van Flandern, while the outdoor Sky Bar has two whirlpools and fantastic views of your surroundings.
Aqua Expeditions offer a truly boutique feel in their luxurious superyachts. 30-guest Aqua Blu is designed to explore the Indonesian archipelago; a former Royal Navy ship transformed into a superyacht designed to explore the fascinating islands of the Indonesian archipelago include the evocative Spice Islands, Komodo National Park, with its pink sand beaches and famous dragons, and the snorkelling and diving paradise of Raja Ampat.
Aqua also offer the first true superyacht in the Galapagos: the just-launched, bijou Aqua Mare, accommodating just 16 lucky guests. She is spacious for her size and offers an amazing 1:1 staff-to-guest ratio, with watersports equipment on board includes double kayaks, paddleboards and snorkelling gear.