The engineering feats that created this marvel, and others like it, are all the more impressive when you get to see them close up. With that in mind, here are the six best cruises through the world's great canals...
1. The Suez Canal
Keeping our attention on the Suez Canal, on 24th March 2023 Crystal Serenity departs Dubai on an 18-night journey from Oman's ancient forts and frankincense trails to antiquities in Petra, Luxor and the Valley of the Kings, Cairo and Giza. After transiting the Suez Canal you'll visit Santorini, gem of the Cyclades, and Marmaris, to see the archaeological site of Caunos, before finishing in Athens.
2. The Panama Canal
The Panama Canal is another waterway which takes weeks off the long journey from ocean to ocean. There is no shortage of cruises that include a Panama Canal transit. For something a little more unusual, join Silver Moon, Silversea's newest ship, travelling from Barbados to Lima on a 16-night voyage departing 5th December 2022. Begin by weaving through the islands of St Lucia, St Vincent, Aruba and Curacao, then sail south to Colombia for two days in lovely Cartagena. Enjoy a daytime transit of the Panama Canal, then discover Ecuador's Manta and Guayaquil and the diversity of Peru in Salaverry and Lima.
3. The Corinth Canal
Separating the Peloponnese from the Greek mainland, the tiny Corinth Canal connects the Ionian and Aegean Seas, and at just 70 feet wide it's not navigable for most cruise ships. However, SeaDream's diminutive sister ships, accommodating just 112 guests each, are able to squeeze through with a few feet to spare. Join SeaDream I on 6th August 2022, departing from Venice for the Croatian coast including an overnight call in Hvar and time in Kotor and Dubrovnik. Visit Corfu and Itea (for Delphi) then transit the Corinth Canal before calls in Mykonos, Milos and finally Athens.
4. The Saint Lawrence Seaway
The Saint Lawrence Seaway is actually a combination of canals that link Canada's Great Lakes to the Atlantic. Named for the Saint Lawrence River, it extends from Montréal to Lake Erie, and includes the Welland Canal. Only a handful of cruise ships are able to navigate this waterway so itineraries sell out quickly. A highlight of Ponant's recently released 2022 calendar is a Great Lakes sailing from Milwaukee departing 25th September 2022, a fascinating itinerary that includes Lake Michigan, Mackinac Island, Sault Ste Marie, Little Current, Parry Sound and Georgian Bay, coastal cruising in Lake Huron, the St Clair River and Lake St Clair, the Detroit River, Lake Erie, and the Welland and Erie Canals before finishing in Toronto.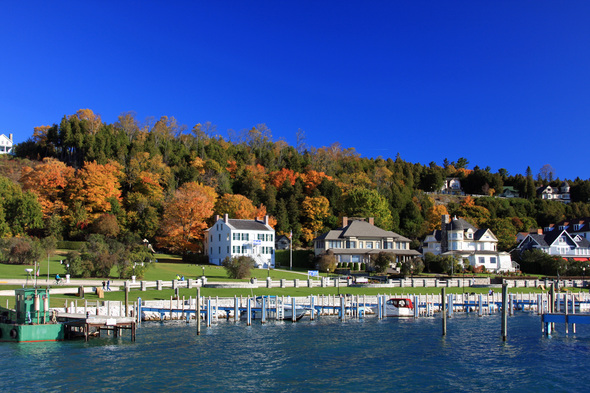 5. The Kiel Canal
The 61-mile-long Kiel Canal links the North Sea to the Baltic Sea, and is crossed by 11 bridges, with a ship's height (or air draught) the restricting factor here. Seabourn Ovation's shorter stature allows her passage on a 14-night Baltic Gems & The Low Countries journey departing from Stockholm on 3rd September 2022, with calls in Tallinn, St Petersburg for an overnight stay, Helsinki, Copenhagen, Wismar, Amsterdam, Zeebrugge and Cherbourg, before finishing in Dover.
6. The Rhine-Main Danube Canal
Last but not least, completed as recently as 1992, the Rhine-Main-Danube Canal connects the North Sea and Atlantic Ocean to the Black Sea, and makes it possible to travel right across Europe on a spectacular river cruise. This is exactly what Tauck offer on an extraordinary voyage, starting from Amsterdam on 12th June 2022 and travelling all the way to Constanta on the Black Sea, ending the journey in Bucharest.