Imagine ticking off your whole 'must see' bucket list in the course of one trip - and without having to pack and unpack. In these strange times, a further benefit lies in not having to negotiate multiple airports and tricky connections, while you travel in what is going to be one of the safest environments in the world.
The ships we prefer, with a small passenger complement of under 1,000 guests, are perfect if you enjoy lots of space, no queues and high standards of attention to detail in all aspects of your trip. As a full World Cruiser (which means you are taking the whole voyage from start to finish, rather than a shorter sector), you will also find that lots of extra treats and bonuses are thrown in, to make your journey extra special.
Don't wait for prices to go down - they won't! So book as early as you can to get exactly the accommodation to suit you for all those days away. You will get the best fares, and often there are lots of extra inclusions, such as business class flights.
Not all 'World Cruises' are circumnavigations, and there is a surprising variety in itineraries, so take the time to work out your priorities, and have your expert Mundy cruise consultant advise you on which will be perfect for you - this is an investment after all, so you need to choose well.
Obviously you need to plan ahead for such a trip - you need to clear out your diary, maybe arrange for someone to live in your house, certainly find a temporary new home for the dogs. So whether you are planning for 2022, or you're already ready to commit for 2023, there are plenty of options available. Here are our top choices:
---
The lovely Crystal Serenity, a World Cruise veteran, carries a maximum of 980 guests in comfortable sea view accommodation. We recommend you select the Penthouse category or higher to give you lots of extra space. Dining stands out on Crystal, and you can also expect an excellent and busy daytime programme for those days at sea, along with some outstanding and varied evening entertainment.
You have two departures to choose from in 2022 and 2023, and if you are ready to plan for 2024, that will be on sale soon too!
On this Myths, Marvels and Monuments itinerary you will set forth through the Panama Canal for a comprehensive Pacific journey, sailing to Hawaii before turning southwards to New Zealand and across to Sydney. Sail the Australian Bight to Perth, then on to Southeast Asia and India, before visiting the Holy Land and the Black Sea. Through the Mediterranean and across the Atlantic, and your circumnavigation is complete.
This Wild Kingdoms and Exotic Discoveries voyage takes you through the Panama Canal and down the coast of South America as far as Lima before striking west across the Pacific. Easter Island is a real highlight, followed by French Polynesia, Fiji and New Caledonia, before reaching Sydney. Explore Papua New Guinea, Indonesia and Southeast Asia, then across the Indian Ocean on a fascinating diversion to the Seychelles and East Africa, before sailing through the Red Sea to the Mediterranean.
---
Best for Itinerary Collectors: Silversea
Silver Whisper resumes her feted World Cruise in 2022: a lovely size for exploration, with 388 guests in an elegant and low key environment perfect for the sophisticated traveller. Spacious suites, most with their own verandah, ensure that you can escape to your private space at any time. Sister ship Silver Shadow, also accommodating just 388 guests, takes up the baton for the 2023 World Cruise.
Meanwhile, new for 2022 is the truly exciting first ever Expedition World Cruise, on the 254-guest Silver Cloud. This voyage was originally due to sail in 2021 and had completely sold out, but has now been rescheduled for 2022. Exploring way off the beaten track, this promises to be a truly unique journey of discovery.
Silver Whisper's Tale of Tales voyage takes you from South America to Africa, a rather different take on the 'world' cruise. Sailing through the Panama Canal, you begin your exploration of South America's west coast, exploring the Chilean Fjords and the southernmost city, Ushuaia. Cross the South Atlantic to Cape Town and then explore the Indian Ocean, before reaching the Red Sea and the Mediterranean. Finally set a course for Iceland, before ending your voyage in the lovely city of Copenhagen.
The Uncharted World Tour is the first ever Expedition World Cruise, with an extraordinarily wide-ranging South to North itinerary following the summer. Start with the breath-taking scenery of Antarctica as you sail from Ushuaia, followed by the Chilean Fjords, remote islands of the South Pacific, Coral Seas and Indian Ocean. Take a different view of the Mediterranean before chasing the Midnight Sun as you sail northwards to Iceland and finally to Svalbard in search of the elusive polar bear.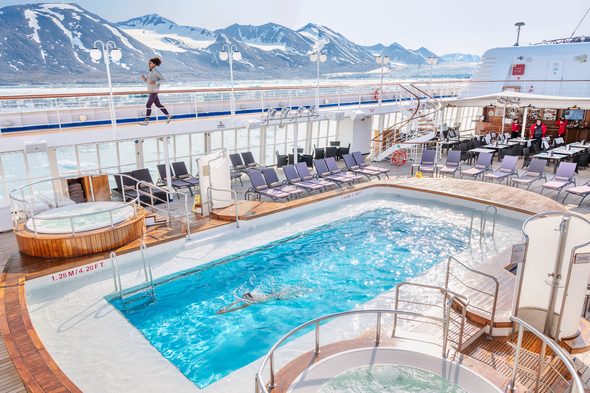 Silversea's 2023 World Cruise begins with an iconic sailaway from Sydney Harbour, before exploring the natural beauty of New Zealand. Then you'll head north to the lesser-travelled reaches of Melanesia and onward to South East Asia's vibrant cities, charming towns and paradise islands. Discover the Indian Ocean delights of Sri Lanka, the Seychelles and Madagascar. After cruising Africa's rugged Skeleton Coast, a western wind then takes you to the heart of Brazil for a pioneering exploration of the Amazon river. You odyssey ends in Fort Lauderdale after cruising through the Caribbean.
---
A Regent classic, the lovely Seven Seas Mariner carries 700 guests in spacious accommodation, all with sea view and private balcony. Enjoy the dining options and relaxed environment - this is unpretentious luxury for passionate travellers. Don't be put off by the fares until you have worked out just how inclusive the Regent programme is, with a huge choice of excursions included in the upfront fare. Arguably you need not spend a single additional penny once you are on board.
5th January 2022 - Seven Seas Mariner - San Francisco round-trip (120 nights)
Regent are ringing the changes with this Pacific circumnavigation in 2022, as you explore the Pacific Ring of Fire. Your round-trip itinerary from the lovely city of San Francisco includes Hawaii and Polynesia, an exploration of beautiful New Zealand and a journey up Australia's east coast to Southeast Asia, including Thailand and Vietnam. Onwards to Hong Kong, and fascinating calls in China and Japan, before you finally cross the North Pacific to view the wonders of Alaska on your way back to San Francisco.
This cruise is a fantastic 'almost' circumnavigation, taking you around the world from Florida to the Mediterranean. The itinerary is similar to the cancelled January 2021 voyage, travelling through the Panama Canal and turning 'left', southwards to Lima, before crossing the South Pacific via Polynesia to explore Southeast Asia. You'll then set a course for India and the Persian Gulf, before journeying through the India Ocean with time in the Seychelles and Madagascar. After visiting South Africa head northwards and sail along Africa's west coast to your journey's end in Barcelona.
---
Best for yachting style: Seabourn
Seabourn don't always operate a world cruise, usually choosing to offer a selection of grand voyages instead, so when it does happen you know it's going to be particularly special. Seabourn Sojourn offers 458 guests the chance to travel the world in laid-back luxury, with a fantastic combination of contemporary style and expert hospitality.
Departing from Miami, this journey, entitled 'Extraordinary Discoveries', traverses two great oceans - the Pacific and the Indian. You'll begin with time in Central America, transitting the Panama Canal and then travelling as far south as Peru before striking out westward to Easter Island, and on to idyllic Tahiti, the Cook Islands, Tonga, Fiji, Vanuatu, the Solomon Islands and Papua New Guinea. Then undertake an almost complete circumnavigation of Australia from Cairns to Broome and visit Bali, Java and Sumatra before setting a westerly course to the Seychelles, and beyond to the African coast. From Mombasa turn south, rounding the Cape of Good Hope, and then travel the lengthen of the continent, finally arriving into the Mediterranean and journey's end in Barcelona.
---
Best for British Tradition: Cunard
In a rare recommendation for larger ships, we felt that no World Cruise review would be complete without a mention of Cunard's Queens, the Queen Victoria with 2,061 guests and the Queen Mary 2 with 2,691 guests. Convenient departures from Southampton allow you to escape the winter's cold without negotiating airports, on a choice of itineraries in 2022.
Queen Victoria's 2022 World Cruise itinerary is very similar to the cancelled 2021 cruise, sailing across the Atlantic and through the Canal to San Francisco, across the Pacific to New Zealand and Australia, to Hong Kong then homeward via Sri Lanka, Mauritius and Cape Town, finally setting course northwards for Southampton.
---
Saga Cruises have launched two new sister ships, Spirit of Discovery and Spirit of Adventure, which they refer to as 'boutique' ships, with just under 1,000 passengers each. Purpose-built for the British market, they sail year round from the UK. Special features include private transfers from your home to the ship, interesting dining options, and insurance included in your fare. All cabins have their own balcony, with dedicated single cabins for solo travellers.
Not a world cruise as such, this South America itinerary (originally scheduled for 2021) is extremely appealing, taking you as it does up the Amazon, then to the lovely cosmopolitan capital cities of Rio de Janeiro, Buenos Aires and Montevideo, to the Falkland Islands and round Cape Horn, through the Chilean Fjords, with a possible side trip to Machu Picchu from Lima, before sailing for home via the Panama Canal and the Caribbean.