Beautiful scenery, lots of history, great food (and whisky), dramatic landscapes, busy cities, culture, wildlife, castles and more. Because it's on our doorstep, we tend to set it aside as something we can do at any time. But to make the most of this great country, you want to be fit and lively - so maybe 2021 is the year turn Scottish dreams into reality, and visit Scotland.
Tourism businesses that are working hard to adhere to government and public health guidance, and that have carried out a COVID-19 risk assessment to check they have everything in place to reopen safely, achieve the government's 'We're Good to Go' logo. This includes some of our favourite small ship cruise lines plying the waters around Scotland...
On 29th September the lovely 50-guest Hebridean Princess (the Queen's favourite) was awarded the 'Good to Go' accreditation, allowing her to resume service in March 2021. This little gem of a vessel will take you to beautiful and remote destinations including the Scottish mainland and the rarely visited islands, enabling you to explore far and wide without the worries of packing and unpacking, or missing the fantastic sights because you need to keep your eyes on the road. A focus on cycling or walking is the highlight of certain itineraries, but whichever itinerary you choose, you can be super active, or totally lazy. Choose from an extraordinary variety of 7-night cruises in 2021 and 2022.
In August 2020, Hebridean Island Cruises acquired another Scottish gem, the Lord of the Glens. Small enough to transit the intricate waters and impossibly tight locks of the Caledonian Canal, whilst still able to go to sea, albeit in the sheltered waters around Scotland's hauntingly beautiful fretted west coast, this little ship carries a maximum of 54 guests in 27 outward-facing State Cabins spread over three decks. Like Hebridean Princess, the vessel operates an 'open bridge' policy enabling you to keep a close eye on the stunning scenery and appreciate the extraordinary skill of the officers and crew. The 5- and 7-night itineraries all make a transit of the Canal, combined with exploration further afield.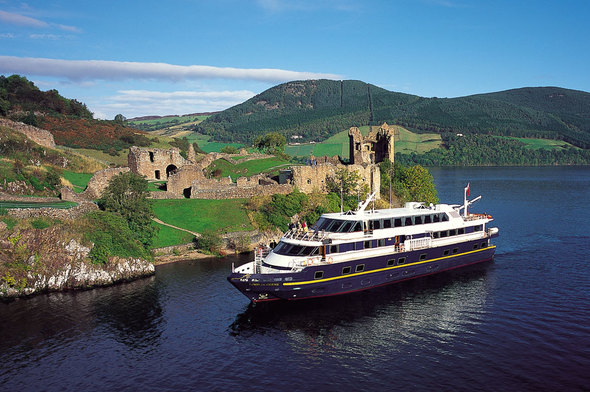 Another company which is 'Good to Go' is the Majestic Line, which has been operating off the west coast of Scotland for over 15 years. Their four small cruise ships - carrying a maximum of 11 or 12 passengers - have been designed to access remote and sheltered anchorages, sailing between April and October with a choice of 18 different cruise itineraries of 3 nights, 6 nights or 10 nights. Local produce is of course the key to the fantastic Scottish food produced by dedicated chefs on board.
We have been moving from 'very small' to 'tiny' as we list the best vessels for your Scottish exploration, so it is only right that we finish off with two lovely barges operated by European Waterways, the 12-guest Spirit of Scotland and the 8-guest Scottish Highlander. The perfect vessels to charter for a magical trip with family and friends, these cosy but stylish barges are a great base for walking and cycling, exploring towns and castles, pretty villages and remote countryside, and enjoying fantastic meals based on local produce. After a wee dram or two you might even spot the Loch Ness monster...