A real 'wow' factor when you set foot on board Inspire is her grand atrium. This focal point provides lengthy views to each end of the vessel, and her golden staircases, twinkling in the sunlight, are perfectly situated for ease and manoeuvrability between each deck. The ship's traditional American style of dark woods, warming browns and golden beiges features throughout, and you certainly appreciate the space.
We stayed in one of Tauck's innovative Loft Suites. These suites are unique to Tauck. Despite your bed and bathroom sitting just below water level, you still benefit from a balcony with floor-to-ceiling windows on a raised platform which acts like an elevated conservatory within your suite. Climb the five small steps to sit at a large square table with comfortable armchairs as you look out of your large window at the scenery outside. This window opens vertically, allowing you to step up and lean out for that indoor balcony feel.
Another key thing that sets Tauck apart from other river cruise lines is their three Tauck Directors and one Cruise Director who assist and guide all guests throughout each voyage. Now I have to emphasise just how good Tauck's guides really are; I will admit that I am not usually a person who enjoys museums, but Tauck's guides were so enthusiastic, charming and fun that they truly had me engaged and engrossed in what they were explaining, and rather than being easily distracted, I learnt a lot at each one.
A fleet of Tauck coaches travel alongside the ship, so the same drivers are with you for the duration of your voyage, and they get to know you, generate laughter and make the scenic drives all the more enjoyable with music, jokes and stories. This echoes the friendliness on board where everyone from the waiters right up to your Captain is engaging, open and treats you like a 'Taucktarian', even if it's your first ever holiday with them.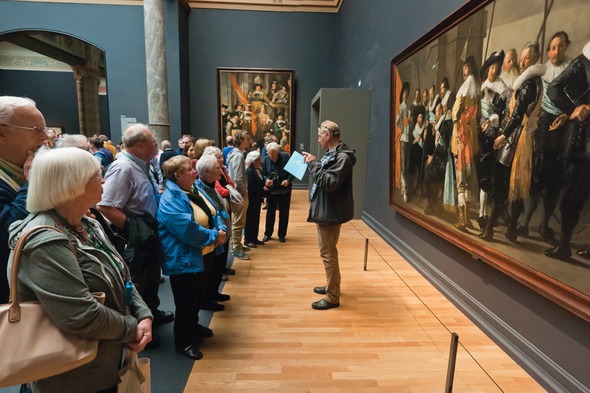 As with most river cruise itineraries, you're up early with either a morning tour or full day adventure; you can come back on board for lunch, or enjoy eating out at Tauck's expense on a full day tour. On the vessel there are two dining venues, The Restaurant or Arthur's. The Restaurant is the main dining room whilst Arthur's has a casual all day menu. Both are open seating and although there aren't many tables for two, the Maître D' will lay a table for four just for two people if required.
If you've overindulged (and you're allowed to!), you may want to visit Inspire's gym, sauna and steam room, or walk a few laps of the deck to shake off those extra pounds, then book yourself in for a very reasonably priced spa treatment or massage.
Entertainment on river cruises is nothing like an ocean cruise. We had local performers join the ship for three different nights during our voyage, all of whom had everyone dancing, laughing and enjoying themselves. Other evenings featured Tauck's resident pianist.
If you're looking for a cruise line that appreciates and takes great care of their guests, immersing you in each destination, and you don't wish to pay a penny more once you've booked, then Tauck is the river cruise line for you.
Download our River Cruising Uncovered brochure
Thinking about a river cruise but don't know where to start? Our informative guide is packed full of everything you need to know, including which cruise lines we recommend, what to expect on each river and how to make the most of your trip...