So many companies are jostling for position, claiming to be the best, that it's hard as a consumer to make a judgement on which to choose. First of all, a quick rule of thumb - you get what you pay for! If something looks cheap, that's either going to be because it is out of season (March/April or late October/November), or because it is of an inferior quality.
Whilst in the ocean going cruise market it is quite easy to differentiate from brand to brand, when choosing a European river cruise, you will be more likely to find many similarities. If you are paying top dollar, you should expect included shore excursions, included drinks with meals, included gratuities, local entertainment, a lecture programme, whisper headsets and bicycles for passenger use. In our opinion, the following companies are the very best luxury river cruise lines in Europe:
For over 90 years, the Tauck family have specialised in operating worldwide tour programmes. Many generations of Taucks have been involved in making the company the huge success it is today, with a focus on their personal philosophy of integrity, innovation and respect.
What does this mean to you as a Tauck customer? Well, first of all the company has had over 90 years to build 'old friend' relationships around the world, and so when they speak of 'Uncommon Access', this means they can really and truly take you into privately owned collections and venues for a totally unique experience. Secondly, the company instils its principles right across the board, ensuring that all its tour directors and staff buy into a way of behaving that is principled and caring, so you know you are going to be properly looked after, by empowered problem solvers who can resolve issues right on the spot.
And finally, it means that you will be travelling with fellow guests who, like you, look for the best value rather than the cheapest price, choosing Tauck over cheaper alternatives because they have heard from friends and acquaintances about the special experience which is travelling on a Tauck tour.
So on a Tauck river cruise, expect extra tour directors, lots of little Tauck touches to surprise and delight, and fares which include every detail of your seamless travel experience. Tauck river boats are elegant and welcoming, with interesting designs (such as the unique loft cabins on the lower decks) and excellent no supplement fares for solo travellers.
In 2002, three families, all passionate about river cruising, travel and the highest levels of hospitality, created a new company: AmaWaterways.
President Rudi Schreiner, born in Vienna, teamed up with Kristin Karst, from Germany, and Jimmy Murphy, a brilliant travel entrepreneur from Ireland, and these three were the pioneering co-owners of the company, jointly creating an award-winning cruise line with 21 ships, and more to come.
The highly personal AmaWaterways operation, with hands-on involvement from the owners, results in a warm and cosy environment with lots of emphasis on the guest experience, as the families' passion for great design, great service and great food permeates throughout the team.
AmaWaterways set the bar high with some industry leading initiatives - cabins with one or even two balconies (a French balcony and a full outside balcony); fewer guests on each ship to ensure the restaurants and lounges are not crowded; a menu of varied included shore excursions in every port of call; special interest tours, and different tour paces; a fleet of complimentary bicycles; guided hikes and more.
As a member of La Chaîne des Rôtisseurs, the focus on food has been paramount, with a fantastic main restaurant and The Chef's Table, where you can watch the chef prepare your dinner right in front of you. Wine is included with lunch and dinner, and for those with a particular interest, look out for the many themed wine cruises.
Crystal Cruises took the world of river cruising by storm in 2016 with the launch of Crystal Mozart, an elderly vessel totally refurbished to Crystal's exacting standards and offering a product like no other. In 2017 Bach and Mahler joined the fleet, followed by Debussy and Ravel in 2018.
Whilst other river cruise lines have built on an existing model of river cruise operation, Crystal created a new style of river cruise based on their award-winning ocean ships. The key differences include genuine open seating dining in the main restaurant, an extraordinary crew to guest ratio, crew members trained by Crystal Cruises to match the standards on their ocean ships, and ships with sufficient space to offer excellent facilities including the Bistro for casual dining, the exclusive private Vintage Room, a range of lounges, and an excellent spa and fitness centre including indoor swimming pool.
Spacious accommodation (even the minimum Petite Suite grade is 188 square feet) includes butler service and a fantastic range of amenities. Crystal itineraries are longer than the average river cruise to give an easier pace, with lots of time to relax and enjoy the vessel and the scenery, overnights in port, and a wide range of complimentary shore excursions, using Crystal's own luxury fleet of buses. Genuinely all-inclusive pricing covers all meals, drinks, gratuities and shore excursions.
Whilst you may not have heard of this much awarded company (its core market is in the US), you should certainly add it to your roster of the best river cruise vessels in the world.
When you step on board a Uniworld ship, you immediately start to appreciate the Uniworld difference. The concept is all about recreating the feel of a small boutique hotel on board an all-inclusive river vessel, and every ship is different, personally designed by members of the Tollman family who own Uniworld's parent, TravCorp.
If you've seen pictures of Uniworld's ships then you'll probably have been struck by the slightly garish interiors depicted in the official photography; but in reality, the decor is a lot more subtle than it appears in the oversaturated promo shots. Quirky, yes, but elegant and tasteful with it.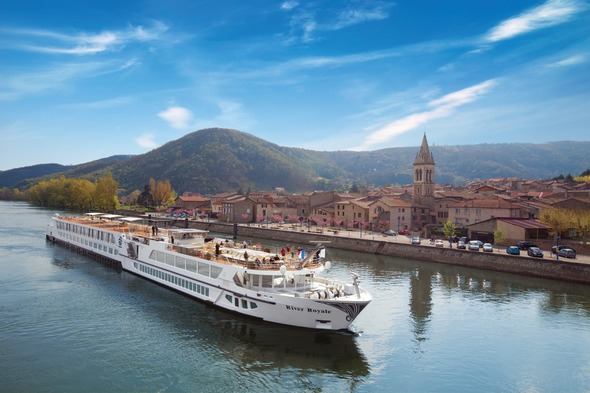 In design terms, it is all about the detail - depending on the vessel, you will find hand crafted mirrors, lavish staircases, original collections of antique oil paintings, hand-painted trompe l'oeil ceilings, faux marble columns and ornate murals, all bearing tribute to the skills of artisans from all over Europe. Within the staterooms and suites, the lavish décor is enhanced by the latest technology.
To match the décor, attention to detail is the watchword throughout the vessel: charming and attentive service by staff trained to Uniworld's exacting standards, gourmet dining, exclusive shore excursions included in the fare, all combine to make a Uniworld river cruise something quite different from the norm.
We are all familiar with the dedicated travel habits of our most discerning Antipodean cousins, and Australian-owned Scenic gives them a stylish yet easy going way to explore across Europe. Your fellow guests will primarily be from Down Under, interspersed with other English speakers including Americans, Brits and South Africans.
Scenic's 'Space-Ships' boast some of the largest suites on the European rivers, with a wealth of luxury facilities, and include a spacious wellness area, complimentary WiFi connectivity, electric bikes, five exclusive dining venues and a spacious sun deck. The décor is fresh and contemporary, and all-inclusive pricing includes complimentary drinks all day every day, tipping, flights, transfers and an interesting programme of shore excursions.
Balcony suites on the newest ships feature the Scenic Sun Lounge system that transforms your balcony into an all-weather conservatory-style space at the touch of a button - so if you are cruising off-season, you can still enjoy great views in an enclosed balcony area.
Ashore, you can choose from unique 'enrich' experiences; free choice exploration at your own pace, which lets you pack in back to back tours or go for a far more leisurely experience; tours by bike, hikes and more...
On board, the excellent dining options and facilities of the ship give you a great base to plan your next day of activities. Once you've got a taste for Scenic, you have lots of opportunities to come, with a wide range of cruises and destinations around Europe and beyond.
The river cruise industry owes a debt of gratitude to the Viking giant, whose highly visible advertising campaigns have created a widespread awareness of all the reasons you might choose a river cruise, and enabled them to effectively 'own' the sector, with good reason. Totally reliable, with a fantastic range of product, and supported by offices around the world, Viking have a tried and tested formula which won't let you down, with a focus on exploration and learning.
Viking Longships are decorated in a contemporary Scandinavian style, fresh and free of clutter. Huge windows ensure light-filled lounges and restaurants. Most accommodation is compact and functional, but if you are looking for more space, those options are available.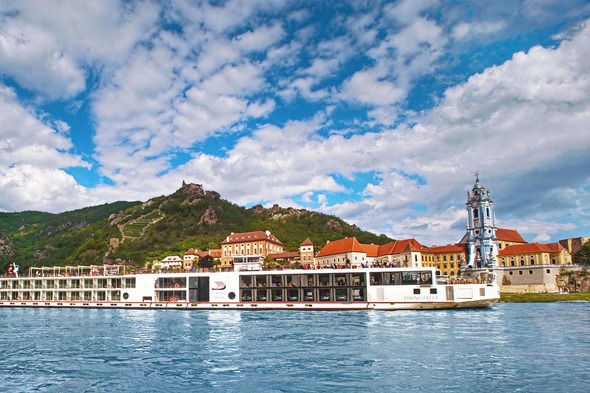 Excursions are a mixture of included and optional, and the more unusual ones are designated Local Life, Working World and Privileged Access, so you can choose to tailor your experience to suit your personal passions. On board, the Culture Curriculum includes lectures on history and art; tasting of vintage wines; restaurant menus inspired by local cuisine; informative port talks; and local folkloric shows and musicians.
Indoor and outdoor dining areas serve meals with a local influence alongside global classics, and throughout the vessels you will be looked after by Swiss-trained staff, friendly and knowledgeable.
Take a moment to review the Viking range of product - with so many choices you can always find a new itinerary, even in regions you have visited before.
River Cruising Uncovered...
Thinking about a river cruise but don't know where to start? Our informative guide is packed full of everything you need to know, including which cruise lines we recommend, what to expect on each river and how to make the most of your trip...