But there I was, watching John Delaney, Windstar's president, finishing the final cut of Star Breeze on a warm October afternoon in Palermo, in the company of a small group of privileged press, key trade partners and the senior teams at Windstar and Fincantieri. With the separation complete, the process of moving the forward half of the ship could begin, making space for the new 25-metre mid-section to be put in place.
Since moving from Seabourn in 2016, John Delaney has carefully built a top team including Christopher Prelog as Vice President Fleet Operations (formerly Vice President Hotel Operations and Procurement at Seabourn), Paul Allen as Project Advisor (formerly at Holland America Line) and John Gunner as Vice President of Expansion Projects (formerly Senior Vice President of Technical Operations for Princess Cruises). Having amassed a team with such a wealth of experience, we've no doubt Windstar's Star Plus project will be a huge success.
Standing beside the dry dock I was struck by just how small Star Breeze is and, by contrast, the impressive size of the new section. A cruise ship in miniature, it is easy to understand the appeal of this vessel and her two sister ships, Star Pride and Star Legend. Now that I've been able to gain a better appreciation of the scale involved, I'm confident that increasing the capacity from 212 to 312 guests certainly won't be detrimental to the feeling of spaciousness on board.
The new section will be home to 50 additional rooms, in several new grades, and configured with the bed by the window so you can wake up to glorious ocean views. The existing rooms will retain their more typical setup but will benefit from a complete refurbishment, including new bathrooms.
The increased size will bring with it state-of-the-art public spaces including two new dining locations: an intimate Spanish-style alternative restaurant, Cuadro 44 by Anthony Sasso, and the modern, al fresco Star Grill by Steven Raichlen, a casual barbecue space adjacent to the top deck Star Bar. The Veranda Restaurant has been completely gutted and will be expanded to offer more ocean view seating. Other features include a much-enlarged fitness centre and a new spa, and the ship's deck space will also be larger, with an inviting new pool at its centre.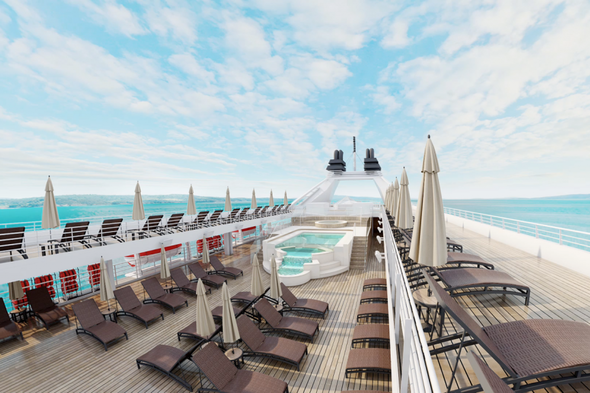 Bringing the capacity up to 312 guests may seem like a significant change, but actually Windstar are used to operating with this level of guests, having done so successfully on board their flagship sailing yacht Wind Surf for many years. Importantly for Windstar, the work being carried out on Star Breeze and her sister ships includes a crucial replacement of the old and inefficient engines, giving the ships renewed viability and ensuring their future.