It is unusual to see such a focus on smaller ships at a time when Seabourn, Silversea and Regent, for example, are investing in ships in the 500-700 guest bracket.
The company is known for its excellent itinerary planning, and with a full fleet of twelve ships, soon to be thirteen, it is able to focus on specific regions across the world with unusual off-the-beaten-track destinations, even when closer to home. In Europe the northern voyages include in-depth circumnavigations of Iceland as well as Greenland and Spitsbergen, whilst sunshine cruises include the Azores, Corsica, the Black Sea and some lovely Greek island options. Further afield we love the many choices in the Indian Ocean, including Aldabra, Astove, Cosmoledo and Madagascar, whilst the Caribbean and South Pacific are also perfect to explore on small manoeuvrable ships with watersports platforms and lots of outdoor space.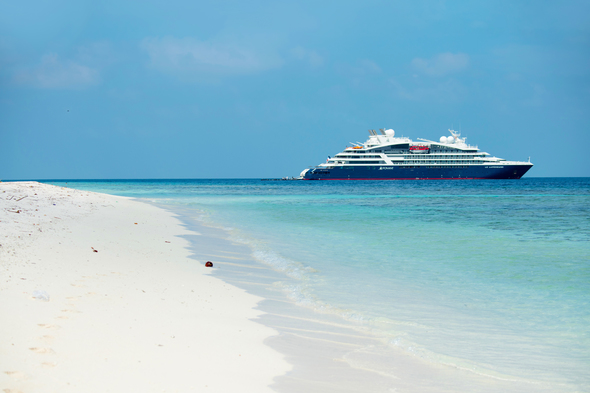 An intriguing series of New Zealand domestic cruises planned for February/March was sadly scuppered by some local political problems, but a rather unusual whale shark-focused programme out of Qatar, originally planned for April this year, will now go ahead in 2022.
Ponant have long had an extensive polar programme, which will become even more exciting with the arrival of the icebreaker Le Commandant Charcot this year, and the varied Arctic and Antarctic itineraries include northern Greenland, the North West and North East Passage, and a whole range of Antarctic voyages, some of which include the Bellingshausen Sea and the Ross Sea. This exciting vessel is at the cutting edge of green technology, the first hybrid expedition ship to use liquefied natural gas (LNG). She will be able to cut through the ice to reach the North Pole, and in a rather more stylish way than her competitor, the elderly 50 Years of Victory.
As for the rest of the fleet, Ponant stands out for its award-winning green credentials, including a commitment to use lighter fuel and reduce emissions by limiting the average speed of its vessels to 12 knots, cold ironing in port where possible, and developing the hybrid capabilities of its ships to operate under battery wherever possible.
English-speaking guests have been cautious about sailing on such an overtly French cruise line, but in recent years the reports back are that the bilingual operation works smoothly, and English speakers are warmly welcomed into the sophisticated and cosmopolitan passenger mix.
Ponant had a (relatively) good year in 2020 - not only was Le Bellot launched, completing their Explorer series of six 184-guest expedition yachts, but also the company was able to operate through the summer when many others were not, thanks to its domestic tourism options. As a French cruise line carrying French guests, they were able to sail in French waters, exploring Brittany, Gascony and Corsica. For 2021, we are optimistic about a speedy return to service, using their experience of safe operations in 2020.