Porto perches precariously on steep hills and escarpments running down to the beautiful Ribeira area. Designated a UNESCO World Heritage Site for its architecture and history, Porto's slightly run-down back streets, blue and white tiled buildings and pretty parks are perfect to explore on foot.
The Douro valley has a unique microclimate perfectly suited to the cultivation of olives, almonds and especially grapes, so visitors enjoy the striking landscape with its terraced vineyards, whilst having the opportunity to visit beautiful villages, with quintas, or wine estates, where you can gasp at the views and taste some of the local produce.
Along the river are barcos rabelos laden with casks en route to Porto and Lisbon. Further inland the region becomes more and more sparsely populated.
A visit to the river Douro, ideally on a Douro river cruise, is all about the food and the wine. Smoked hams and spicy sausages, corn bread and traditional cheeses, roast pork loin and potatoes are all specialities of the region, and perfect to enjoy with the lovely local table wines. Traditional Portuguese folk music is an ideal accompaniment to such a feast.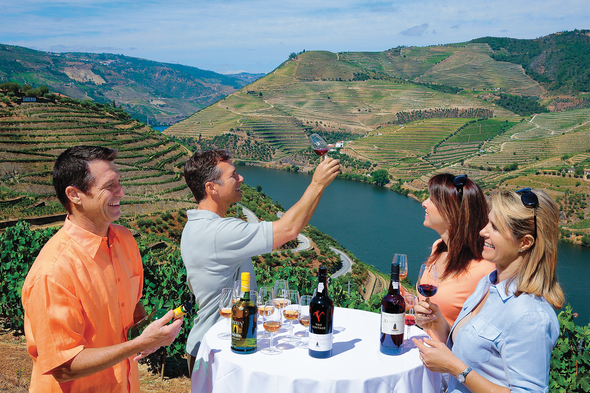 Baroque palaces such as the Mateus Palace in Régua boast intricate carved facades and pinnacles, and are surrounded by formal gardens and still lakes and ponds reflecting the sculpted topiary.
From Régua you can visit Lamego to see the baroque Sanctuary of Our Lady of Remedies. The shrine is still visited by pilgrims today, built on a site that dates back to the Middle Ages. Moorish tilework decorates the monumental baroque staircase, with 686 steps. You will also see the town's Gothic cathedral and the ruins of 12th-century Lamego Castle, with its unusual vaulted cistern.
Castelo Rodrigo is a historic village with narrow streets, 16th century façades, the Rocamadour Church, ruins of the former palace and an old Jewish Quarter - in past times, this village is where Jews, Muslims and Christians lived together in peace and harmony.
Douro river cruisers make an early start from Barca d'Alva for the coach crossing into Spain to visit extraordinary Salamanca. This is one of the most spectacular Renaissance cities in all of Europe, and over the centuries the sandstone buildings have taken on a golden glow, giving the city its nickname of 'La Ciudad Dorada', the Golden City. Visit the Plaza Mayor, the Central Market, the University of Salamanca and the 12th century cathedral, a prominent landmark of the city.
No Douro river cruise is complete without a comprehensive port tasting, when you will also learn about the history of port wine and its links with Britain. During the wars against France, French wine was boycotted, and wine needed to be sourced elsewhere. British importers found the smooth, fortified wines of the Douro valley would appeal to English palates, and the successful trade began. Even today, the majority of key port brands have British names: Cockburn, Croft, Dow, Sandeman and more.