But above all, we know that the key appeal of a small ship is that it can call at small ports. A small ship itinerary may feature iconic ports of call, top of your list for a visit. But you will probably also find places you have never heard of before - just because the big ships can't go there. And what that means is that you will be away from the crowds, and you'll get to hang out with the locals for a memorable and authentic experience.
Nowhere is this more true than on a Mediterranean cruise, so we have picked out just seven of our favourite Mediterranean ports - but of course we have barely scratched the surface...
1. Collioure, France
The intense light and colours of this little town, close to Spain's border with France, was captured by painters of the Fauve movement such as Matisse and Derain. On the French 'Côte Vermeille', this charming little town is set against the backdrop of the Pyrenees as they dive into the Mediterranean.
2. Portovenere, Italian Riviera
Everyone raves about glamorous Portofino, but just a little distance along the Riviera you will be captivated by the charm of Portovenere, with its medieval streets, churches and a castle too. Beloved by poets and artists, it offers coves and bays, as well as UNESCO designated buildings, perfect to explore on foot.
3. Otranto, Puglia
Puglia, the heel of Italy, is beginning to find its way into the travel pages for its charm and authenticity. Otranto has a rich history, not least because of its strategic position looking out towards Greece, so unsurprisingly it is fortified by an imposing castle, with thick perimeter walls and robust towers, whilst its Romanesque cathedral dates back to 1088.
4. Neum, Bosnia and Herzegovina
Neum is something of a geographical oddity, the only town on Bosnia's 12-mile sliver of the Dalmatian Coast. Fun fact: the only country in the world with a shorter coastline than Bosnia is Monaco! The town itself is not the prettiest, but a call here is something of a cruising collector's item, and you can take a day trip to nearby Dubrovnik or Mostar.
5. Rovinj, Croatia
Narrow, cobbled streets, tiny squares and cut-throughs, pretty cafes and restaurants, and a rather modest Cathedral, are all features of this former island fishing port. The narrow channel which separated it from the mainland was filled in 250 years ago for easier access.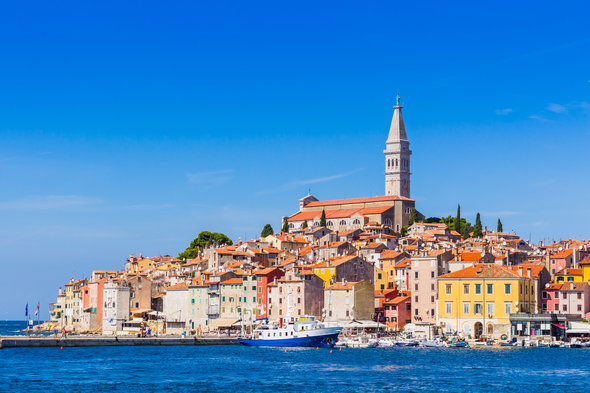 6. Sifnos, The Cyclades
We love the Greek islands, and particularly the Cyclades group which features tourist traps such as Mykonos and Santorini. Here in Sifnos you have the magic without the crowds; the light, bouncing off burnished rocks, the aroma of orange-and-anise biscuits, the whitewashed lanes, and the wonderful seafront restaurants serving the catch of the day.
7. Skyros, The Sporades
One of the most beautiful of the Sporades island group, Skyros has virtually no international tourism, so retains a unique character and strong traditions. The narrow alleys of Chora town invite you to explore as you seek the perfect coffee, and then retire to some beautiful and secluded beach with crystal clear waters.