The French are renowned for their cuisine, and the food is a gastronomic delight. I couldn't fault any dish I ate; all were produced to a very high standard and every mouthful was tasty. Menus feature some ingredients from the places you're visiting and each meal ended with a pièce de résistance.
The ship may be French, but the décor is a more Scandi style. Understated luxury and subtle tones run throughout the yacht, with the public areas and cabins offering a refreshing feel with a light and airy environment.
Ponant's new Explorer yachts feature a world first concept called the Blue Eye, set four metres below sea level within the hull of the yacht. This multi-sensory bar has two large glass windows shaped like the eye of a blue whale, and the windows are comprised of 18 sheets of glass, making them strong enough to withstand all pressures, even more so than steel!
When the ship is anchored, not only can you see marine life but you can hear it too. via Ponant's hydrophones. We can't vouch for any sightings on this inaugural, as we weren't anchored at any ports, but guests and crew aboard Le Bougainville's sister yachts, Le Lapérouse and Le Champlain, have witnessed turtles and sharks in the Caribbean, jellyfish off the coast of Iceland and heard the sounds of whales.
My inability to speak French has always been a concern for me when it comes to cruising with Ponant, so this voyage was the perfect opportunity to see exactly how much English is spoken on board and how comfortable I would feel. I'm delighted to report that you are welcomed on board no matter which language you speak. All announcements (and there aren't many) are in French first, then English. All crew and staff speak English, and you're certainly not made to feel like a minority if you don't speak French.
There is a comfortable theatre, a great venue for all the lectures, excursion talks and evening shows, whilst the Main Lounge is perfect for quizzes, dance lessons and performances from the resident singing duo and classical pianist. The Pool Grill serves buffet lunch and dinner from the live cooking stations, so you can dine looking out on the turquoise infinity pool, an icon in itself with its counter-current swimming system. Twin staircases hug the edges of the pool and take you down to the marina to board zodiacs or make use of watersports equipment.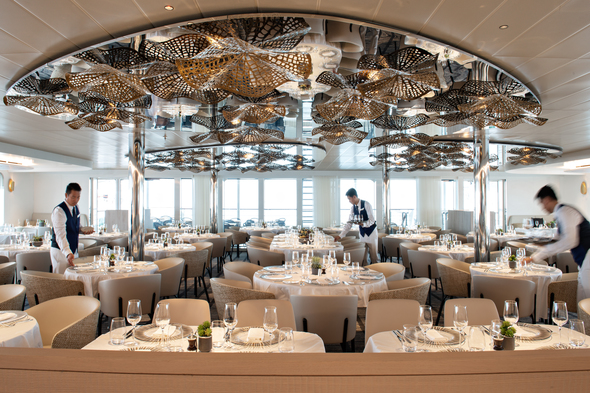 The main restaurant, Le Nautilus, offers an à la carte menu at lunch and dinner, with open seating. The Panoramic Lounge, high at the front of the ship, offers great views out over the bow, and features a small bar, whilst on deck 7 you find a stylish wellness area.
Maximum capacity is 182 guests in 92 staterooms and suites. We were in a Prestige Suite with balcony, with lots of neutral shades and leather-clad drawers, wardrobe doors and vanity unit. At 205 square feet with a private balcony with chairs and small table, you have plenty of space. Beds were blissfully comfortable with snug duvets and fluffy pillows - essential after a long day of self-indulgence!
We thoroughly enjoyed sailing with Ponant, so here is to our next voyage with them - à bientôt!