Travelling on the smallest vessel I've ever cruised on, I boarded the European Waterways luxury hotel barge L'Impressionniste for a gentle trip along the Burgundy canal, surrounded by fields of golden corn, grazing Charolais cows and forests of oak and pine trees. It is also home to 60,000 acres of vineyards including areas such as Chablis, Cote de Beaune and Cote de Nuit.
On board for six nights, this was very different from my past experiences of river cruising, offering a gentle pace with just six other guests. It was also much more luxurious than I was expecting, with an air-conditioned stateroom, superb gourmet meals (paired with local wines) prepared by our chef, and daily excursions to chateaux and places of interest. Our journey began at the Hotel Westminster in Paris where we were met by our driver. We were cruising from Escommes, 1,250 feet above sea level at the entrance to the Pouilly tunnel, to Fleurey sur Ouche near Dijon. Welcomed on board with champagne, we were introduced to the rest of the crew, two hostesses, the pilot, chef and the captain (or cruise director, since he didn't actually steer the boat).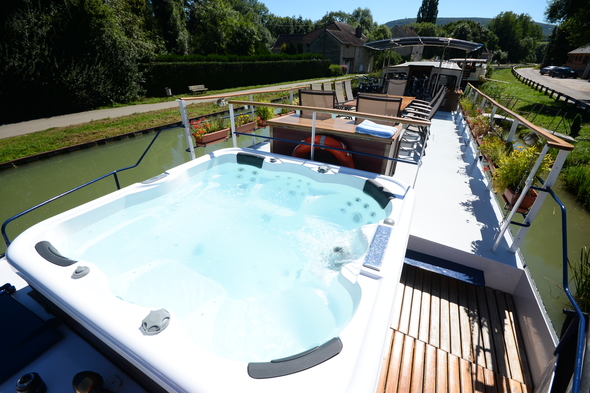 A gong summoned us for dinner and we sat around the large table in the salon and ate pear stuffed with local cheese, honey and hazelnuts with basil dressed salad, followed by baked cod with a chorizo crust and a delicious mint and pineapple dessert with coconut ice cream. A wine was presented at each course and we were shown on a map where it was produced.
The next few days followed a pattern. At 8am we sat down to an enormous buffet breakfast of fresh bread and croissants from the local bakery, cold meats, fruit and yoghurt plus eggs cooked to order. Daniel the captain drove the minibus for a morning excursion and we came back for lunch or spent the morning cruising down the canal, with Albert and the lock keepers negotiating the lock gates, and onlookers watching and taking pictures. We could walk along the towpath or use one of the bicycles on board to cycle for a couple of locks and meet up with the barge later. There was a hot tub on the boat and a large sun deck to relax on, plenty of books to borrow, and the hostesses were always on hand to offer a glass of champagne. Alternatively, we could help ourselves to the open bar or the coffee machine.
We shopped in Dijon market with the chef and visited several vineyards, the most famous being the Vigne de L`Enfant Jesus, originally owned by Bouchard Pere et Fils, where the grapes are harvested by hand and the bottles stored in the cellars 10 metres under the family home. We were lucky enough to enjoy a private tour of the cellars and gardens and a Michelin-starred lunch in the Orangerie, and even sampled a lovely Pinot Noir from the Baby Jesus vineyard. It was this type of exclusivity and service that really made the trip, with our little group bonding over an excellent glass of wine!