The company took the foodie cruiser world by storm way back in the early 2000s with a per person per day investment in food which far exceeded that of any other cruise line. With an emphasis on quality, variety and authenticity, Oceania led the way for a varied choice of restaurants on quite a small ship, and developed the theme further when it built its two larger vessels, Marina and Riviera.
In keeping with its traditions, it is out in front with its plant-based food initiative. Whilst every other hot new opening in London at the moment is focused on plant-based dishes, the cruise industry has been unusually slow to pick up on this trend.
An extensive and creative selection of plant-based menus has been introduced across the fleet, with more than 200 new healthy dishes available on each ship, which can be enjoyed in the Grand Dining Room and Terrace Café at breakfast, lunch and dinner. There are also plant-based options available upon request during dinner service in each of the speciality restaurants.
The dishes have been developed by Oceania's culinary team working closely with the chef, culinary instructor, and author Christophe Berg. The focus has been on global flavours, using influences from around the world, including Italian, Greek, Middle Eastern, Korean, Thai, Vietnamese, Mexican, Italian, Malaysian and more. You can choose from healthy Power Bowls and Poke Bowls, hearty pastas and pad thai, light and refreshing salads and soups and even a variety of surprisingly decadent items to choose from, including an Impossible Cheeseburger, Truffle Mac and Cheese, an Apple-Oatmeal Crumble with plant-based Vanilla Ice Cream, and Coco-Vanilla Cashew Crème Brûlée.
If you're sceptical about forfeiting meat and fish in your diet, this is a great opportunity to try out some new options, which you can mix and match with the other culinary offerings. And whilst in healthy mode, you will love the new Aquamar Spa + Vitality Centre with its focus on wellness.
Of course the food is not the only reason why you would choose an Oceania cruise. Take a moment to investigate the meticulously planned port-intensive itineraries. With lots of late nights or even overnights in port, Oceania should be one of your top options if destination and time ashore is key to your cruise line choice. Take a look, for example, at the new Sirena Exotic Collection with in-depth explorations of some enticing and unusual destinations including the Holy Lands of Egypt, Israel and Turkey, the Arabian Peninsula, India, Myanmar and Indonesia. Explore southern Africa on Nautica, or Australia, New Zealand and the lovely islands of the South Pacific on board Regatta.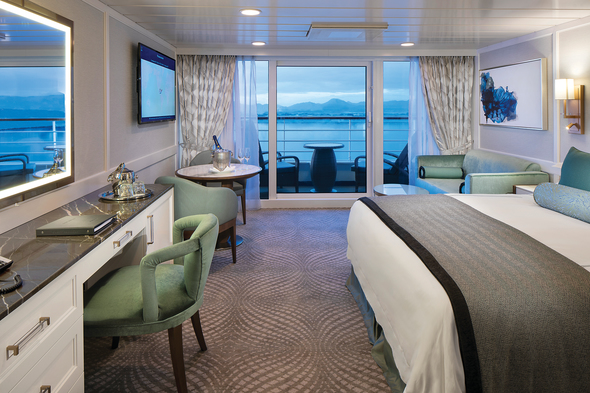 Many of the itinerary options are longer, and we do recommend that if you are spending more than a couple of weeks on board, you are going to really value your private space, so upgrading to a larger suite is a great choice. Go for Penthouse Suites or above for spacious accommodation and lots of added extras.