He recently released a video talking about the plans and referring to 'same Crystal, enhanced ships'. It is widely accepted that these ships were beautifully built and exceptionally well maintained, so expect improvements, but no radical changes.
The suites will be bigger, and as a result the capacity of each ship will be reduced (Symphony down to 606 guests and Serenity to 740). The introduction of more spacious suites was essential in order to remain competitive, and all of them will enjoy butler service. Check out the deckplans and it is here in the accommodation types you will find the most significant changes. The layout is of course the same as before with a few tweaks
As far as the destinations and land programmes are concerned, we are expecting an excellent relationship between Crystal and A&K, the other company in the Heritage stable, with enhanced shore excursions, uncommon access, and all the exclusive buying power of the expected A&K group. The expertise of A&K combined with Crystal's deep knowledge and experience in cruising creates an unbeatable match.
The glamour of these sophisticated and elegant ships is key: these are not just floating hotels carrying you in comfort from one port to another, but destinations in their own right, with a style and romance all of their own. It's all about you when it comes to personal choice, and the focus is on understanding each guest's particular preferences, and delivering everything just as you like it, just as you would expect from the impressive 1:1 Staff to Guest Ratio.
In addition, these professional, kind and gentle staff are desperate to be back on board, looking after guests in the acclaimed and award-winning Crystal style which has been their signature for so many years. One of the concerns about an older ship is how it stacks up in the green stakes, and we are pleased to report the company has invested heavily to ensure the high environmental standards of the cruise industry are not only met but exceeded.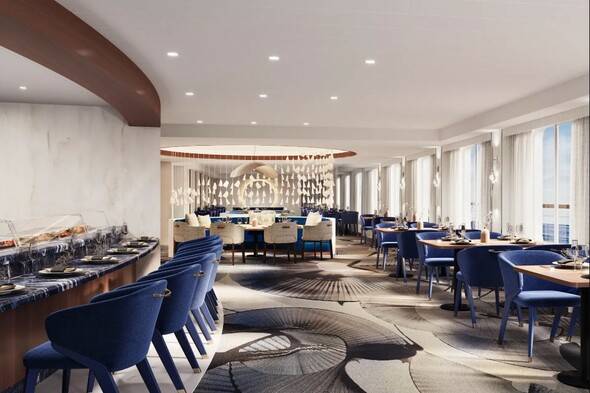 Crystal has always been known for great dining, with the emphasis on sophisticated quality and beautiful presentation, lavish use of fresh ingredients, and a high level of authenticity. The Italian alternative restaurant formerly known as Prego has been renamed Osteria d'Ovidio. If you have been following closely, you will know that the ownership of the new company is the Heritage Group, headed by Manfredi Lefebvre d'Ovidio, so this is a nod to his family name.
We are thrilled to hear the news that Nobu Matsuhisa has returned, with his iconic UMI UMA by Nobu Matsuhisa Restaurant and Sushi Bar, offering guests a range of classic dishes created by the legendary chef, served in an elegant, modern setting. Nobu restaurants are the must-have reservation all over the world, from New York to Las Vegas, London to Istanbul, Cape Town to Marrakech and Singapore to Tokyo. The restaurants on board the ships represent more global locations, and think of the value, with nothing more to pay! Around the ship all the other great dining venues are waiting to welcome us back: The Bistro, the Marketplace, Tastes Kitchen and Bar, the Vintage Room and more.
Itineraries for Serenity start out of Marseille on 31 July - a 12 day sailing to Lisbon - after which she will be in Northern Europe, Canada and New England and the Caribbean through to the end of the year, then in 2024 a lengthy 125 day world cruise with loads of added value, followed by Alaska, Canada and New England, and Caribbean programme.
Itineraries for Symphony start from Athens on September 1st, remaining in the Med until October when she positions via Dubai, Mumbai, Singapore and Perth to Sydney and Auckland, returning to South East Asia in February, and the Mediterranean in April through to July (2024), with lots of Grand Journey options, then to Northern Europe, with a rare no fly Dover round trip cruise scheduled for 18th September. Back to the Med in October, and she repositions to the Middle East in December.
Itineraries range from 7 to 17 nights, with lots of opportunities to combine a series of back to back departures to create longer voyages.
Crystal's Mediterranean voyages | 2023 and 2024
Discover Crystal's Mediterranean voyages for 2023 and 2024 and everything you need to know, including what to expect on each itinerary, the new features of the ships and what to expect on board...