In such circumstances, travelling by river boat on the Mekong, combined with key cities before and after, can create the perfect trip...
Which countries can I explore on a Mekong river cruise?
The upper Mekong, which forms the border between Laos and Thailand, is not so easy to navigate - here you will find dayboats, and more intrepid companies such as Pandaw. The stretch between Phnom Penh in Cambodia and the delta in Vietnam is much more frequented, with lots of options available.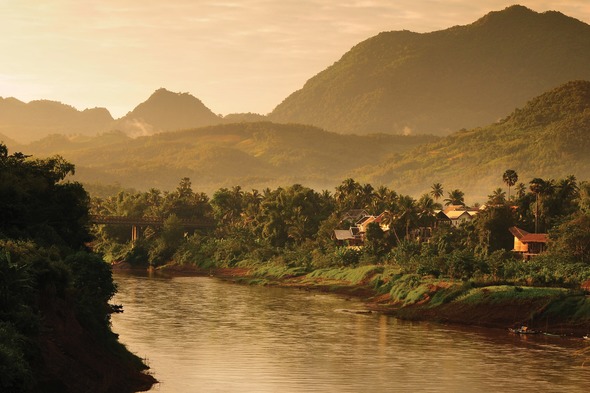 What can I expect to see?
Apart from Phnom Penh itself, there are few 'hero' calls on a Mekong river cruise - instead you can immerse yourself in daily life on the river. Expect to see floating markets, villages and farms (both on land and on the water), workshops, temples, schools and more.
Most interesting will be the extraordinary contrast between the Vietnamese culture, with its busy river banks and constant economic activity, and the far more laid-back style in Cambodia.
Will I be able to communicate with the local people?
Vietnamese and Cambodian guides will be with you throughout, helping you to speak with the locals, translating where necessary, to help you learn more about their economy, religion, education system, lifestyle, and of course their recent history.
Are shore excursions included?
In the vast majority of cases, your shore excursions will be included, and you will enjoy all sorts of different forms of transport including boats, bicycles, pedalos, rickshaws and even ox carts
What is the dress code on board?
In this steamy climate you want to be cool, so go for cottons and lightweight materials, with a hat, long sleeves and trousers to protect from insects and the sun, and take sunblock and insect repellent. To show respect, avoid bare shoulders and short shorts. In the evenings, change into normal holiday resort wear - these boats are not dressy, and there are no formal nights
Is this is a good holiday for families?
In short, it depends on your children! It's all about the sightseeing, so if they don't like exploring temples and poking around villages, probably not. If they do, you will be giving them an experience they'll never forget. They will love all the different means of transport, and seeing other people's lives up close. And you will probably visit a school or two, so they may like to meet the local children.
Is this a good holiday for singles?
Yes! With so much going on, solo travellers will enjoy meeting people on shore excursions, trips and over dinner - with just the right amount of herding, and in perfect safety.
Will my river cruise take me to Siem Reap to see Angkor Wat?
In the rainy season, Mekong river cruise vessels are able to navigate further northwards, across the Tonle Sap Lake as far as Siem Reap. Alternatively, you can travel by road or indeed take a quick 40 minute flight from Phnom Penh to Siem Reap.
Will my river cruise take me to Phnom Penh?
Yes, a sobering day in Phnom Penh will bring you face to face with the disturbing details of the genocide of the Khmer Rouge, with a side trip to the Killing Fields - though some will prefer not to see it.
What should I combine with my Mekong River Cruise?
Depending on the direction of your cruise, you should fly into Hanoi (for a southbound itinerary) or Ho Chi Minh City (for a northbound itinerary). We recommend a tour of Northern Vietnam that includes Hanoi and Ha Long Bay, followed by a flight to Siem Reap.
Allow adequate time in Siem Reap to see the city itself and visit some of the 300-plus ancient Khmer temples of Angkor - these magical and evocative temples are totally unmissable, so put them at the top of your list and visit now. They are busy, but as nothing compared to how they will become.
Bustling Ho Chi Minh City is definitely worth two or three nights, and you should make the time to travel out of the city to the Cu Chi Tunnels. For a spot of R&R, the Cambodian coastal town of Sihanoukville has beautiful beaches, or alternatively pick one of Vietnam's islands or beach resorts.
What documentation do I need?
You will definitely need a passport with at least six months validity from your return date (if you don't have a British passport, check with the relevant embassy or consulate). A visa is not currently required by British travellers for Vietnam, but please double check at the time of booking. A visa is required for Cambodia, and how you get it depends on which way round you are doing the cruise. If you are flying in you can get a visa on arrival at the airport. If you are coming by boat across the border from Vietnam, your river cruise vessel will take care of the formalities.
I have limited mobility - will I be able to get around?
This trip would not be top of my list for you. Uneven terrain, limited disabled access to sites of interest, inaccessible types of transport and rickety gangways mean that this trip will be a constant challenge - a certain level of agility is required. However, if this is a lifelong wish, do let us know and we can investigate ways in which we can realistically address the challenges.