On top of this you have the many different types of cruising to consider: there are classic ocean cruise ships, but also river and expedition cruise ships, along with ships that specialise in specific destinations, and there is huge variation in the size of these ships. At Mundy Cruising we firmly believe that a smaller ship offers a more luxurious experience, and while there are many superb vessels that fit into this 'small ship' category, there are a few that really stand out as contenders for the title of 'world's most luxurious'…
Most luxurious décor: Seven Seas Explorer & Seven Seas Splendor
Regent's Seven Seas Explorer has been the subject of not just one but two TV documentary series, starring in 'Building the World's Most Luxurious Cruise Ship' and 'Secrets of the World's Most Expensive Cruise Ships'. The 750-guest Seven Seas Explorer, which launched in 2015, and sister ship Seven Seas Splendor, which followed in 2020, both offer the perfect balance of space and intimacy.
Guestrooms are large and lavish, ranging from a generous entry-level 300 square feet to the extraordinary Regent Suite, which clocks in at over 4,000 square feet on Splendor and includes your own bar, in-suite spa and Steinway piano. All suites open onto a private balcony, a concept that Regent pioneered with the Seven Seas Mariner in 2001, the world's first all-balcony ship. There are plenty of dining choices, with specialty restaurants offering superb food in stylish surroundings, and the all-inclusive fares are the most inclusive of all any luxury line, with even your shore excursions included in the price.
Most luxurious according to the critics: Europa 2
The launch of the 500-guest Europa 2 in 2013 was eagerly anticipated by those in the know, as it marked German cruise line Hapag-Lloyd's entry into the international market. At the time of launch the original 400-guest Europa had the highest rating of any ship in the noted Berlitz Guide, so the bar was high, but for once the sequel was even better than the original.
Europa 2 brings a fresh and contemporary look to cruising, with light-filled public spaces, elegant suites (all with balcony), and an inviting combination of blonde woods and muted earthy tones, the definition of 'Scandi chic'. It's no surprise that Europa 2 has now usurped her predecessor, acclaimed by the Berlitz Guide as the best cruise ship in the world.
Most luxurious expedition ship: Scenic Eclipse
When Scenic revealed the specifications of Scenic Eclipse, their first discovery yacht, they ruffled a few cruise industry feathers. Many wondered how a ship of just 200 guests could offer so many dining choices (10 experiences across 7 venues), along with a spa, lounge, theatre, plus a submarine and two helicopters.
When she finally launched in 2019 we were thrilled to see Scenic Eclipse deliver on all this and more, with all-balcony accommodation and a sleek and stylish interior that makes this ice-class expedition vessel just as suited to the yachting ports of the Mediterranean as the ice-filled bays of Antarctica.
Most luxurious icebreaker: Le Commandant Charcot
Very few ships can truly reach the ends of the earth, but Ponant's icebreaker Le Commandant Charcot is no ordinary ship, able to reach the geographic North Pole and parts of Antarctica that are way beyond the reach of other expedition ships. Until now, the only passenger vessel regularly offering such remote expeditions was the formidable Russian nuclear icebreaker 50 Years of Victory, but the hybrid LNG/electric-powered Le Commandant Charcot brings a new level of luxury to polar travel.
The ship's high-tech features go well beyond the propulsion system, and there is even a scientific research laboratory on board. The ship's 270 lucky guests can enjoy French culinary flair, spacious guestrooms with private balconies, indoor and outdoor pools, a wellness area, fitness centre and even a winter garden. This promises to be the most exciting addition yet to the Ponant fleet.
Most luxurious in the Galapagos: Silver Origin
To cruise in the Galapagos, ships quite rightly have to abide by the stringent policies set by the Ecuadorian government to preserve this incredible habitat. Guest numbers are capped at 100 and ships are restricted to operating solely around the Galapagos, and until recently you had to choose from a selection of older vessels and ships that have been converted to operate here. Then came the introduction of Silver Origin, Silversea's stunning new ship purpose-built for this unique environment.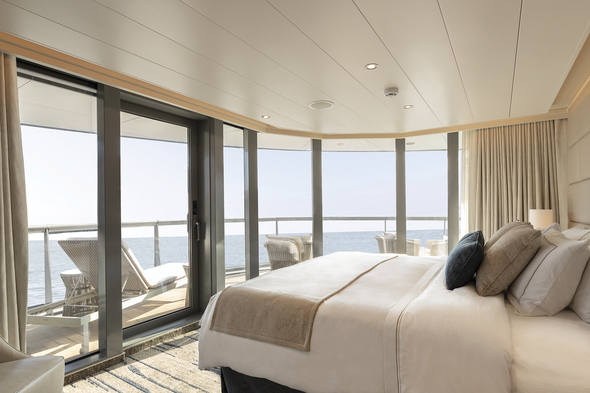 This intimate 100-guest ship is supremely comfortable, with all balcony accommodation, plenty of deck space, two restaurants, outdoor whirlpool, observation lounge with a well-stocked library and a fitness centre with panoramic views. As well as the extensive shore programme and onboard lectures there's the chance to learn more about the archipelago's flora and fauna at the Basecamp, with its amazing interactive wall. In the evening you can enjoy socialising over cocktails at the Explorer Lounge, and cosy up around the outdoor firepit after dinner.
Most luxurious fleet: Seabourn
Seabourn currently operate the most modern fleet of all the classic ultra-luxury cruise lines, and we particularly love their two newest ships, Seabourn Encore and Seabourn Ovation.
Building on the successful Seabourn style and sophistication that makes their three 'Odyssey class' ships so popular, these slightly larger vessels have interiors by designer Adam D Tihany and a speciality restaurant in collaboration with Michelin-starred chef Thomas Keller, which has since been rolled out across the fleet. On the top deck you'll find The Retreat, where 15 private cabanas, each with flat screen TVs and a refrigerator stocked with a personalised selection of beverages, surround a central whirlpool.