Despite the size of Ovation, it's easy to navigate around on board because all suites are located forward and midship, and all public areas are at the aft. Once you figure out the back from the front, you've a selection of lifts and a stunning spiralling staircase to move between each deck.
We were lucky enough to be allocated a V4 Veranda Suite midship on deck 8, which has dark wood, a spacious bathroom with 'his and hers' sinks, a bathtub with separate shower, exclusive Molton Brown toiletries, a large walk-in wardrobe, and comfortable lounge area complete with sofa bed, chairs and a table (all chairs and seating on board this ship are some of the best at sea).
There's also a lovely deep balcony and there is absolutely nothing 'mini' about the mini bar - stocked with full sized bottles of your preferred tipple and soft drinks. I highly recommend that you request your pillow and bedding preferences prior to departure, otherwise Seabourn can't guarantee your selections once on board.
Having a good night's sleep prepares you for the day ahead to either wander ashore independently with the use of Seabourn's complimentary shuttle buses, purchase one of their varied shore excursions, or make use of their onboard facilities and activities from card games, table tennis, shuffleboard, golf putting and wellness seminars to booking massages and cosmetic treatments in their relaxing and modern spa centre, complete with large gym, exercise studio, hot stone beds and salon.
Ovation has six Jacuzzis across four decks, two pools and if you're seeking the ultimate space for serenity, you can book a day at The Retreat from $129 per suite, a sanctuary under sailcloth canopies with a central whirlpool and 15 private cabanas. Spend half or a full day here to unwind with a specially-designed food and beverage menu (champagne and caviar included), credit towards a personalised spa treatment and dedicated concierge. Each cabana features a large HD flat screen TV, stocked minibar, complimentary bottle of champagne, an iPad with press reader and if you wish to sunbathe, you have easy access to the communal sun terrace on deck 12.
Seabourn Ovation has four restaurants onboard to tantalise your tastebuds. The Restaurant is your main dining room on deck 4, beautifully decorated in black, creams and accents of colourful glass lighting and sculptures. Its a la carte menu is available for breakfast, lunch and dinner, with an 'inspiration' menu which changes daily.
The Colonnade is Seabourn's popular buffet restaurant which is open each mealtime with different dishes offered for lunch and dinner each day; not forgetting the quirky ice cream cart that glistens by the doorway to entice you to it! The Patio, located next to the pool, has a condensed selection of burgers, pizzas and salads for lunch, before it changes into Earth and Ocean in the evening to enjoy fresh, inventive dishes for dinner.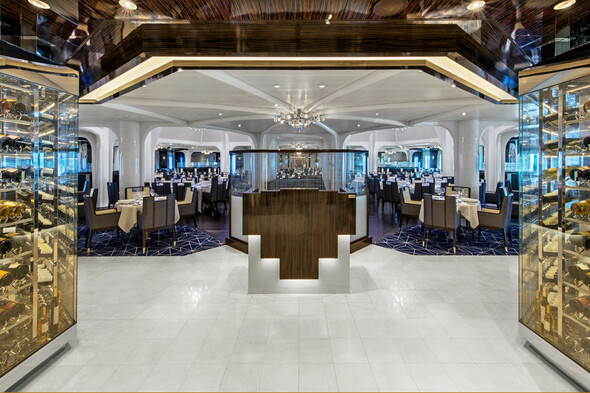 Ovation then has two speciality dining venues, both included within the cost of the cruise. Sushi is the place to consume delicious hot small plates at lunch and cold small plates with sashimi, nigiri and maki rolls at dinner, all within the confines of a gorgeous Japanese setting. It's a small restaurant and you can't prebook, therefore dining here is on a first-come-first-served basis.
The Grill by Thomas Keller has received mixed reviews from Seabourn Club members over the years, but the fact that this special surf and turf restaurant is much larger on Ovation and Encore helps to create a buzzing atmosphere and welcoming venue. Reservations are required for this dinner-only eatery, and I did have one of the best fillet steaks I've ever eaten here; the lobster thermidor went down a treat with my mum too. Next year, Seabourn will be replacing The Grill by Thomas Keller with a brand-new complimentary restaurant called Solis. Solis will offer fresh, Mediterranean cuisine on each ship by May 2024, in a redesigned and redecorated setting. Reservations will still be needed here.
No matter where you dine or how you spend your time on board, as a solo traveller you'll be well looked after by the Seabourn crew on board all their ships.
Seabourn Conversations are held for single cruisers to mingle onboard; tables are hosted in The Restaurant by officers and the ever so friendly entertainment team (who will also accompany you on the excursions); and exclusive activities will take place in the Card Room, The Club and/or Grand Salon. Therefore, it's certainly worth keeping an eye out for low single supplements with Seabourn.
Evenings on board Seabourn ships can be quite lively, which is understandable when their theatre shows are produced by Sir Tim Rice. These performances in the Grand Salon are easily the most talented and exceptional at sea - we had the incredible magician Jamie Raven, who was runner up for Britain's Got Talent in 2015 - and were fortunate enough to witness the outstanding voice of Corlea Botha (when someone opens their show with Whitney Houston's 'I Have Nothing' and nails it, you know you're in for something special!). In addition to these amazing treats, you also have Seabourn's accomplished singers to entertain and delight you with their extraordinary vocals each evening. No show is to be missed - and that's why they take place twice each night!
On a high from this entertainment, guests head to The Club to continue dancing and singing with Seabourn's house band or have a flutter in the adjacent casino. For a quieter evening, the Observation Bar at the forward of deck 11 is the place to be for pre-dinner drinks, accompanied by Seabourn's resident pianist. You can also enjoy a luxurious afternoon tea here each day at 4pm.
Having taken this cruise from Monte Carlo to Barcelona in the middle of November, it wasn't quite the right weather to enjoy water sports off the marina at the aft of the ship, but in the summer months or in warmer climes, this area can be enjoyed for kayaking, sailing, jet-skiing, banana boating and tubing.
The choice of ways to spend your time on Seabourn Ovation are endless, whether it's benefiting from 24-hour room service or shopping with the chef, there is something for everyone, all encased within elegance, attentiveness and warmth. Seabourn are a cruise line for all to experience, at least once, and with their two new expedition ships, you are spoilt for choice with interesting and exciting itineraries.