Given the events of the last few months, these words resonate more than ever at the moment. And as cruise lines prepare to resume operations, there is quite rightly a focus on measures such as enhanced hygiene protocols and pre-departure health screenings. But what about our health and wellness in a more holistic sense?
We were studying a recent Mintel report on holiday behaviour amongst the over 55s, and some general comments about the high priority that this age group places on improving health and remaining active. In fact, improving health is their second-highest priority (after spending time with family) when making holiday choices. NHS guidelines recommend that people over the age of 65, provided they are generally fit and mobile, should engage in similar levels of exercise as those aged under 65 (and indeed, why not?).
This focus is extremely well-served by the cruise industry, so we thought we would take a look at the various options and highlight six of our favourites:
The lovely little Hebridean Princess is the perfect choice for the Scottish islands, whether you are a keen walker or prefer to stand and stare. Walking in these remote locations with the security of an expert guide gives you the best of both worlds, and you will enjoy both the stunning scenery and the pleasure of walking in congenial company when you select a Hebridean Footloose cruise, on which walks are scheduled in addition to other attractions in nearly every port of call.
AmaWaterways was the first river cruise line to carry an entire fleet of complimentary bicycles on board, and this is a great way to explore in Europe, cycling on riverside pathways and in city centres. They offer a choice of guided bike tours, or the option to set forth on your own, at your own pace. Active tour options are included in your cruise fare so you have plenty of choices.
It is odd, on a large ship, to be right there by the sea but not able to touch it. That's one of the great appeals of Windstar - not only are their ships able to anchor in secluded bays with crystal clear water, but also the watersports platform off the ship's stern means you are able to enjoy swimming, kayaking, sail-boarding and even water skiing, all free of charge.
Best onboard wellness programme: Seabourn
Seabourn's Spa & Wellness with Dr Andrew Weil is an interesting programme based on Dr Weil's focus on combining physical, social, environmental and spiritual wellbeing. Each ship has a Mindful Living Coach, a certified yoga and meditation practitioner who conducts orientations, seminars and classes during the voyage, aiming for a holistic mind and body perspective.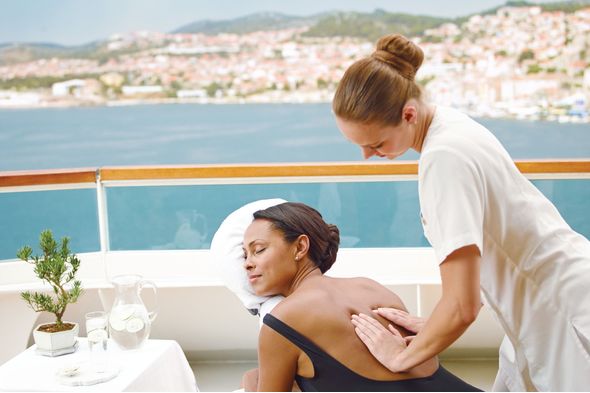 Regent is well known for its included excursion programme, and has gone one step further with a programme of Wellness Tours which allow you to explore different destinations whilst maintaining your active and healthy lifestyle. These memorable excursions include such treats as yoga against a stunning backdrop in Taormina; the opportunity to learn about apitherapy, a school of alternative medicine based on bee products; and practising meditation in Palma de Mallorca.
If you like to keep fit and active during the day, choose a ship which will enable you to do just that. Crystal is a great choice for the active traveller, from the great fitness centre and outdoor fitness garden, to numerous classes including spin and Pilates, the Walk on Water walking programme on the promenade deck, and the wonderful paddle tennis courts, perfect for whiling away a happy afternoon at sea.