Riverside Mozart, as it's now known, still offers a luxurious, boutique hotel style onboard, with 81 well-appointed suites and comfortable, elegant public areas throughout.
As with any cruise, one always heads to their cabin first, therefore I shall start with the five grades of suites onboard Riverside Mozart. The Harmony Suites are Mozart's leading accommodation. At 219 square feet these spacious suites have portrait shaped windows at "duck-view" level, which flood the room with a lot more natural light than other river ships which have the long, rectangular-shaped water-level windows.
The bedroom, lounge and bathroom are the same size and design going up to the Riverside Suites, all with snuggly beds, walk-in showers and a toilet seat lid that automatically opens every single time you walk into the bathroom (thankfully there is an 'off' button, should this "greeting" become annoying for you).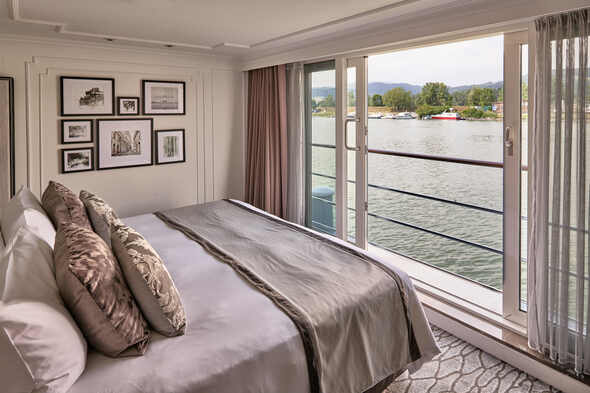 The Penthouse Suites are 300 square feet and can sleep up to three people onboard. We then have the luxurious Mozart Suite which contains a separate living area with fireplace, private bedroom, a large bathroom with full-size bathtub, walk in shower and, of course, his and hers sinks.
This suite can be combined with a Riverside Suite to make an Owners Suite, perfect for 4 people, or to benefit from an extra bedroom and bathroom during your holiday. These suites have French balconies with sliding glass doors to open for fresh air and to bring the outdoors in to the bedroom and lounge areas.
Unlike many other river cruise ships, there are four places to dine onboard Riverside Mozart. The Blue restaurant opens for lunch with snacks, salads, burgers, pasta and sandwiches, whilst overlooking the large aft of this double-width ship. Light breakfast options of pastries and fruit, or tapas style dining in the evenings can be enjoyed at the Bistro, which is a quaint coffee house venue at the heart of the ship.
The Waterside restaurant is the main dining room onboard which offers open dining anytime between 7pm-9pm with an à la carte menu for dinner. This venue also features the Marketplace for buffet-style breakfast and the Vintage Room which offers exclusive dining for 12 guests at an additional cost.
The Vintage Room provides a wine-paired dining experience with a menu specially created by the Head Chef to be consumed in the comfort of green velvet armchairs for a celebratory event or personal experience during your voyage. Each dining venue is light, airy, and modern, whilst retaining comfort and sophistication throughout.
Should you wish to work off some of those extra calories during your cruise, Mozart has its unique promenade on deck three that enables you to walk or jog around the entire ship, which no other river cruise vessel offers. Or you can head to the Fitness Centre at the forward of deck one, should you feel so inclined.
If relaxation and rejuvenation is more appealing to you, Riverside Mozart features one of the biggest spas on the Danube, with an indoor pool, jacuzzi, sauna and steam room. Unwind with a deep tissue massage in the bow of the ship, swim against the counter-current pool or read a book in the loungers whilst inhaling the sumptuous smells of the spa and salon.
This 77ft wide ship offers plenty of alfresco lounging options on the Vista deck, with a selection of beanbags, deck chairs and sun loungers, complete with the Vista Bar and Grill (perfect in the summer months) and a small yet adequate rooftop kitchen garden, which is quite unusual to see real soil and plants on the top deck, but a great link to sustainability onboard.
You're not short of places to relax onboard with chairs, sofas, seats and stools of all sizes, shapes and design, all of which look and feel comfortable to sit in as you watch the scenery stream by in the Pantry, find a quiet spot to read or catch up on emails and social media in the Library, enjoy a cocktail or aperitif in the Cove Bar or listen to a briefing and evening entertainment in Palm Court with its four large skylights and 180 degree floor to ceiling windows.
Unlike other river vessels, Mozart has a large Connoisseur's Club for those who enjoy cigars and a tipple, and another unique offering is the guest laundry area complete with washers, dryers, an iron and ironing board if you fancied using this self-service facility during your cruise.
As an all-inclusive cruise line, that's retained the luxury of its predecessor, and who has Crystal's four other standard sized river vessels coming back to European waterways later this year and into 2024, Riverside Luxury Cruises are sure to challenge the market again, and with zero supplements currently available for solo travellers too, it's the perfect time to delve into river cruising in style.