If you have chosen a port-intensive itinerary and plan to spend lots of time ashore, a spacious suite on board is not going to make a huge difference to your experience. Likewise if you like to be out and about, trying out the various restaurants, seeing the shows, and lazing by the pool on deck, do you really need a full private dining area in your suite?
On the other hand, if you are going to be on a lengthy voyage or world cruise with plenty of days at sea, you are going to love to have plenty of private space for those unsociable days, and will value the total relaxation of a duvet day with immaculate room service. And if you are travelling with family, having lots of space to kick back with them is a definite plus.
The word 'suite' should denote connected rooms under one room number, but on many ships (and hotels) it is just used to mean 'bigger room'. Technically speaking there should be more than one room to constitute a true suite, so if that's what you want be careful to check that is what you are getting.
If space is important to you, but you don't have the budget for huge Grand or Master Suites, there are some very appealing options, and we have picked out our favourite suite categories on some of our favourite ships...
1. Explorer Suite, Seven Seas Explorer
The Explorer Suites on Regent's Seven Seas Explorer are a generous 643 square feet of indoor space, plus a balcony of at least 165 square feet. Beautifully laid out with both the bedroom and the living room giving onto the terrace, there are lots of added benefits to make your stay extra special.
2. Silver Suite, Silver Whisper
The Silver Suites on Silversea's Silver Whisper, at 653 square feet including terrace, is one of our favourites, not least because of the angled bed in the glass-walled bedroom which gives you a sea view, whilst simultaneously giving extensive living space opening onto the verandah.
3. Ocean Penthouse, Explora I
The 506-square-foot Ocean Penthouses on Explora I are perfect for the leisurely lifestyle of Explora Voyages, with a spacious lounge area and dining table for four guests. Every facility you might need is available, and you have a spacious oceanfront terrace with dining area and comfortable daybeds.
4. Penthouse Suite, Seabourn Ovation
Seabourn Ovation boasts Penthouse Suites at 550 square feet including verandah. The glass walled bedroom gives onto a spacious living and dining area with French windows out onto the terrace to create an airy home from home.
5. Junior Crystal Penthouse Suite, Crystal Serenity
The re-launch of Crystal and their two ocean vessels, Crystal Serenity and Crystal Symphony brings with it several new categories of accommodation and we love the elegant Junior Crystal Penthouse Suite, boasting up to 645 square feet of space. Enjoy the separate bedroom with walk-in closet, modern and spacious bathroom and a thoughtfully designed living and dining area, not to mention verandah space of up to 161 square feet.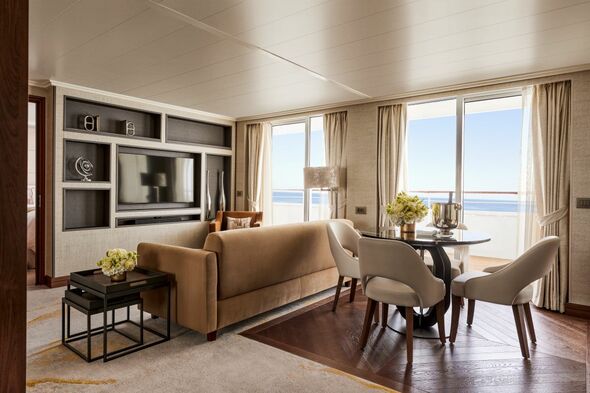 6. Grand Suite, AmaMagna
For river cruises, spacious accommodation is a rarity. If it's important to you, we recommend the double width AmaMagna from AmaWaterways, operating fascinating itineraries on the Danube. The Grand Suites, at 474 square feet including balcony, have the bed perfectly positioned to watch the world go by.
Whatever you decide on, remember the 'never go back' rule. Once you have developed a taste for a spacious suite, it will be hard to return to standard accommodation, so be warned: a one-off splash out could turn into an expensive addiction!