The word 'expedition' could put you off right from the start. But if you are picturing crampons, sturdy boots and a rucksack with your tent in it then you would be mistaken - that's not what we're talking about..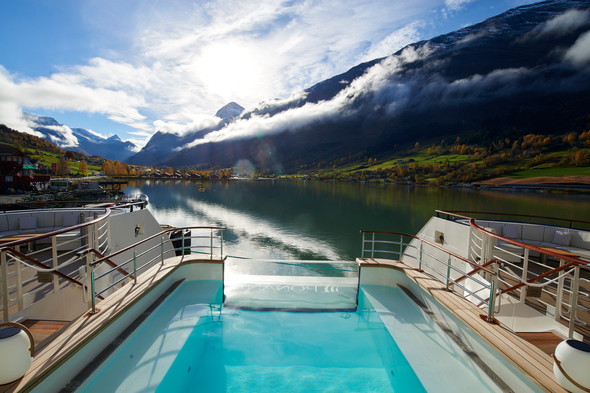 Expedition ships carry a full complement of lecturers and expedition leaders, whose expertise ranges from photography to marine biology, from birdlife to geology, and from geopolitics to exploration and climate change. These are people who are passionate about their subject, and ready to tell you all about it.
Expedition ships carry a number of RIBs (Rigid Inflatable Boats), also known as Zodiacs, which are sturdy boats carrying about 12 people. As a rule, you are supplied with a life jacket, and then clamber from the expedition ship into one of these boats, and sit on the side, holding on to the ropes around the edge. After the first time, you gain confidence doing this - the crew is highly experienced at helping you get in and out of the boats, and ensuring you don't fall. However, you do need a certain amount of agility, as they often land straight onto the beach. The crew stand by to help you on and off the vessels, and you quickly learn the best technique. But you should aim for efficiency rather than elegance!
Even in locations where there is no limit on the number of people landing, the expedition will often be planned to give a variety of experiences, so passengers are divided into groups - some may go ashore, others tour the coastline by Zodiac to get a particular perspective on the landscape or wildlife, others still head to a particular spot for deep sea snorkelling or diving. As a rule, in fine weather you can expect two, and sometimes three, landings or other activities a day.
Cruising between landings can provide some of the voyage's highlights, with amazing scenery, pack ice, whales breaching in the distance, a group of seals basking on the rocks, or a bear fishing on the shore. Expedition cruises are multi-faceted - you might choose your itinerary because of the scenery, the history or the opportunity to visit communities so isolated that they only see visitors once a year. You could be looking for wilderness, for a paradise island, or for an encounter with people far removed from the western world.
You can find all of this, but above all, you will come face to face with the natural world. If you stand still, the lives of mammals, birds, insects and sea creatures will play out at your very feet - and this is no Disney film, but more like a David Attenborough documentary - occasionally you might see a fight to the death!
Expeditions entice people of all ages and from all walks of life. Some have saved up for the holiday of a lifetime, others are fortunate enough to be working through their bucket list. It's a great holiday for families, so you might have a whole range of ages, and expect a huge mix of nationalities too. What unites everyone is a similar mindset - a spirit of adventure, a wish to be engaged and involved, and a driving excitement about sharing the day's experiences.
If you'd like to find out more about expedition cruising then head over to our Mundy Adventures site, where you'll find all the latest news and advice on small ship adventures to the world's most exciting destinations.