It's a common misconception that luxury cruises are all dinner jackets and ballgowns, but there are plenty of options for those who prefer a more laid-back style of luxury holiday. If that sounds like you then here is our guide to some of our favourite small ships and cruise lines where you won't need to pack your tux...
SeaDream's twin vessels SeaDream I and SeaDream II cater to a maximum of just 112 guests, and the line's motto is 'It's yachting, not cruising'. Sailing in the Caribbean and Mediterranean, the ambience on board mirrors the luxury resorts that you'll find ashore. Gentlemen can leave their jackets at home, whilst ladies can ditch the ball gown and cocktail dresses. If it's suitable for the Eden Roc in St Barths, or for an evening stroll along the waterfront in Cannes, then you'll fit right in.
We refer to Windstar's laid-back style as 'the Big Chill'. Whether you're on one of their three sail assisted yachts or their all-suite former Seabourn ships, you'll be travelling with fewer than 350 fellow guests, with a focus on your itinerary rather than dressing for dinner. There are no formal nights, and with a predominantly American crowd you can expect the 'casual elegance' evening dress code to lean rather more towards the casual. Informal cocktail dresses for women and collared shirts, polos and trousers for men are ideal.
Australian company Scenic describe their flagship Scenic Eclipse as 'the world's first discovery yacht', offering trips to both classic cruise destinations such as the Mediterranean and expedition-style voyages to places like Antarctica. As with all expedition ships there is no requirement to dress up in the evenings, and a mainly Australian contingent on board means your fellow guests will know how to adopt a relaxed style appropriate for warmer weather. Having said that, you may wish to get a little more dressed up if you're heading to the Teppanyaki grill at Koko's, the ship's superb Asian fusion restaurant, or the Champagne bar at Lumière, with its contemporary French fine dining.
Silversea's expedition itineraries are designed to maximise your experience of the destination. With your days spent exploring ashore, evenings are all about relaxing and enjoying the superb food and exceptional service that Silversea is known for. It's important to note that the rest of Silversea's fleet is more formal, with some ships offering a mix of expedition and classic cruises, so it's best to call us and talk through the options.
German cruise line Hapag-Lloyd operates two ships bilingually for the international market. The 500-guest MS Europa 2 operates luxury cruise itineraries and is acclaimed by the noted Berlitz Guide as the best ship in the world. With a contemporary style, light-filled restaurants and open public spaces, the modern approach means no set dress code on board, just the recommendation that a jacket is worn in most restaurants (a tie is not necessary). On board the 230-guest expedition ship Hanseatic Inspiration it's even more relaxed, and a jacket is not required. Do watch out for the more formal style of Europa, another ship in the Hapag-Lloyd fleet, which caters to the German market.
Ponant is a French-flagged cruise line, with a certain Gallic flair on board. Ponant's small ships operate both classic and expedition itineraries, and as such the dress code is laid-back yet stylish. Perhaps a little surprisingly, there are Captain's dinners on board where more formal attire is recommended, but this can take the form of a jacket/dress rather than a black-tie affair. Your itinerary may also include a 'white party', so do check before you pack!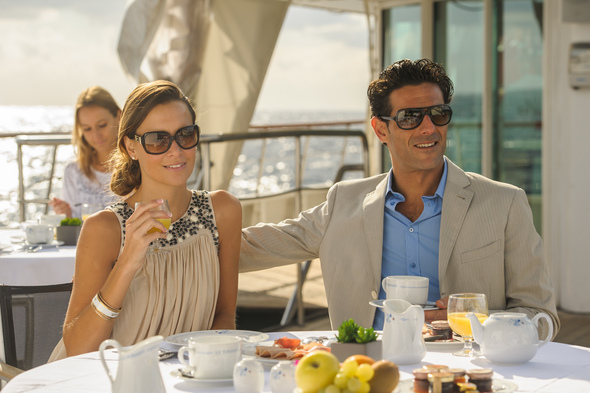 Regent are firmly in the ultra-luxury category, offering a refined dining experience on board five spacious ships. Unpretentious is the name of the game, so Regent's dress code is on the more relaxed side, described as 'Elegantly Casual': trousers, shirt and jacket (optional) for men, and skirt/trousers with a sweater/blouse for women. On sailings of 16 nights or more, 'Formal' attire is optional on two evenings, where guests are welcome to dress either in line with the 'Elegant Casual' dress code or to opt for a more formal choice of outfit, including gowns and cocktail dresses for ladies, and tuxedos, dinner jackets or dark suits with tie for gentlemen.
Finally, it's worth mentioning that those lines with a more formal dress code often only insist on this for a few evenings of your cruise, and there are usually dining venues that will remain casual on those nights, so if you've seen an itinerary you like the look of with a cruise line not listed above, do call us to find out just how dressy they are.