New luxury cruise line Explora Journeys is set to welcome the first 920 guest ship to its fleet in July 2023, with her Maiden Voyage scheduled to depart from Southampton on July 17th, sailing to the Norwegian Fjords and beyond. We can't wait to see the first magnificent ship in this fleet, offering true resort style with plenty of space and choices.
The first new ship for Oceania Cruises in several years arrives in May, and she will be one to watch. Oceania's classic selling points of excellent food, port intensive itineraries and affordable prices will be distilled into this beautiful 1200 guest ship, taking Oceania to the next level.
The second luxury superyacht for Emerald, the 100 guest Emerald Sakara, currently under construction in Vietnam, is due to launch in August 2023 when she starts a series of cruises in the Mediterranean with a sold out inaugural journey from Athens through the Corinth Canal and onwards to Italy.
We are still awaiting the announcement of itineraries for the Crystal Cruises rebirth in its new guise under the ownership of Heritage. Crystal Symphony and Crystal Serenity are currently being refurbished in Trieste, and we expect a Mediterranean launch in summer 2023.
The first of Silversea's Nova class of ships, the 728 guest Silver Nova is going to be something very special. Not only will she step up a grade with an even more spacious iteration of the classic Silversea style, but also she will be Silversea's most environmentally friendly ship.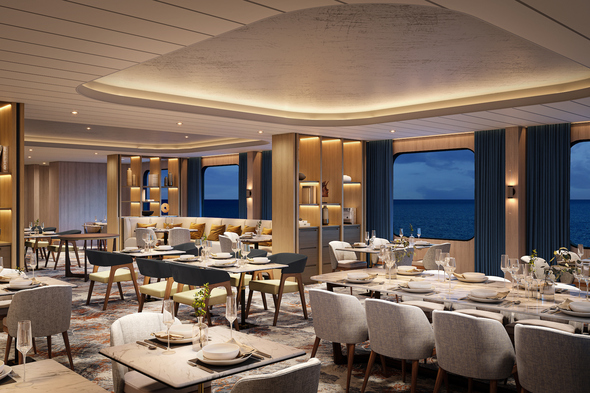 Excitement is growing for the launch of Regent's sister to Explorer and Splendor, the magnificent 750 guest Seven Seas Grandeur, towards the end of the year. This stylish ship will feature the classic Regent benefits with supremely spacious suites and an extensive range of dining options.
Seabourn's second purpose built expedition ship was originally due to join the fleet in October 2023 but will infact be delivered early and being sailing in August. On the 264 guest Seabourn Pursuit expect all the comfort and luxury of a classic Seabourn ship, combined with an outstanding expedition team and so many opportunities to explore and learn more about the natural world.
8. Riverside Mozart
Luxury German hotel brand Seaside Collection has acquired the former Crystal Mozart which will sail as part of Riverside Luxury Cruises. This should do for river cruising what Ritz Carlton has done for ocean, by catching the attention of luxury hotel clients who had not realised there was a cruise product for them.
A second 228 guest luxury expedition yacht from Scenic joins the fleet in the summer when Scenic Eclipse II sails to Iceland and Greenland on an exploration of the High Arctic. With lots of dining options and comfortable accommodation alongside great tools for exploration, Scenic offers a great expedition experience.
New for 2023 is a selection of unforgettable Seven River Journeys from AmaWaterways, the longest and most epic river cruises including seven rivers, fourteen countries and a range of AmaWaterways' distinctive exclusive experiences over 45 or 46 nights.