The exceptional award winning Crystal service, with accolades for over 30 years, will need to be replicated on the new ships. We receive welcome news of the management team, both on shore and afloat, who understand the key to the acclaimed Crystal attitude: time will tell, but great crew passenger ratios are promising.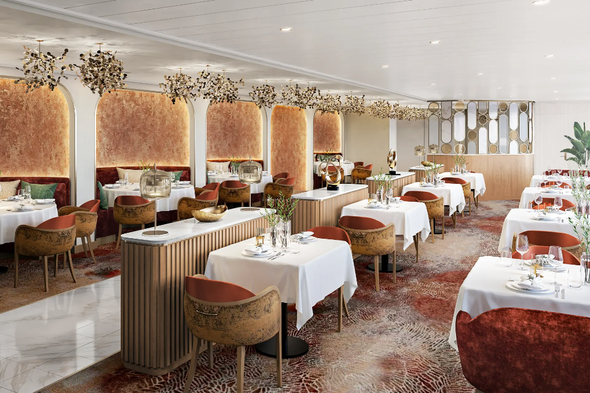 Dining was key to the Crystal experience, and the Italian alternative restaurant Prego has been renamed Osteria d'Ovidio. If you have been following closely, you will know that the ownership of the new company is the Heritage Group, headed by Manfredi Lefebvre d'Ovidio, so this is a nod to his family name. We were also thrilled to hear the news of the return of Nobu Matsuhisa and his iconic UMI UMA by Nobu Matsuhisa Restaurant and Sushi Bar, offering guests a range of classic dishes created by the legendary chef, served in an elegant, modern setting. Up on the top deck we should expect a return of al fresco dining, whilst the Bistro is firmly in place as always.
Guest capacities are reduced on both ships, with Symphony down to 606 guests and Serenity to 740. It is no secret that luxury cruise lovers have long felt that Crystal accommodation falls short compared to the spacious suites offered by the competition. As a result, new deck plans find larger accommodation where two staterooms have been made into one, and three into two, although they have held onto the entry level ocean view accommodation at just over 200 square feet, (or with a 54 square foot verandah) and some of these have been designated as 'single' rooms. Bathrooms have been remodelled to offer spacious shower compartments in the lower grades: bathtubs feature in the suites only. The renamed categories include Aquamarine Verandah Suites, Sapphire Ocean view suites, Sapphire Veranda Suites, Junior Crystal Penthouse Suites and Crystal Penthouse Suites.
As forecast, the A&K link will be significant in shore excursion planning. We think the integration of shipboard delivery with land product is a welcome first in the industry to create a seamless and truly luxury experience.
Itineraries for Serenity start out of Marseille on 31 July - a 12 day sailing to Lisbon - after which she will be in Northern Europe, Canada and New England and the Caribbean through to the end of the year, then in 2024 a lengthy world cruise followed by Alaska, Canada and New England, and Caribbean programme.
Itineraries for Symphony start from Athens on September 1st, remaining in the Med until October when she positions via Dubai, Mumbai, Singapore and Perth to Sydney and Auckland, returning to South East Asia in February, and the Mediterranean in April through to July (2024), when she comes to Northern Europe, with a rare no fly Dover round trip cruise scheduled for 18th September. Back to the Med in October, and she repositions to the Middle East in December.
Itineraries range from 7 to 17 nights, with lots of opportunities to combine a series of back to back departures to create longer voyages.
Crystal's Mediterranean voyages for 2023 and 2024
Discover Crystal's Mediterranean voyages for 2023 and 2024 and everything you need to know, including what to expect on each itinerary, the new features of the ships and what to expect on board...