What could be more appealing than planning ahead for the ultimate holiday of a lifetime, ticking off your whole 'must see' bucket list in the course of one trip - and without having to pack and unpack?
The ships we prefer, with a small passenger complement of under 1,000 guests, are perfect if you enjoy lots of space, no queues and high standards of attention to detail in all aspects of your trip. As a full world cruiser (which means you are taking the whole voyage from start to finish, rather than a shorter sector), you will also find that lots of extra treats and bonuses are thrown in, to make your journey extra special.
Don't wait for prices to go down - they won't! World cruises are being announced as far ahead as 2026 so book as early as you can to get exactly the accommodation to suit you for all those days away. You will get the best fares, and often there are lots of extra inclusions, such as business class flights.
Not all world cruises are circumnavigations, and there is a surprising variety in itineraries, so take the time to work out your priorities, and have your expert Mundy cruise consultant advise you on which will be perfect for you - this is an investment after all, so you need to choose well.
Obviously you need to plan ahead for such a trip - you need to clear out your diary, maybe arrange for someone to live in your house, certainly find a temporary new home for the dogs. So whether you are planning for 2024, or you're already ready to commit for 2025 or even 2026, there are plenty of options available. Here are our top choices:
---
Silversea's 2024 and 2025 world cruises are almost completely sold out, so luckily their fabulous itinerary for 2026 has just been released. Travelling across six continents in 140 days, this diverse voyage from Fort Lauderdale explores ancient cultures and historical marvels.
Highlights include the imposing moai on remote Easter Island, following ancient trade routes in Asia, visiting the archaeological wonders of Petra and Luxor, and a morning sailing into the beautiful Bay of Kotor. Plus, the voyage will be aboard the beautiful Silver Dawn, so guests will benefit from the incredibly popular S.A.L.T. culinary concept and the Otium wellness programme.
---
For many, Regent offers the perfect world cruise, with shore excursions included and lovely spacious accommodation even at entry level. As a result, a sell-out is not unusual. There is extremely limited space on the 2025 itinerary which will be the longest ever operated by Regent, departing Miami on 7 January, and arriving in San Francisco 150 days later.
You will travel along the east coast of South America, enjoy scenic cruising in Antarctica, then sail the Pacific including Easter Island, Tahiti, New Zealand and Australia, Indonesia, Thailand, Japan and finally Alaska. Alaska. The 2026 itinerary is already filling fast and sails across the globe with highlights including the Pacific Islands, India, and Southern Africa. With included business class flights, exclusive shoreside experiences and so much more, this will truly be the holiday of a lifetime.
---
Seabourn don't always operate a world cruise, often choosing to offer a selection of grand voyages instead, so when it does happen you know it's going to be particularly special. Their 145-day 2024 world voyage still has availability, leaving LA on 11 January and visiting Hawaii and the South Pacific islands, New Zealand and Australia, with extensive calls in Asia and ending in Barcelona via the Suez Canal.
Purchasable UNESCO Partner Tours to the luminescent caves in Puerto Princesa, Taiwan's marble Taroko Gorge and snorkelling the Great Barrier Reef are amongst some of the fantastic excursions on offer during this epic voyage.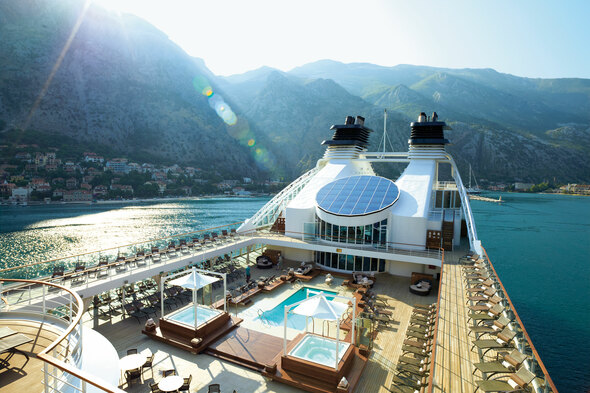 ---
Crystal relaunches this summer with a full contingent of sailings for this year and next, including not just one, but three world cruise itineraries in 2024. So, if you're looking to travel a little sooner, then there is still space available - and you can choose from a San Diego or Miami round-trip or a shorter 125-night option, plus world cruise guests will enjoy several exclusive experiences such as an evening at Palazzo Reale in Naples.
The sailings will be on board the newly refurbished Crystal Serenity which has a reduced guest capacity, enhanced contemporary accommodations and world-class cuisine including the return of the beloved guest favourite Umi Uma from renowned chef Nobu Matsuhisa.