Explora Journeys: Private Encounter with a NASA Astronaut
Space has long been a topic of absolute fascination, and this special experience with Explora Journeys allows you to ask those burning questions you've always wanted to know the answer to - from someone who's experienced space first-hand. Visit the Kennedy Space Center, from which every American human space mission has been launched, as you explore its 6,000 acres, before what is sure to be a trip highlight - a private Q&A with a NASA astronaut. Available on Explora I on journeys that stop at Port Canaveral in Florida.
Silversea: Taste Vintage Wines at the foot of Mount Etna
Indulge in the winemaking traditions and cuisine of Sicily during this Silversea S.A.L.T. experience led by journalist, wine judge and professional winemaker Benjamin Spencer. With Mount Etna as your backdrop, you'll enjoy winery and cellar tours, a traditional Sicilian lunch and vintage wine tasting at Benanti Wineries, looking over the eastern slopes of volcanic Mount Etna. Available on board cruises that call in at Catania and Giardini Naxos on board Silver Moon and Silver Dawn, on selected sailings between April to November 2023 and 2024.
Windstar: Helicopter Flightseeing Above UNESCO Sites & Jerusalem Exploration
Part of Windstar's Beyond Ordinary Collection, this adventure is truly once in a lifetime. You'll begin by flying to Masada, a UNESCO World Heritage Site, via helicopter, hovering above this archeological wonder before flying over the Syrian-African rift and the Dead Sea above the sulphur hot springs of Ein Gedi and the Qumran Caves. You'll then fly towards Jerusalem, taking in spectacular views along the way including the world-famous Temple Mount and the walled Old City. Upon landing you'll enjoy a private tour of the sacred site of Jerusalem before a lavish lunch and finally, your private flight back to Ashdod. Available in April, May and October on Windstar's 'Holy Land' voyages.
Tauck: Lunch at the Summit of Germany's Highest Mountain
As part of their 2024 portfolio of European river cruises, Tauck offer a number of Tauck-exclusive, unique food and drink-related experiences, such as enjoying lunch at the summit of the Zugspitze, Germany's highest mountain. A cogwheel train takes you up 9,700 feet to the summit of Zugspitze for an alpine lunch surrounded by spectacular vistas that include glaciers, 400 mountain peaks, and views of four countries (Germany, Italy, Austria, and Switzerland, depending on the weather!). Available on selected river cruises between May and June and September to October in 2024.
SeaDream Yacht Club: Champagne & Caviar in the Ocean
Enjoy a true celebration of the yachting life that SeaDream Yacht Club brings with what is sure to be a trip highlight, as you wade into the surf during your gourmet beach barbecue to a surfboard piled high with caviar and champagne on a special beach party with the crew. Available on SeaDream I and II in the Caribbean.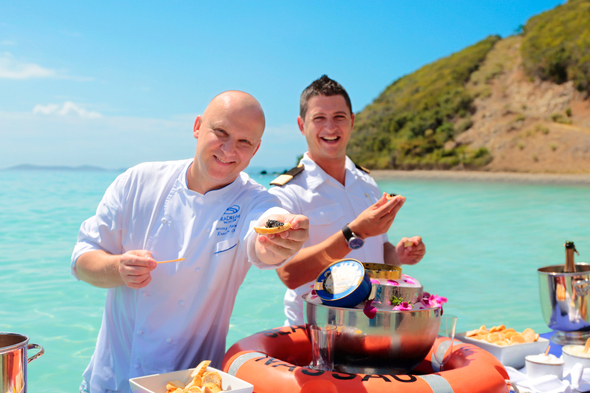 Explora Journeys: Fly Over the Craters of Iceland
Experience Iceland like never before as you board a helicopter to soar above the Reykjanes UNESCO Global Geopark. Made up of four volcanic zones, you'll take in geothermal areas; pits of boiling mud; moss-covered fields, lunar-looking lava and glittering lakes framed by the dramatic ocean coastline. You will also fly over the Blue Lagoon and its milky blue hue, with a final stop among 13th-century volcanic terrain, where women from nearby towns used to bury bread to bake it in the lava's steam. Available on Explora's Iceland sailings in August and September 2023.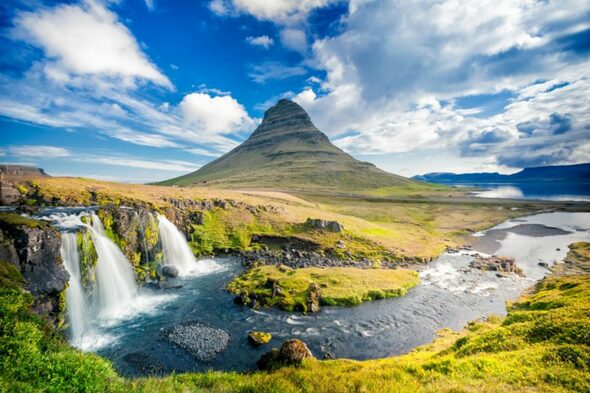 Regent: Cook with a Michelin-Starred Chef
Regent's Epicurean Spotlight Voyages hone in on food and wine with renowned chefs, and our favourite includes the Epicurean Spotlight Voyage in August 2023 sailing on board Seven Seas Mariner on which guests will join the world-renowned British Michelin-starred chef Alain Roux, who'll present lectures, lead shoreside excursions and host onboard demonstrations. Guests on the November Seven Seas Splendor sailing can meet founders of Napa Valley winery Honig Vineyard, while other hosts include Mark Bittman, an American journalist, food writer and author of 30 books who will be on an Alaska voyage on board Seven Seas Explorer this summer. Different hosts and themes available on Regent's Epicurean Spotlight Voyages.