We've heard all the objections: the list is as varied as it is long. Having had so many of these conversations ourselves, we wanted to help you address some of the most common concerns so you can convince your friends to go on a cruise...
1. The itineraries are boring
The destinations you can cruise to are extraordinary. Does island hopping around the Galapagos islands appeal? Or embarking on a journey of discovery to Antarctica? By far the best method of exploring the world's most remote destinations is on a ship specifically designed for the task. And it's not just the far-flung shores - what about the Norwegian Fjords, Alaskan wilderness, Italian Riviera, Dalmatian Coast or even the wild beauty of the Scottish islands, all of which just beg to be explored from the sea.
2. Cruise ships are too big
A large ship isn't to everyone's taste, we agree. Here at Mundy Cruising, we specialise in small ships which provide an entirely different experience. SeaDream hosts 112 guests hopping around the Caribbean and Mediterranean, while Hebridean Princess is home to just 50 guests, and counts the Queen as a past passenger!
3. The style won't suit me
Not a fan of getting dressed up for dinner? Try Windstar's laid-back vibe. Love the excuse to don your best? Perhaps Silversea's edge of formality might suit. No matter what your preference there is a cruise line with a style to suit, and we're here to advise you on the right choice for you.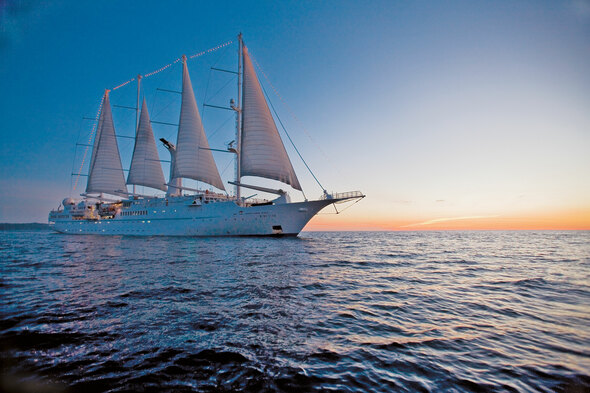 4. I'll be herded around
Whether you wish to explore independently or prefer small group tours with expert guides, our favourite cruise lines provide a fantastic choice of personalised experiences. Join the chef for a tour of the local market with Seabourn or choose one of Regent's small group 'go local' tours.
5. It's expensive on board
Simply travel with an all-inclusive line. The joy of travelling with cruise lines such as Silversea, Regent, Seabourn, SeaDream and others is that it's possible to enjoy your holiday without paying a penny more than the upfront cost, with superb wines and outstanding cuisine in a range of restaurants all included.
6. There are queues for everything
For a nation that is famously good at queuing, this concern is surprising. In truth nothing can be further from the reality of a small ship cruise experience. Whether leaving or returning to the ship, or waiting to be seated at a restaurant, often there is simply no need to queue at all.
7. I won't get on with my fellow guests
The easiest objection to overcome - simply invite your friends to travel with you! Not only will you be able to enjoy each other's company, you may also benefit from a referral programme such as Silversea's, with savings offered for new to Silversea guests and those referring them.
If these objections sound familiar, why not share this article with your friends so that they can read for themselves why they might consider a cruise! And if you're visiting this website for the first time and want to hear more, make sure you subscribe to Cruise News magazine and receive your free copy once every two months, packed full of honest reviews, expert insight, unusual holiday ideas and exclusive offers.