What is particularly impressive is the attention to detail in so many aspects of the design. The Living Room, on deck one, works very well, with people using the many sofas and armchairs just to loll about, read and drink coffee served from the coffee bar tucked into one corner. The bright, super-HD screen that covers two decks of the atrium shows constantly changing images, some connected with where we are, some Nordic, others being maps, stamps, photographs and so on.
The two-deck Explorers' Lounge is a sun-lit observation lounge with adjacent Mamsen's living area featuring a Scandi-tapas cafe, beautifully furnished and with wolf and bear skin throws (hopefully fake!) and a fairly realistic 'fire'.
All the guest cabins have a sea view and veranda. They are perfectly adequate in size and comfortably furnished. The owner made a conscious decision not to include bathtubs in any but the largest suites, on the basis that this allowed the living space to be greater.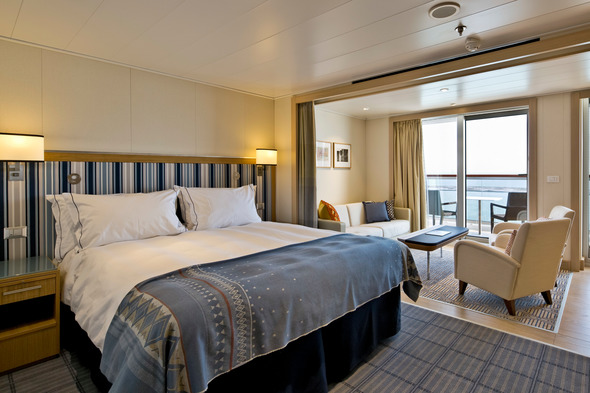 The pool deck has a retractable glass canopy that when closed turns the whole area into a conservatory-like lounge, adjacent to a permanent conservatory called the Wintergarden, a triumph of tasteful Scandinavian design, featuring wooden, stylised 'trees' and another eclectic collection of Nordic-inspired furniture.
We dined in all four restaurants, including the two speciality restaurants, Manfredi's (Italian) and The Chef's Table (with a menu that changes every three days). The food is very good and well-presented, but the servings are American-sized, which was too much for us. The Mexican tasting menu we had in The Chef's Table we did not enjoy, but perhaps one of the other menus on another day - bistro, Thai, Indian - would have been more to our taste. The main Restaurant, unlike that on most ships, is not a large, single room but a series of smaller spaces, with impeccable, attentive service.
The Spa merits a special mention. It is a beautiful facility, featuring an impressive indoor warm salt-water pool, jacuzzi, sauna, snow room and fully-equipped gym, all of which are free for guests to use. In addition, there is a range of treatments available from the Spa staff, which guests can order and pay for à la carte.
The staff, a mix of Filipino, Indonesian and Eastern European, are outstanding, obviously well-trained and professional.
What is curious, however, is the passenger demographics. They are overwhelmingly American, certainly more than 90%. Many have been on a Viking River Cruise. Those who have sailed with other ocean cruise lines have done so on Princess, Royal Caribbean or Holland America Line, trading up to Viking rather than switching across from Crystal, Regent, Seabourn or Silversea. The ambience is relaxed and very informal: there are no formal nights, nor much of a dress code. This has some unfortunate consequences, as the standards of dress are frequently well below par.
All the Viking Ocean ships are registered in Bergen, with emphasis on the Viking heritage. All in all, a lovely Scandi experience.