And yet many cruise lines have been forging ahead with ambitious expansion plans, announcing new destinations and readying new ships for launch as governments begin to ease lockdown restrictions. With everything else that's been going on, many of these announcements seem to have flown under the radar, so we thought we'd fill you in on some of the stories that you might have missed...
At the beginning of March, AmaWaterways announced a brand new ship for the Nile, AmaDahlia. Launching in 2021, this stylish vessel will have just 34 staterooms and suites, most with private balcony, plus onboard amenities including two dining venues, a sun deck bar, swimming pool, fitness centre, hair and nail salon, and two massage rooms.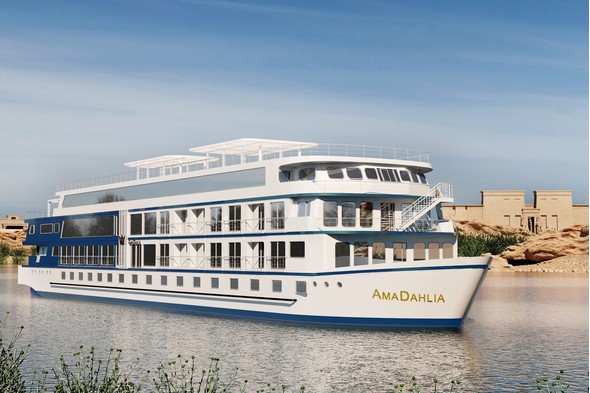 Although Viking was the first cruise line to announce a pause in operations, their remarkable expansion continues apace. Viking's seventh ocean ship, Viking Venus, floated out at the Fincantieri yard in Ancona last month, and is set to join the fleet next year. Reservations are also now open for Viking Mississippi, a state-of-the-art new ship launching in 2022, which will cruise on both the Upper and Lower Mississippi between St Paul and New Orleans.
The construction of Scenic's first ocean ship, Scenic Eclipse, suffered numerous delays, so there was some doubt over whether her planned sister ship would ever see the light of day. Happily, the construction of Scenic Eclipse II is now underway in Croatia, following the steelcutting ceremony on 24 April. Even more extraordinary is the news that Scenic now plan to build another four Eclipse-class yachts! We're also happy to hear that the construction of sister company Emerald's 100-guest yacht Emerald Azzurra is still on schedule for delivery in 2021.
Ponant's recent expansion has been nothing short of extraordinary, and we were thrilled in April to see pictures of their revolutionary new hybrid-powered icebreaker, Le Commandant Charcot, sailing from the VARD shipyard in Romania to a facility in Norway for her final outfitting. This is a ship that promises to break new ground when it comes to polar expedition travel, visiting parts of Antarctica and the Arctic that were hitherto inaccessible to tourists.
Ponant plan to resume operations this month with an appealing France-only programme focusing on regions including Brittany and Corsica, initially aimed at the domestic market in France, though we're hopeful that UK guests will be able to join these voyages later this summer. Paul Gauguin Cruises, now owned by Ponant, also plans to recommence operations in French Polynesia this month.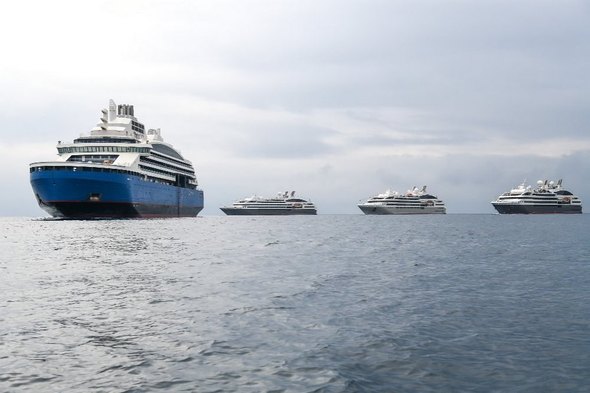 SeaDream Yacht Club are also repositioning their ships to focus on their home waters, with both yachts spending this summer in Norway. As with Ponant, the expectation is that the domestic market will provide the bulk of the guests, though we hope that Brits will have a chance to get on board before the summer is out. There will be a choice of 7- and 9-day southern Norway voyages between Oslo and Bergen, and longer 12-day voyages between Oslo and Tromso.
Of course, the coronavirus outbreak has inevitably had an impact on some of the new builds currently underway, and the temporary closure of MV Werften in Germany meant that Crystal was forced to delay the launch of new expedition yacht Crystal Endeavor, though only by a few months. Originally due in August this year, Endeavor is now scheduled for launch in January, and we're certain that this very special ship is going to be well worth the wait.
We've also seen a further delay to Evrima, the first ship from The Ritz- Carlton Yacht Collection, which is now due in April 2021. Silversea plan to launch Silver Moon in October 2020, a couple of months later than anticipated, while Silver Origin, due to make her debut in the Galapagos this month, will instead begin sailing in August, just a month behind schedule. Sea Cloud's third ship, Sea Cloud Spirit, will also be completed later than planned due to Covid-19, with the new launch date scheduled for April 2021.
Perhaps the most extraordinary story of all, given the situation that the industry has found itself in, is the launch of a brand new cruise line, Tradewind Voyages, due to set sail next year. For more details, read our exclusive interview with Jeremy McKenna, Tradewind's Sales and Marketing Director.