And with everything included, you don't even think twice… From early risers' coffee and 'just a tiny' miniature pastry, to the super healthy fruit and yoghurt breakfast buffet, but eggs and smoked salmon are fine, right? A cup of tea for elevenses, and one of those cookies, why not? It's not yet lunchtime, and you've already exceeded your normal daily calorie intake…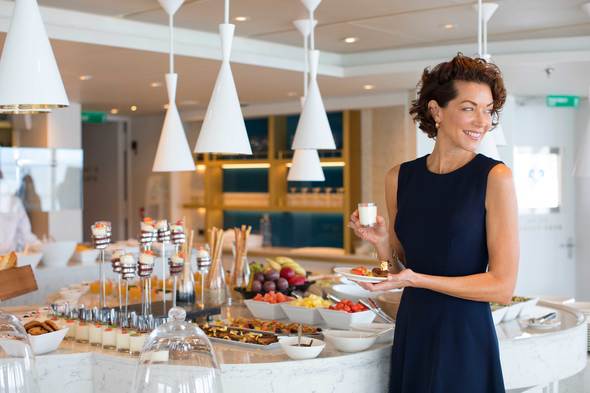 Things have changed, though, and the latest developments in cruise line food are all about quality rather than quantity. From the best chefs in the world, to cutting edge foodie fashions, to gourmet trips ashore, cruise lines are adapting and updating their offering to appeal to even the most jaded palate. Here are our favourite cruise lines for foodies:
Regent's Culinary Arts Kitchen is better than ever on board their brand new ship Seven Seas Splendor, its workstations fully equipped with top-of-the-range equipment, and an enhanced series of hands-on classes with experienced chefs from around the world gives an extra level of insight into the areas you are visiting: a lens on the region, if you will. In total there are 18 new classes, designed around the diverse cuisines of your itinerary.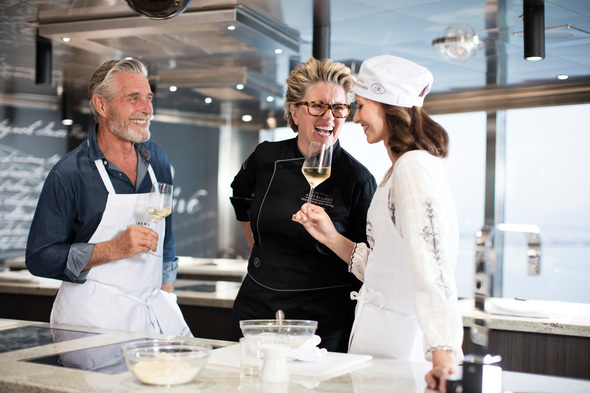 Best for gourmet experiences ashore: Seabourn
Across the board we are seeing an enhancement of cruise lines' shore excursion programmes to give you a unique insight into a region through its food and drink. Seabourn's extensive Epicurean Collection includes experiences as diverse as shopping with the chef in local markets, visiting market gardens to see what grows locally, testing regional specialities and learning how to cook them, and gourmet meals at the best local restaurants.
Best speciality restaurant: Silversea
We are accustomed to outstanding speciality restaurants on our favourite luxury ships, ranging from Asian to Italian, and from fine dining to street food. On Silversea's new ships, Silver Moon and Silver Dawn, you'll find the S.A.L.T. (Sea And Land Taste) Kitchen, a destination-focused restaurant that showcases the local cuisine, culture and rich culinary heritage of the destinations on your itinerary. Meanwhile next door in the S.A.L.T. Lab, workshops, tastings and demonstrations help you learn about local ingredients and artisanal techniques.
The current trend for plant-based menus is taking the UK by storm, with huge demand even from people who are not vegan, nor even vegetarian, but who want to cut their meat intake or are simply delighted by the new tastes and textures of plant-based cuisine. Our favourite shipboard offering comes from Oceania, with its strapline 'the Finest Food at Sea'. This company has always been ahead of the pack in its culinary offerings, and now has an extensive and creative selection of plant-based menus on offer across the fleet.
We have seen some outstanding chefs designing menus and training chefs on a number of speciality shipboard restaurants, with great results. But the one we are really looking forward to is the S.E.A. restaurant on board the new Ritz-Carlton yachts, where you will be able to enjoy a specialty dining experience designed by Chef Sven Elverfeld of Aqua, the three Michelin-starred restaurant at The Ritz-Carlton in Wolfsburg, northern Germany. Chef Elverfeld is known for his delicate combination of simplicity and refinement.
Windstar's newly 'stretched' Star Class ships now feature the Star Grill by Steven Raichlen, offering al fresco dining on the top deck. Steve Raichlen is known in the US as the man who reinvented barbecue, which he says is 'not a pastime, but a calling'. He is the founder of Barbecue University and a member of the Barbecue Hall of Fame! On board you can experience his blend of traditional and world barbecue with a modern twist, from maple sriracha chicken wings to Danish smoked shrimp, and from Hill Country brisket to lemongrass pork.