Their 100-cabin World Navigator will be the first of five identical ships which aim to deliver the best of luxury cruising combined with the best of expedition - a crossover concept that, as they put it, invites 'modern explorers on a new style of luxe-adventure travel'. Having mustered a team with a wealth of experience from several ultra-luxury lines, it's clear this is going to be an exciting product.
Sailing a mixture of expedition and more classic cruise destinations, there will be an emphasis on active exploration. As well as the included shore excursions on offer, for a reasonable supplement there will be the choice of more high-octane experiences, from hang gliding to white-water rafting. Exciting pre- and post-cruise land programmes will also appeal to the adventurous traveller.
On board, recognising that even the most intrepid of guests want to balance their adrenaline-filled day with time to relax and indulge, everything is included and service levels will match those of their six-star rivals. Despite the ships' diminutive size there's a wraparound deck, jogging track, lecture theatre, two lounges, a main restaurant, al fresco dining poolside and the majority of the accommodations have private balconies.
A complement of Zodiacs will enable landings in expedition regions, and the ships' hybrid diesel/electric engines and advanced propulsion will allow for excellent manoeuvrability in shallow waters, whether this be in a remote bay or yachting harbour, and will also reduce the environmental impact.
However, for those who know cruise, it's clear that the expedition/luxury crossover is not a new concept, and although more established brands might have a bigger challenge shaking off some of the negative connotations around cruising, they'll be quick to highlight their own offering and the similarities to Atlas.
Silversea have long operated an exciting expedition programme, and with the recent addition of Silver Origin and the adaptation of both Silver Cloud and Silver Wind to operate both expedition and classic cruise itineraries, they would argue that they are already doing exactly what Atlas are setting out to do. Equally Seabourn have been operating Seabourn Quest as a crossover style product since it was ice-strengthened in 2013, and the launch of Seabourn Venture later this year sees a ship carefully designed to combine luxury and expedition.
Interestingly, when Scenic launched their own ocean vessel, the 228-guest Scenic Eclipse, it was branded as the world's first 'discovery yacht'. Offering sailings in the Mediterranean, polar regions, the Americas and Japan, and with 10 different dining experiences spread across 7 venues, all balcony accommodation, plus two six-seat twin engine helicopters and a seven-seater submarine, it is exactly the crossover type product that it appears Atlas are aiming to deliver.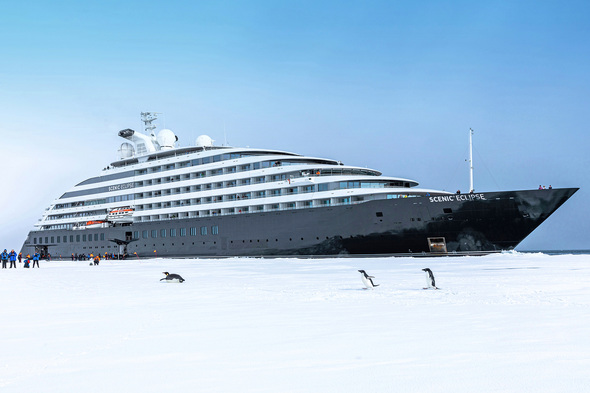 Rather than marking a paradigm shift in the approach of cruise lines, what Atlas does represent is a continuation of an exciting trend, and more small ships delivering thrilling voyages and superb quality can only be a good thing. We look forward to seeing more from this exciting little cruise line - watch this space...