Your journey begins in Cape Town with a stay at the elegant Cape Grace on Cape Town's bustling V&A Waterfront. Two days in this lovely city are devoted to a full day tour around the Cape, a visit to Table Mountain, and a choice between evocative Robben Island or a Stellenbosch wine tour.
Fly then to Victoria Falls, for a drive through Zambezi National Park to Botswana, before crossing the river to Impalila island and Namibia where you join the lovely Zambezi Queen to start a magical four day cruise safari on the Chobe River, with Botswana to the south and Namibia to the north. Charming local guides, adept at story-sharing and with an intimate understanding of the local wildlife, ensure that your magical stay is filled with information about life in this extraordinary land.
Early starts are perfect for small boat safaris, just 14 people to a boat including a local naturalist, in the dawn light, when the wildlife is at its most active, and because you are staying on AmaWaterways' Zambezi Queen, you will be out on the river before anyone else (and indeed in the late afternoon, after anyone else). Whilst the distances covered are small, what you see is constantly changing, and you can expect elephant (SO many elephants), hippo, crocodile, cape buffalo, gazelle, monkeys and baboons, not to mention a huge range of birds.
On one day, a jeep safari takes you further from the river, as you cross to Botswana on the lookout for lion, giraffe and leopard. A very special picnic lunch in the bush is a highlight of the day.
As each day draws to a close, intense sunsets give way to huge night skies with incredible stars, and it is a special experience to sit out on deck and drink up the African vibe, prior to a sociable dinner, rich with local flavours, where you share the experiences of the day.
AmaWaterways' comfortable 28 guest Zambezi Queen was designed specifically for wildlife viewing, so effectively you are experiencing an eco friendly lodge on water crewed by local people (so local, indeed, that they return to their village at night, when the last guest leaves the bar). Your experience is enhanced by these friendly members of the crew, and when you visit their village on the final day, you may well meet their Mums!
After four nights on board, it is back to Victoria Falls for two night stay at the classic Edwardian Victoria Falls Hotel, overlooking the Falls themselves. From the gardens you can see the bridge over the falls, and watch mongoose and baboon: the gardens are gated to keep the elephants out. During your stay you enjoy a train ride into Zambia, join a guide for walking tours, and sip sundowners as you cruise at the top of the falls.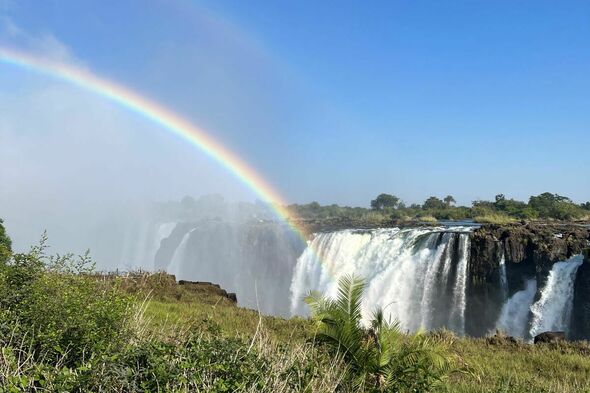 From here, various options are available. You could join the elegant Rovos Rail for an overland journey back to South Africa, fly to Johannesburg to access Kruger National Park, or opt for an extension to Tanzania.