For many of us, this has highlighted just how important it is to spend time with our nearest and dearest. Zoom calls are fine, but they're no substitute for time spent in each other's physical company.
One of the delights of cruising is that it brings people together, offering a relaxing and restful holiday, along with a welcome degree of independence. With this in mind, here is our run-down of the best cruise lines to choose if you're travelling with family or friends…
---
For over 35 years, European Waterways have specialised in luxury barge holidays, pioneering slow travel long before trendy millennials jumped on the idea. Accommodating between 6 and 20 guests, this is no ordinary boating holiday. A luxury hotel barge cruise on a beautiful inland waterway includes all meals cooked by the onboard chef, regional wines and an open bar, and daily escorted excursions on your own private minibus. There are bikes to explore towpaths and you can laze on the sundeck or in the spa pool, watching the countryside slip by.
There are plenty of itinerary options to choose from, including various regions of France, Holland, Italy, Germany and Luxembourg, while closer to home you can opt for a barge cruise in Scotland, Ireland and even along the Thames. It's possible to book by the room, but the full barge charter is ideal for close friends or families.
Perfect for: Families, with activities tailored to suit any mix of ages, and friends looking for relaxing days and informal evenings, with outstanding local cuisine.
---
The word 'cruise' doesn't seem quite right for describing a voyage on board a ship with fewer than 150 guests. Sailing on a vessel of this size is a completely different experience to those mega ships that dominate the skyline in ports around the world, and is more akin to travelling on your own private yacht. Twin sisters SeaDream I and II accommodate just 112 guests and offer the ultimate in all-inclusive luxury, with exceptional food, fantastic wines and intuitive service.
Both yachts winter in the Caribbean, with a focus on the smaller ports and lesser-known islands, and roam the Mediterranean in the summer. Travel in a group and the ships will feel like your own; a charter might be a step too far, but you could consider taking over a whole deck. Mundy Cruising can negotiate group savings and additional benefits on your behalf. As for dining, arrange something special exclusively for your party, or relax into the easy-going open seating swing of the vessel's normal operation. Al fresco options are on offer, so your seaview table is always secure, and everything is paid for up front, with no worries about who is picking up the bill.
Perfect for: Families with grown-up children and friends happy to spend most of their time together, or comfortable enough to say they want to spend time alone! The perfect recommendation for friends who think that a cruise isn't for them.
---
If your preference is to be quite private, socialising with your immediate group, then these European cruise lines will certainly suit. Hapag-Lloyd's Europa 2 carries a maximum of 500 predominantly German-speaking guests, and Ponant's fleet of chic little ships, each of which accommodates under 300 guests, is largely French-speaking. Both cruise lines operate bilingually, offering a cosmopolitan cruise experience on modern, stylish vessels.
Europa 2 has repeatedly been endorsed by the Berlitz Guide as the best ship in the world, with beautiful light-flooded interiors. Decorated in a Nordic minimal style, she is elegant, fresh and inviting, with lots of dining options, a beautiful spa, and even a cookery school.
Ponant's French style, where modern super-yacht meets nautical flair, provides a perfect environment for exploration, and a comprehensive range of exciting and adventurous itineraries around the globe will appeal to even the most jaded traveller.
Perfect for: Friends who enjoy being sociable amongst themselves.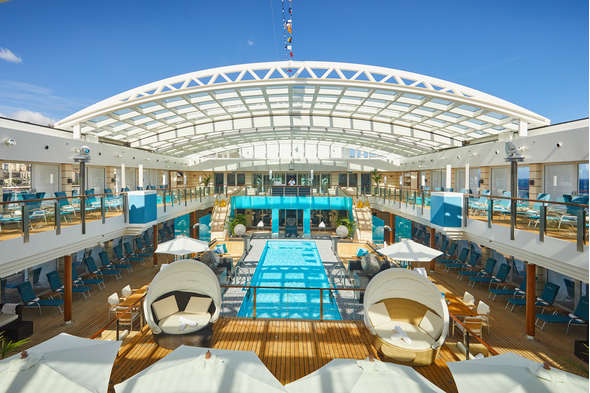 ---
These rival brands dominate the top-of-the-range cruising options. All offer exceptional service, all-inclusive fares (Regent even include a comprehensive range of shore excursions), modern ships with multiple dining options, and plenty of space on board.
Silversea's slightly more formal atmosphere appeals to many, although should you prefer a more casual ambience there are still dining venues that will suit you. Seabourn edge more towards a yachty style, with fewer restaurants and generous amounts of outside space.
Regent, with the most casual onboard atmosphere of the three, operate the largest ships (although still with a maximum of just 750 guests), providing ample space for an excellent range of dining options, an expansive spa and plenty of outside space. Their recently introduced 'Reconnect on Regent' programme offers groups of 10 guests or more included private shore excursions exclusively for your group, along with custom air fee waivers, giving you the maximum flexibility in your travel arrangements, and a complimentary private celebration, complete with your favourite cocktails and exquisite hors d'oeuvres,
All three luxury lines are suitable for grown-up families and groups of friends, and extra incentives for groups travelling together including onboard credit, discounts and free places can be negotiated exclusively for you by your agent.
Perfect for: Friends who enjoy the refinement of luxury travel.