Proudly leaving the harbour under full sail is the largest full-rigged sailing ship in the world - Royal Clipper. The passengers on deck wave before turning back to their conversations. Are you stricken with cruise envy? If so, this is the article for you. A ship with sails is not for everyone, but if it ticks your boxes, you have a few options to choose from...
Windstar Cruises
Windstar describe themselves as '180 Degrees from Ordinary', and their fleet of three sail-assisted yachts bear tribute to that. Wind Star and Wind Spirit, at 148 guests apiece, and the magnificent Wind Surf, with 342 happy travellers on board, offer a relaxed experience with a group of laid back fellow guests, motivated by the off-the-beaten-track itineraries of these little ships. Enjoy an open bridge policy, a marina platform at the back of the ship for watersports and swimming, and charming, attentive service from a friendly crew.
Request a Windstar Cruises brochure >
Ponant
The only French flagged cruise line, Ponant, have a fleet of sleek and chic motor yachts, with more to come. They are popular, but Ponant regulars remain supremely loyal to the first ship of the fleet, Le Ponant itself (the name means 'setting sun'). With just 64 francophone guests on board, Le Ponant offers a truly private, welcoming and intimate environment. Sophisticated yet friendly, this ship gives you a little taste of France at sea, for al fresco cruising at its best.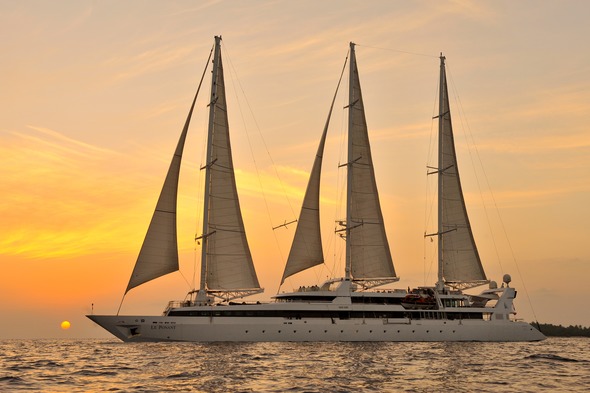 Sea Cloud Cruises
Tall ships Sea Cloud and Sea Cloud II give an authentic taste of classic sailing traditions. Teak decks, polished wood, sparkling brass and carefully stowed ropes will captivate any sailor. On these ships, sailing is not just for show - it is a true craft. When the orders ring out over the deck and the crew climb the masts to hoist the sails, every single manoeuvre marks a centuries-old ritual being brought to life. Combine that with great itineraries, genial fellow guests and the best in service, and you have a winner.
Variety Cruises
If you love the laid-back style of the Greek Islands, you will love the sailing ships in the Variety Cruises fleet: Panorama and Panorama II, each carrying up to 49 guests. The warmest of welcomes on board, a casual style, the flexibility to change itineraries to enable guests to go for an afternoon bathe off the back of the ship, and a friendly camaraderie are the hallmarks of these unpretentious little ships.
Star Clippers
Returning to my opening paragraph, the beautiful clipper ships of Star Clippers are unique vessels, discovering a new age of sail, with a passionately loyal following of sail and cruise enthusiasts alike. Royal Clipper, Star Clipper and Star Flyer are modern ships, created for people who love their creature comforts alongside the traditions and romance of the legendary era of sailing ships. On these ships, you can hide away in the nets at the bow, or even (not for the faint-hearted) climb the mast (with safety harness provided) to one of the passenger lookout crow's nests.