Proudly leaving the harbour under full sail, a beautiful tall ship glides through the water, sails rippling in the breeze. The passengers on deck wave before turning back to their conversations. Are you stricken with cruise envy? If so, this is the article for you. A ship with sails is not for everyone, but if it ticks your boxes, you have a few options to choose from...
Windstar Cruises
Following a major refurbishment in November 2019, Windstar's flagship Wind Surf re-entered service with crisp new sails. Nearly half a football field's worth of sturdy Dacron sail-cloth measuring 21,570 square feet was hand-crafted in France by the team of maritime designers and artisans at Incidence Sails, premier designers in the offshore racing and Super Yacht sectors. Indeed the Wind Surf sail project was led by noted designers Stéphane Amiot and Maxime Paul, who sailed for France's Olympic sailing team in the 1992 Olympics.
The computerised sails are self-furling and operate remotely from the Bridge, with fore and aft guidance from the ship's Nautical Officers. Wind Surf has achieved a top speed under sail power alone of an amazing 15.6 knots during a transatlantic ocean crossing. If cruising under sail appeals to you, a few options are available. Wind Surf (342 guests) summers in Europe, before crossing the Atlantic for a season in the Caribbean, with a focus on the southerly Leeward and Windward Islands. UK guests love the Barbados round-trips, a perfect speedy fly-cruise winter getaway, and great value for money too.
Meanwhile the smaller Wind Star (148 guests) weaves her magic in the Greek islands during the summer, the perfect area to explore under sail, and in the winter combines the iconic transit of the Panama Canal with the magical Pacific coast of Costa Rica. In 2024 her sister the Wind Spirit will be operating in the same regions after spending all of 2023 in the lovely South Pacific islands of French Polynesia.
Ponant
The only French flagged cruise line, Ponant, have a fleet of sleek and chic motor yachts, and are currently undergoing a remarkable expansion. They are popular, but Ponant regulars remain supremely loyal to the first ship of the fleet, Le Ponant itself (the name means 'setting sun'). Having undergone a complete refit in 2021, when her already small guest numbers where reduced further from 64 to just 32, Le Ponant offers a truly private, welcoming and intimate environment. Sophisticated yet friendly, this ship gives you a little taste of France at sea, for al fresco cruising at its best.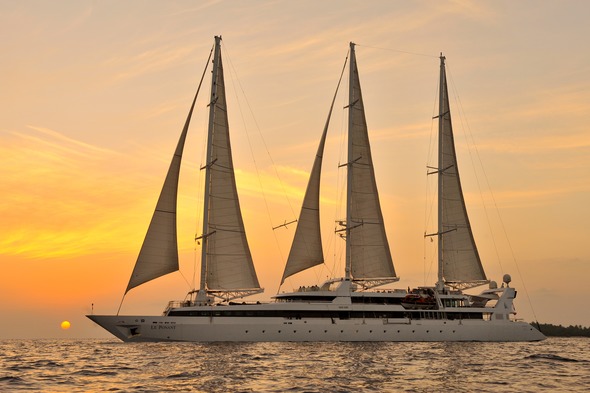 Sea Cloud Cruises
Tall ships Sea Cloud and Sea Cloud II give an authentic taste of classic sailing traditions, and in 2021 they were joined by the newly built Sea Cloud Spirit, a fully rigged three-master. Teak decks, polished wood, sparkling brass and carefully stowed ropes will captivate any sailor. On these ships, sailing is not just for show - it is a true craft. When the orders ring out over the deck and the crew climb the masts to hoist the sails, every single manoeuvre marks a centuries-old ritual being brought to life. Combine that with great itineraries, genial fellow guests and the best in service, and you have a winner. The vessels are often chartered, so look out for opportunities in Europe and the Caribbean.
Star Clippers
The beautiful clipper ships of Star Clippers are unique vessels, charting a new age of sail, with a passionately loyal following of sail and cruise enthusiasts alike. Royal Clipper, Star Clipper and Star Flyer are modern ships, created for people who love their creature comforts alongside the traditions and romance of the legendary era of sailing ships. On these ships, you can hide away in the nets at the bow, or even (not for the faint-hearted) climb the mast (with safety harness provided) to one of the passenger lookout crow's nests.