I joined Voyager at the port of Naples, a UNESCO World Heritage Site. I was lucky to have a midship Deluxe Veranda Suite (G category) located on deck 6, and was pleasantly surprised at how much space there was. I was particularly impressed by the size of the bathroom, complete with bathtub, separate shower enclosure, toilet and double vanity unit.
At 356 square feet the Deluxe Veranda Suite is pretty sizable for one of the lowest categories, with a veranda large enough for two reclining chairs and a good-sized table. The glass front to the veranda meant that it was easy to relax and watch the world go by as we sailed along.
Dinner in the main restaurant, Compass Rose, is a delight: such a huge choice of dishes, presented so beautifully that a visit to Compass Rose stands alongside the smaller alternative restaurants as a culinary highlight.
The entertainment on board was another highlight. We enjoyed an excellent show enhanced by the comfort of the theatre, with seating on two levels, and plenty of leg room and tables for drinks, brought to you by the ever-present waiters.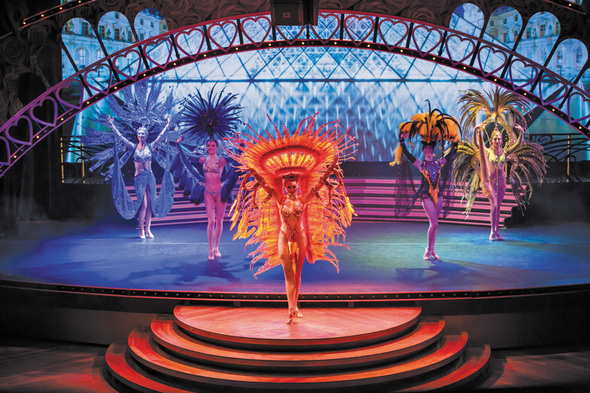 The following day was a sea day, and with the hot and sunny weather, I made the most of the ample sized swimming pool and the plush sunbeds. There are plenty of loungers around the pool, as well as many hidden places at the back of the ship, with magnificent sea views. Because Voyager is a spacious ship with excellent facilities, there was plenty to do on a full day at sea - perfect for recharging in between the busy days ashore.
I did make time for the afternoon Chocoholic Teatime in the Horizon Lounge - chocolate fountains, chocolate creations in every size and shape, along with finger sandwiches, quiches, scones with cream and jam, and the obligatory pot of tea were duly consumed, but leaving enough space for dinner!
The lovely Observation Lounge is a perfect venue for pre-dinner drinks - a lovely sea view and resident pianist to entertain us over cocktails. We had dinner in Chartreuse, quite a formal restaurant which features classic and modern French dishes, beautifully presented in a stylish and chic setting.
Our next stop was in Kotor in Montenegro. This fascinating port sits on the Gulf of Kotor, a lengthy sea inlet surrounded by stunning scenery, not dissimilar to the Italian Lakes. Kotor is also a UNESCO World Heritage site, with one of the best preserved medieval old towns in the Adriatic.
Regent include a wide selection of 'free' shore excursions in every port, and we enjoyed a walking tour of Kotor with a local guide, then a short bus ride along the coast to catch the water taxi across to Our Lady of the Rocks Church, situated on the tiny island of Gospa od Skrpjela. This is a truly beautiful place, and on the day I was there a wedding had just taken place, with the reception held at the waterfront hotel back on the other side of the bay.
On the final night, we headed to my favourite restaurant on board, Prime 7, serving classic steakhouse cuisine, along with fish and lobster dishes.
After a taste of what it is like to sail with Regent Seven Seas, I will confidently recommend them - two of my companions booked a future cruise to the Far East while we were still on board, which clearly speaks volumes!