The check-in was quick, having completed the Health Questionnaire 3 days prior and my luggage arrived in my stateroom shortly afterwards. I had chosen an Atrium View so that I had a window of sorts, albeit was not a sea view (something that I had stayed in during my 'taster' 2-night cruise back in July 2022). The accommodation was ample, with a Queen size bed, dressing table, plenty of wardrobe space with a plush dressing gown and slippers provided, a minibar, tea/coffee making facilities, in-room safe and a small en-suite bathroom with shower. The toiletries onboard were Penhaligon and as with most cruise lines these days, were refillable containers, rather than travel size plastic bottles.
As a Solo traveller, I had wondered how I would fill my day, but I had no need to worry! The Britannia restaurant - so-called because the original ship Britannia could have fitted inside it, had two sittings and I was booked into the early sitting at 6pm and I had requested to sit with other solo passengers. Our table of 3 (although laid for 6) had expanded to 8 by the last 2 nights of our cruise - this is because we had met, befriended and grouped at the daily morning Solo Travellers Get Together in the Carinthia Lounge, followed by a pre-dinner evening Get Together in the Champagne Bar.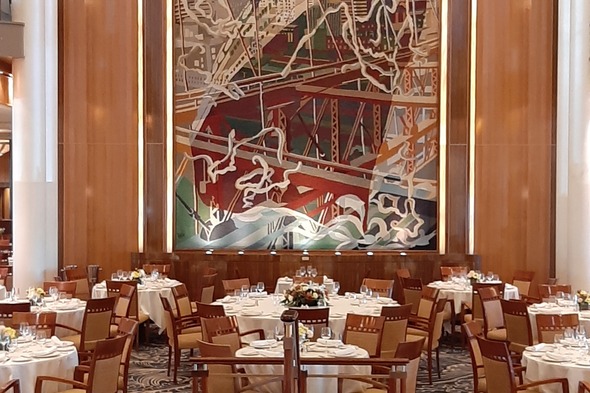 Food in the restaurant was excellent and if any guest had a specific dietary requirement, they were well catered for. One of the group was gluten-free, so each evening he could see the following day's lunch and dinner menu and chose his dishes, so the chef would adapt them to meet his requirements. There was also a Solo's Lunch one day, organised by the Hostess onboard, so was a great opportunity to meet others on the sailing, who may be at a different dinner sitting or who had not been at the daily gatherings.
There is a variety of restaurants - the Kings Court buffet, which is where I ate breakfast most days and which served lunch and dinner on a more casual basis for those guests who did not want to dine formally. The Golden Lion Pub (serving traditional English fayre at lunchtime only); the Queen's Room where the White Glove traditional Afternoon Tea was served every day between 3.30pm and 4.30pm. The Steakhouse at The Verandah (at an additional cover charge of US$25 per person); the Carinthia Lounge where there were light snacks; Sir Samuel's which served speciality teas, coffee and chocolate (at an additional charge) and there is also 24-hour in-suite dining.
There is something for everyone with the entertainment onboard! Daily Trivia, quizzes, Bingo, Cunard Insights talks; I attended one on New York - Walking Broadway, which took you from one end of the city to the other, with information on the changes in buildings, transport, etc. over the centuries. There is also the only Planetarium at Sea, called Illuminations, which had two different themed showings over the week, but with spaces limited to 50 guests; it is necessary to reserve in advance your preferred time slot for the day. This also doubled as the cinema onboard, so a visit to see Downtown Abbey: A New Era and Elvis, occupied a couple of afternoons. There is a casino onboard with tables and slot machines and as every day is a sea day, open daily from 5.30pm until late.
The Royal Court Theatre is where the featured evening entertainment takes place at 8pm and 10pm, so possible to see no matter which dinner sitting you have. The welcome show "Be Our Guest" showcased the talents of the singers and dancers onboard, but for me, the chance to see The Kingdom Choir (who sang at the Royal wedding) was a highlight! The Royal Shakespeare Company were also onboard to run workshops of 30 minutes for those who wished to have a go at 'treading the boards'. The Queens Room was used daily for dance classes, ballroom dancing and Big Band Orchestra. For those who wanted to continue into the night, G32 the disco, with the onboard DJ played a variety of music until the early hours.
There was a Black & White Gala Celebration on the second evening with formal attire and a Masquerade Ball on the evening before last; it fun to choose and buy your masks from one of the several shops onboard. You can prepare for these events with some pampering or spend the day relaxing at the Mareel Spa, with everything from Meditation, Pilates, Stretching to beauty and hair salon treatments (at an additional cost). I treated myself to a Day Pass (US$39) to use the thermal pool, saunas and steam rooms, but these are currently only available for 2 hours, so that everything can be sanitised in between timings.
There are a couple of pools onboard, along with jacuzzi pools, one of which is undercover (Pavilions). There is a golf simulator, Deck Quoits, Giant Chess, sports courts and an area for children/teenagers, but this seems to have organised activities during the school holiday times only.
The cruise included accommodation, all food (except Speciality Dining), but drinks and gratuities are not included. There are several drink packages to choose from including soft drinks, coffees and teas, wines, all alcoholic beverages and this can range from US$10 upwards per person per day.
Arrival in New York is usually announced by the Captain about 4am, but as there was mist when we were sailing into port, I decided to wait until we docked about 6am and it was clearer to see the fabulous views. Disembarkation was quick and I chose to do this individually, taking my own luggage at about 7am. There were no queues at immigration, so I was straight in a taxi to my hotel for my overnight stay. This voyage was so enjoyable that I am already looking at sailing again next year - this is definitely the way to travel to New York if you do not want to fly and you can avoid the airport queues everywhere. Here's to the next trip!