Silver Muse launched in April 2017 - fresh, low-key, sophisticated, and boasting a totally new dining concept with up to eight different dining options.
Carrying just 596 guests, Silver Muse is slightly larger than the last addition to the fleet, Silver Spirit, and to my mind has a more appealing decor, with woodland greys, silvers and greens as the background in a light, airy and unpretentious ship, with no aspirations to 'Grand Hotel' opulence.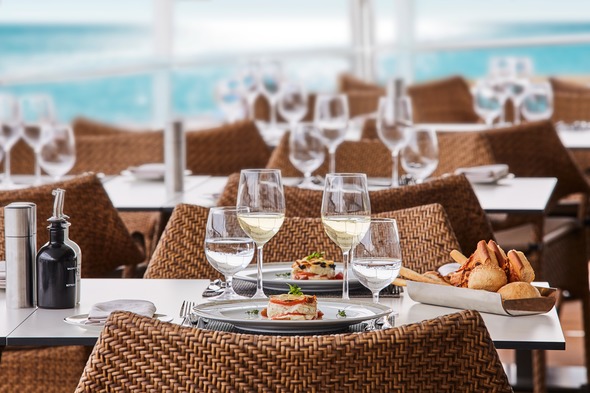 Particularly inviting is the extensive outdoor space at the back of the ship, wonderful for relaxing with a panoramic sea view. Suites are spacious, with comfortable verandas and excellent deck furniture to create a lovely sunlit yachty style.
The new Silversea dining options include the Relais & Châteaux French masterpiece La Dame; the Japanese Kaiseki with its Tepanyaki Grill (also open at lunchtime for sushi and sashimi); the taste of India and the Orient at the extensive Indochine; the attractive grill and seafood restaurant Atlantide; authentic casual Italian options in La Terrazza; Silversea's signature hot rocks lava stone cooking at the Grill; the pizza restaurant Spaccanapoli, with a nod to the company's Italian heritage; and the sophisticated Silver Note, with tapas-style dining to a background of jazz and blues.
All of which means that seven day cruisers could easily dine in a different venue every night, with mix and match options and loads of variety.
Silversea have now announced that there will be some changes to the dining on board Silver Muse, after regular Venetians (Silversea past passengers) expressed some concerns. Resistance from regular open seating diners came from the fact that with no 'main' restaurant as such, the relaxation of turning up and finding a tablemate had been removed, and there was a certain requirement to make reservations for every night of the cruise.
To remedy this, from 13 October 2017 an open seating dining policy will be in place for Atlantide, Indochine and Spaccanapoli, and the previous insistence on different dress codes in different restaurants will be dropped, with the ship's dress code aligned with the rest of the Silversea classic fleet. We will continue to learn more as the weeks progress, so check back with us to learn how this new venture works.
At the launch of Silver Muse, the company's owner Manfredi LeFebvre d'Ovidio spoke with passion of his vision for the company, and his aim to achieve a fleet of twelve ships. There is lots of excitement around the Silversea Expeditions product, with one of the classic fleet's original ships, Silver Cloud, moving across into the expedition fleet.
On the other hand, we hear whispers that the long term charter of Silver Discoverer may well be drawing to an end - not before time, in our opinion. Her itineraries are great, but her hardware hardly matches up to the other vessels in the fleet. This opens up an opportunity for another addition to the fleet - and we are currently aware of many yards working on new hardware specifically designed to take more intrepid guests off the beaten track, so watch this space for more news.
We have also been delighted to see the return of many old friends back to the Silversea fold, and a focus on standards that we certainly welcome, resulting in some very positive reports back from our clients over the last few months.
---
Find out more: Get your free Silversea brochure