The world of cruising offers an incredible diversity of travel experiences, and there is no 'one size fits all' template. Just as some people prefer a tiny boutique hotel to a big all-inclusive resort, so many travellers will find they are better suited to a small luxury vessel rather than a huge mainstream ship carrying many thousands of people. And it's not all about size, with a host of other factors to take into consideration, from the style of dining on board to the sort of places you want to visit on your cruise.
Helping you to narrow down your options and find the perfect cruise is what we're all about here at Mundy Cruising, and nothing beats a conversation with one of our team to really thrash out the details. But we thought it would be fun to put together a little quiz, to help steer you towards the sort of ships we think you'll enjoy. Our Cruising Personality Test is designed for both regular cruisers and those who've never cruised before, with ten questions covering the various facets of holidaying at sea.
Simply make a note of the answer that best describes you for each question, and we'll tell you at the end what sort of cruiser we think you are...
---
1. First things first - how do you currently feel about cruising?
(a) I love cruising - it's part of who I am!
(b) I've never cruised before, but I'm interested in giving it a try.
(c) I'm more interested in where I'm going on holiday than how I'm going to get there.
(d) It appeals to me, but I will only consider the very best luxury ships.
2. Other than cruising, what sort of holiday do you most enjoy?
(a) I only go on cruises.
(b) I like to travel at my own pace - I love exploring new places, but also with some time to relax.
(c) I enjoy adventure tours and active holidays, and I like to head well off the beaten track.
(d) I mostly holiday at luxury or boutique hotels - 'roughing it' is not for me.
3. What sort of accommodation do you prefer when you're on holiday?
(a) I like to be well looked after - butler service is a real plus.
(b) Comfort is important to me, but I wouldn't know what to do with a butler!
(c) I'll be out exploring most of the day, so my accommodation is really just a place to sleep.
(d) I want plenty of living space, a balcony, high-end toiletries and a well-stocked mini bar please!
4. What sort of destinations are you interested in visiting?
(a) I want to tick off those 'must-see' places - Venice, Sydney, New York, Cape Town - but I might not get off the ship if it's docked somewhere I've been before.
(b) I prefer to avoid places that are too crowded - I like the sound of pretty little Mediterranean towns, deserted beaches in the Seychelles, sleepy Caribbean islands…
(c) I want to visit remote wilderness and unique ecosystems - places like Antarctica, the Galapagos, the Arctic, Papua New Guinea…
(d) I like to stay one step ahead of the masses and visit the latest 'in' places.
5. How do you feel about dressing up for dinner?
(a) It's an important part of my holiday - I love getting dressed up in my smartest attire.
(b) It's not really my thing - I'd rather be comfortable.
(c) I'd rather save the space in my suitcase for my hiking gear.
(d) I like to wear nice clothes to dinner, but nothing too stuffy.
6. How important is food and drink to you when you're on holiday?
(a) For me, dinner is as much about the sense of occasion as the food.
(b) I like good food and wine, but it doesn't have to be Michelin-starred!
(c) The most important thing for me is trying local cuisine in the destinations I'm visiting.
(d) I consider myself a real foodie, and I love fine dining.
7. Do you have any preferences when it comes to your fellow travellers?
(a) I prefer to holiday with other Brits.
(b) I'd rather travel with a slightly younger crowd.
(c) I like to meet people from all over the world, and I'm keen to meet the locals in the destinations I visit.
(d) Having a luxury experience is the most important thing, even if it means we're the only Brits on a ship full of Americans.
8. And how do you feel about socialising on holiday?
(a) I like to make friends on holiday and have dinner together most nights.
(b) I'm happy to be sociable and go with the crowd, but I prefer a table for two at dinner.
(c) I love swapping stories in the bar after a busy day of exploring.
(d) Flexibility and choice is the most important thing - I don't want to be constrained by fixed seating times for dinner.
9. What sort of facilities are most important to you?
(a) The evening entertainment is key for me - I love going to a show after dinner.
(b) I'm not too fussed, as long as there's a pool, a bar and somewhere to relax on a sunny day. Watersports equipment is a bonus.
(c) Enrichment is important to me - interesting lectures, a well-stocked library, and staff who really know their stuff.
(d) Great fitness and wellness facilities are a must - I'll definitely be visiting the spa, and maybe the gym too.
10. Last but not least, what do you like to do when you're sightseeing?
(a) I'm happy to take one of the ship's tours and tick off the main sights in each port.
(b) I prefer to do my own thing, I'd rather not be herded around.
(c) I want to get up close to wildlife, see amazing scenery and meet local communities.
(d) I'm interested in more exclusive tours and experiences that most tourists don't have access to.
---
Now add up your answers and find out which cruising personality type we think you belong to…
Mostly (a) - Traditionalist
You're a cruiser in the classic mould, never happier than when you're on board a ship. You love to dress up for dinner in your smartest frock or tuxedo, and you'll likely dine with friends before enjoying a show in the theatre. The ocean-going heritage of a line like Cunard appeals to you, or you might prefer the more intimate ships of Silversea. A cruise on board the Hebridean Princess is probably on your bucket list (if you haven't done it already), and you might also find the new Saga ships to your liking.
Mostly (b) - Casual Cruiser
You're not keen on formality and overly structured days - in fact, this may well be what's been putting you off cruising up until now. We think you would love the laid-back atmosphere on board one of Windstar's small ships, or the intimacy and al fresco style of SeaDream Yacht Club. Perhaps the idea of cruising on a genuine sailing ship appeals to you, in which case take a look at Star Clippers. And if you've always dreamed of visiting the South Pacific, a voyage out of Tahiti with Paul Gauguin Cruises is the way to do it.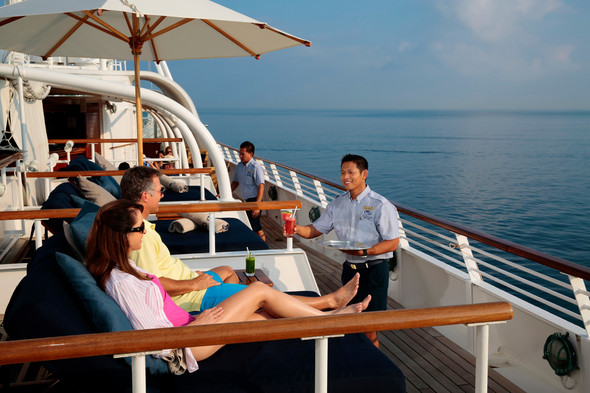 Mostly (c) - Explorer
You are the polar opposite of a traditional cruiser, but that's ok - there is a whole world of expedition cruising out there, waiting to be explored. Take a look at our Mundy Adventures website for some inspiration, with everything from UnCruise Adventures' tiny vessels in Alaska and Mexico to the more luxurious expedition ships of Ponant and Silversea. If travelling to Antarctica and the Arctic sounds a bit too intrepid then you might prefer the port-intensive itineraries of a more traditional cruise line like Oceania, or a river cruise with the likes of AmaWaterways or Pandaw.
Mostly (d) - Luxury Lover
You enjoy the finer things in life, and you're prepared to pay a premium for them. You are a perfect fit for the cruise lines we refer to as the 'Best of the Best' - the likes of Regent, Seabourn and Silversea - where fantastic fine dining, spacious accommodation and unlimited drinks are included as standard. Your ideal ship is small and boutique, with personalised service and excellent wellness facilities. The Ritz-Carlton Yacht Collection, launching in 2022, is one you should keep an eye on, and you may also enjoy a cruise on board Scenic's new expedition yacht, Scenic Eclipse.
Of course, our quiz is no substitute for a chat with one of our expert cruise consultants, so why not give us a call on 020 7399 7670 and we can discuss your cruising personality in more detail!