So if you are interested in a more multilingual cruise environment, you might think about the following European cruise line options...
Ponant
Ponant, the only French cruise line, has started construction of its latest ship. This will be the first of the Explorers series, to comprise four expedition ships in total. Le Lapérouse and Le Champlain will be ready for summer 2018, followed by two further sisters (Le Bougainville and Le Kerguelen) in summer 2019. Like the existing fleet, the vessels will boast state-of-the-art technology. With ice classification and the international Cleanship label (Bureau Veritas), Ponant will continue to lead the way in innovation for small ships (under 200 guests), designed to travel way off the beaten track to an even wider range of destinations, including new itineraries to tropical and subtropical zones.
The Artemis ownership brings with it a unique addition to the programme, as other Artemis-owned companies get involved, in the shape of a fantastic Château Latour cruise in April, with Alain Ducasse on board, and a Christies cruise in June with a fascinating line-up of lecturers and exclusive access to the Palazzo Grassi in Venice.
Sea Cloud Cruises
From Germany we hear news from Sea Cloud with the release of their 2018 preview brochure, which includes another in-depth Cuba itinerary. Although our Sea Cloud guests are few and far between, reports back are without exception excellent in terms of food and service, with very comfortable accommodation, and announcements kept to a minimum but made in both German and English. The genuine rigging, beautiful woods and polished brass and classic décor make this vessel a must for more adventurous passengers, particularly those who love to be at sea and under sail.
Hapag-Lloyd Cruises
Meanwhile, at Germany's Hapag-Lloyd, the 'best ship in the world' according to Berlitz, the lovely Europa 2, introduces a new IN2BALANCE programme featuring, on certain cruises, renowned fitness coaches and trainers to present innovative training methods, the relaxation techniques of the Far East, and the latest findings in nutritional science. Interested passengers will learn more about new and proven techniques and methods to help them slow down and achieve general well-being in their increasingly stressful day-to-day lives. Within the expedition division there are new expedition ships under construction, one of which will be bilingual. In the meantime, English-speaking expedition fans should head over to the Mundy Adventures website to find out more about the lovely Hanseatic.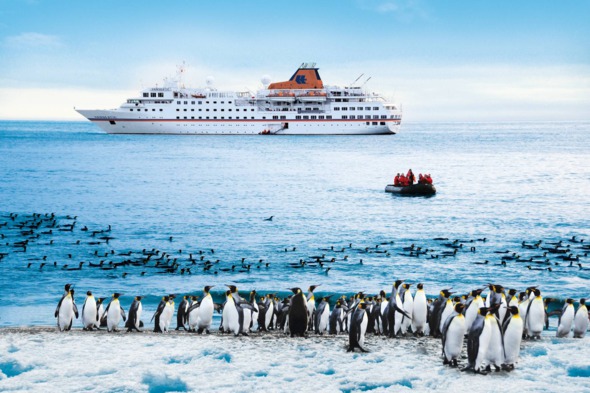 Viking Ocean Cruises
Viking, known originally for their high profile development of the river cruise market and more recently for their debut on the world's oceans, enter their 20th anniversary year with twelve months of special events, great offers, exciting new itineraries and prizes planned to mark the occasion in style. New itineraries are being introduced on the oceans for 2018 including Alaska & The Inside Passage, Australia & New Zealand, South East Asia & Hong Kong, Capitals of the Far East, Panama & Central America and Passage to India. And whilst Viking has a high profile in America and the UK, its passenger mix includes a broad range of Europeans too.