We chose to extend our stay in Budapest ahead of joining AmaCerto, as we loved the city when we visited for a Valentine's weekend a few years ago. This time round, we decided to explore the northern side of Pest a little further by basing ourselves at the Radisson Blu Beke hotel. We went everywhere by foot (which at times felt like a troop march with my fiancé!) to discover the gem that is Margaret Island - who knew such a beautiful, tranquil place could exist in the middle of a major river - and Heroes Square, which is surrounded by leafy parks, the famous Szechenyi Thermal Baths and the elaborate Vajdahunyad Castle.
If you don't fancy walking your feet to the bone, Budapest has several environmentally-friendly bike and scooter hire options, their brilliant city bus tours, or you can just hail a very reasonably priced taxi. After two years of being unable to travel abroad, we decided to treat ourselves with an absolutely unforgettable meal at the exquisite Halaszbastya Restaurant up on Fisherman's Bastion; not only is the food delicious and the service attentive, the views of the Danube and my favourite building, the Hungarian Parliament, add to the 'wow factor' of this experience - one we highly recommend, especially if you're celebrating a special occasion.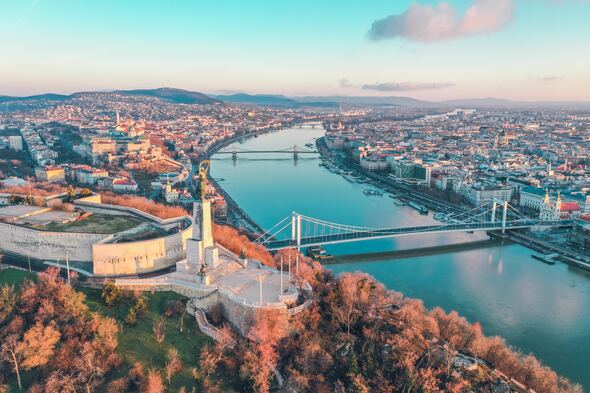 An overnight on board our ship in Budapest allowed us to revisit the Chain Bridge end of the city before setting off on our 'Melodies of the Danube' cruise to Vienna, Durnstein, Melk, Salzburg, Passau and Vilshofen.
During this 7-night cruise we were fortunate enough to visit two Christmas markets - one in Vienna and one in Salzburg - both of which had just opened the night before we arrived. Although FFP2 masks had to be worn and your vaccination certificate had to be shown to enter, the experience inside was exactly the same as when I last visited around five years ago, full of Austrian crafts, snacks, beautiful Christmas decorations and the traditional (and collectable) Gluhwein mugs. I have to say, Christmas markets aside, everyone we saw throughout our cruise appeared to abide by the Covid rules, especially with the wearing of the FFP2 mask (more so than the UK), so it was quite a shock to see the protests in Vienna in the news upon our return.
We stayed in a French & Outside Balcony stateroom on board AmaCerto, which gives you the choice between sitting out on the balcony with a table and two chairs, or just opening the French balcony doors for fresh air if it's raining. I had the chance to view other grades of stateroom on board and Suites which offered more space and a larger bathroom, but I was pleasantly surprised with the Fixed Window staterooms as they let in a lot more light in comparison to other river ships I've been on; they had a good size bathroom too.
The ship accommodates 160 guests, although there were just under 40 guests on our cruise, and while that's quite a reduction in numbers, it really didn't impact on the experience. River cruising is quite an intimate experience anyway, and river cruise guests are so friendly and up for enjoying themselves that we felt like we were cruising with family and friends.
The Main Lounge is the hub of activity on board, from welcome drinks and briefings to evening performances and general gathering. AmaCerto has a heated pool, which was a godsend in November, plus a large fitness centre, walking track, wellness programmes, hair Salon and massage room. I treated myself to a full body massage (very welcome after traipsing around Budapest on foot for three days straight!) and it was one of the best I've ever had.
There is always one meal, or one dish, that stands out on any holiday, and our evening at the Chef's Table was a fantastic highlight. This seven-course menu stays the same throughout your voyage and can be altered to cater for any dietary requirements; it's also included in your fare. The venue at the aft of the ship has a variety of different sized tables, and you all watch through the glass kitchen window as the chef plates up each delectable course.
The main restaurant offers continental and American choices for breakfast and locally-inspired menus for lunch and dinner (albeit no buffets in these current times). There's a good selection of dishes to choose from and with AmaWaterways, whilst tea and coffee are included throughout, only beer and wine are included at lunch and dinner, with all other beverages available at an additional cost.
AmaWaterways offered a great selection of excursions on our itinerary, from wine tastings and bike rides to walking tours, hikes and castle visits. We were also treated to an exclusive tour of Klam Castle in the heart of the Wachau Valley by Count Klam himself.
One of the best things about any river cruise is the option to head ashore yourselves, either before or after an excursion (or instead of an excursion), as you're in the very heart of that village or city for an entire day or even overnight. It's easy to walk into town or use one of the onboard bikes to cycle around the destination at your leisure; explore the areas you wish and there's always the option to dine ashore independently too. It's one of the most flexible ways to travel, especially through Europe.
If you've never tried a river cruise before, or aren't sure about which river cruise line to travel with, please do give us a call. It's such a laid-back way to travel, full of opportunity, and allows you to acquire a taste of a destination which you could then revisit for a longer break.
Download our River Cruising Uncovered brochure
Thinking about a river cruise but don't know where to start? Our informative guide is packed full of everything you need to know, including which cruise lines we recommend, what to expect on each river and how to make the most of your trip...