We were able to check out the first yacht online, admire the deck plans and the spacious accommodation, including some unusual duplex suites and extensive residences, all with terraces and magnificent ocean views. A choice of restaurants promised great dining experiences, and the public areas were enticing, as well as the leisurely itineraries through the yachting havens of the world.
The first ship was named Evrima. Originally, there was a plan to follow the vessel's Mediterranean season with Northern Europe and the Great Lakes, which appears to have been quietly dropped. Certainly the beautiful outdoorsy style looked most appropriate for sun-lovers.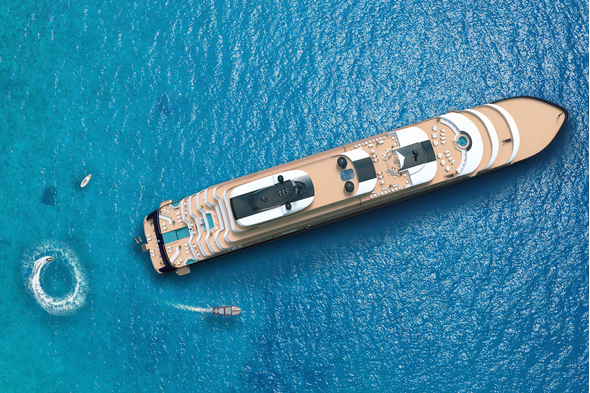 And then the delays started. Of course this is not the only cruise line to have had new-builds delayed, with staffing challenges, supply chain issues and more during the coronavirus years. Ritz-Carlton had additional challenges relating to the Spanish ship yard they had chosen to build their first vessel, which had not completed a vessel of this size and nature before.
The good news is, it looks like Evrima will sail at last in August of this year. More exciting still is the latest announcement that the fleet will be expanded in 2024 and 2025. The next generation of superyachts, Ilma and Luminara, will be constructed in collaboration with world renowned shipyard, Chantiers de l'Atlantique in Saint Nazaire, France, which some will remember as the builder of the great liners Normandie and France, not to mention more recently Queen Mary 2, and indeed Crystal Serenity.
Chantiers de l'Atlantique is one of the oldest and most innovative shipyards in the world, with a gigantic assembly dock and pre-assembly area almost 3,000 feet long, a huge gantry crane that can lift ship sections that are as big as buildings. More interesting still, it will carry out all production and development, including enhanced design and sustainability features, guided by the highest shipbuilding and marine engineering practices.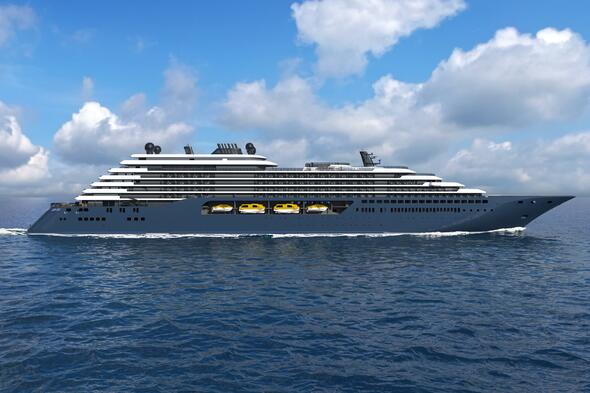 Ritz-Carlton's new ships will feature 228 suites, all with private terraces, including two spacious new upper suite categories of 1,076 square feet. Of course you can also expect extensive public areas such as a range of dining experiences, a wine vault, a Ritz-Carlton Spa and an expanded marina. Excellent service will be offered by nearly one staff member for every guest.
Key also in this day and age is a focus on sustainability, with advanced environmental features and technologies to minimize ecological impact incorporated into the innovative design. Four dual-fuel engines with liquefied natural gas (LNG) as the main fuel source will significantly reduce emissions. There will be advanced water treatment systems, an efficient heat recovery loop, LED lighting, and more.
Reservations for the 2024 season of itineraries will open this autumn. But if you can't wait, take a look at the options currently available on Evrima. From August onwards she will be in the Mediterranean operating 7-9 night itineraries with limited availability, before crossing to Barbados in November for a variety of Caribbean, Panama Canal and Costa Rica options. To Florida in February, and returning to the Mediterranean in April 2023 for another summer season.