Unlike some other luxury vessels, there will not be a 'main' dining room with a choice of alternative options, but a whole variety of restaurants, dining outlets and events to suit your mood; so if you want a great culinary experience, a quick laid-back pit stop, a relaxed evening with friends or a quiet night in, everything is available.
Wine selections will reflect the regional areas where the ship sails, with the sommeliers empowered to source boutique wine labels from local vineyards. As for the cocktails, an exclusive mixology programme has been curated. The signature Ocean State of Mind cocktail, will use gin made with seaweed algae.
Let's take a look at your dining options:
Emporium Marketplace
A very up-market take on the all day buffet, here we will find no fewer than 18 separate cooking stations with cuisines from around the world, to include sushi, fresh seafood and a daily rotisserie, pasta cooked to order, freshly baked pizzas and bread or home-made sandwiches and charcuterie, fromagerie, boulangerie and patisserie stations. This sounds great for grazing, if you are short of time or want to just grab a light snack before going ashore, giving you lots of flexibility. How many times have you come back to the ship, hungry at the very time there is no food available?
Indoor seating: 271 | Outdoor seating: 70
Open for breakfast, lunch and dinner
Sakura
A must for cosmopolitan guests is a Pan-Asian option; named after cherry blossom - the national flower of Japan - Sakura offers Japanese, Thai, Vietnamese, and Malaysian flavours, with a distinctly Japanese take on ritual and design. This is an intimate restaurant, so reservations are recommended and the Sushi Bar is open seating on a first come first served basis.
Indoor seating: 92 | Outdoor seating: 26
Open for lunch and dinner
Marble & Co. Grill
This European steakhouse will focus on excellent quality beef, serving exceptional cuts, personally sourced, sustainably farmed and with an in-house dry ager. As you would expect from a classy European Grill, it is a small restaurant and reservations are recommended.
Indoor seating: 80 | Outdoor seating: 10
Open for dinner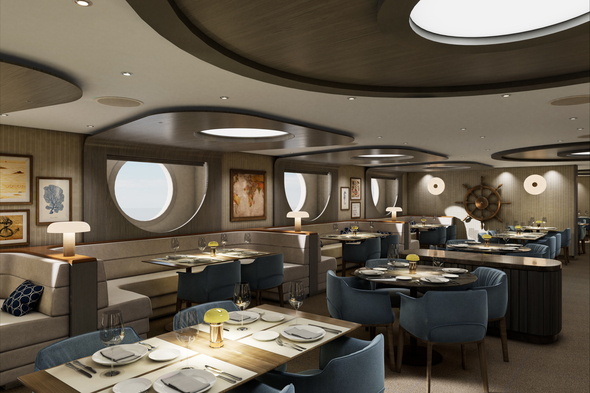 Med Yacht Club
Imagine a sophisticated, but relaxed beachside Mediterranean restaurant influenced by everything you like most about the cuisines of Italy, Spain, Greece, France and North Africa. Menus will include mouth-watering, plant-based and vegetarian options with wholesome ingredients.
Indoor seating: 136 (34 at the bar)
Open for lunch and dinner
Fil Rouge
The 'Fil Rouge' is a common red thread, that unites international flavours with a French influence. This sophisticated and intimate restaurant will offer French-inspired international cuisine and is the sort of restaurant where you take time to appreciate excellent food in an embracing environment.
Indoor seating: 222
Open for breakfast and dinner
Crema Café
The bustling European, all-day café culture comes to the oceans of the world in Crema Café, with unpretentiously, stylish interiors featuring comfortable lounge seating. This is a great meeting place and a perfect venue to grab a coffee and some mouth-watering morsels.
Gelateria & Creperie at The Conservatory
Poolside, but protected from the weather, it's a great place to enjoy French and Italian indulgences.
Open during the day
Explora Lounge indoor/outdoor
This luminous lounge offers spectacular 270-degree views of the ocean, where light meals, snacks and traditional afternoon tea are served, in a perfect light filled and relaxing environment.
In-Suite Dining
An array of cuisines are available at any time, day or night, in the comfort of your suite or private terrace.
Anthology
An Anthology is defined as a collection of selected works of art or music and this restaurant acts as a culinary stage for guest chefs to curate menus showcasing global cuisines, along with unique wine pairings.
Anthology offers menus curated by the world's most celebrated chefs and wine pairings by illustrious winemakers for a one-of-a-kind guest chef experience onboard. Reservations are clearly a must for this exclusive experience, with an additional fee charged.
The first guest chef curating the menu in Anthology restaurant on board Explora I is three-Michelin-star Italian chef Mauro Uliassi who will curate a one-of-a-kind culinary experience for guests onboard Explora I from her inaugural sailing until 25th September 2023. Chef Uliassi - who gained his Michelin stars at his restaurant Uliassi in Senigallia on the Adriatic coast in Italy - and his team will showcase a blend of tradition and modernity in Italian cuisine, reflecting Uliassi's passion for the sea and his deep respect for the environment.
Indoor seating: 48 | Outdoor seating: 22
Open for dinner
Chef's Kitchen
The Chef's Kitchen is a private dining and culinary school, which offers an immersive experience for 12 guests. Culinary experts lead the journey of discovering new ingredients, flavours, textures and cultures, all related to the area in which you are cruising and enhanced by visits to local markets and handpicked producers. The adjacent private dining room is the perfect venue for guests to celebrate their new skills and savour the incredible dishes they created, with great wine pairings.
Indoor seating: 12
An exclusive experience fee applies
Our mouths are watering already, how about you?