The romantically named Tyrrhenian Sea lies between the western coast of Italy and the magical islands of Corsica, Sardinia, and Sicily. Visitors might also get to visit Napoleon's exile island of Elba, cosmopolitan Capri and the volcanic Aeolians.
Rugged and mountainous, Corsica is a French island, birthplace of the emperor Napoleon, full of history and also featuring an extraordinary natural park and stunning scenery. Great for beach holidays and amazing hiking; visitors by ship are likely to be captivated by the ports of Ajaccio, Porto Vecchio and Bonifacio, rich in history and with citadels perched on rocky outcrops.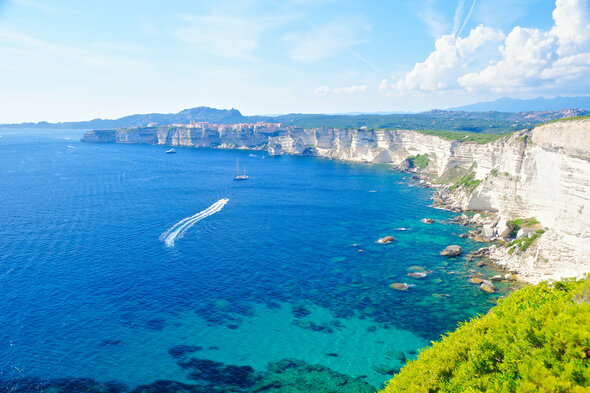 Italian Sardinia boasts beautiful beaches and emerald waters on the aptly named Costa Smeralda, whilst sheer cliffs make for secluded bays. Explore the island further and you will find history and pre-history, as well as mountainous forests and a magnificent choice of excellent food and wine, including delicious white Vermentinos.
Sicily is a historic marvel, due to its position as a crossroads of the Mediterranean, a centre for trade, culture and new ideas. With influences from Africa, Northern Europe, the seafaring nations to the east and more, you will find here a treasure trove mixture of relics dating back over the centuries, all alongside dramatic, volcanic scenery and a joyful local cuisine, all of its own.
On a night-time cruise by the island of Lipari, you might get to see the glowing volcanic peak and then wake up the following morning in the beautiful bay off Sorrento, just a quick hop to jet-set Capri, with its glamorous shops and celebrity visitors.
To the south of Sicily, Malta's strategic position explains its extraordinary history and influences and here you will find traces of prehistoric inhabitants, as well as Phoenicians, Carthaginians, Romans, Arab nations, Byzantines, Normans and more; not to mention the Crown of Aragon and the Knights Hospitaller, who built the influence of this tiny island. Adjacent Gozo is smaller still. Off the coast of Spain you will find the lovely Balearic Islands, the largest being Mallorca, Menorca, Ibiza and Formentera.
Whilst Mallorca is a major holiday destination for travelling Brits and there is some snobbery related to the influence of mass tourism, the fact is that this holiday isle remains stunningly beautiful, with interiors that feel virtually untouched by overseas visitors. And whilst the streets of capital Palma are thronged with visitors through the season, the plus side is extraordinary restaurants, World Heritage Sites, great shopping and a buzz of excitement you will love.
Less visited Menorca is known for great walking, not to mention its Talaoitic culture, a 3,000 year old legacy, with ancient archaeological settlements. Visitors enjoy the UNESCO Biosphere Reserve, preserving this beautiful island, alongside the amazing activities including running, cycling and watersports and of course, the great food!
Ibiza, with its laid back hippy vibe, is known for great night life, fashion and the hippest of beach clubs. But, the island has another story altogether as you get away from the main drag and party vibe to visit sleepy villages, remote beaches and silent pine forests.
So, if you had rejected the idea of the Western Mediterranean, thinking the Greek Islands might have more to offer, remember that as you explore this region you will enjoy amazing history, culture, food and wine, beautiful landscapes, lovely beaches, cosmopolitan elegance, great shopping and the best people watching opportunities ever.