In March 2007, Carnival sold Windstar to Ambassadors International, from which it was bought at auction by Anschutz Corporation and is now run by the Anschutz subsidiary Xanterra Travel Collection, owner of many of the US national parks and hotels, as well as a range of specialist travel companies.
The pretty sailing ships are admired wherever they go - and now they have been joined by three Star Plus Class sleek all suite motor yachts, formerly owned by Seabourn, which under their new ownership have been stretched to their current capacity of 312. Windstar now operate a fleet of six intimate ships sailing the globe in the inimitable Windstar style.
The on board ambience on all six vessels is a laid back relaxed vibe. Windstar guests tend to be independent travellers, full of fun, and very focused on the destination, so they love the in-depth off the beaten track itineraries as far afield as Iceland, Japan, Costa Rica or New Zealand, as well as the opportunity to explore more classic cruise destinations, such as the Mediterranean or Caribbean, with a twist - small ports of call and secluded harbours, inaccessible to larger cruise ships.
Itineraries are designed in such a way that you can combine a series of cruises to create a long voyage of exploration - look out for these, which often represent extraordinary value.
The dress code is unequivocally casual, as are the varied open seating dining options enabling you to eat when and with whom you please, including an al fresco grill and Spanish speciality restaurant Cuadro 44 (motor yachts only). Likewise entertainment is low key and late nights see new friends deep in conversation with a musical duo playing in the background.
One of the most endearing features of Windstar is the charming crew and however cheesy you imagine it is going to be, you cannot miss the extraordinary deck barbecue followed by line dancing, nor indeed the crew show!
A marina at the back of each ship makes for a great time in fine weather, swimming or playing with water toys or simply basking in the sun.
Many small ship aficionados enjoy the all-inclusive pricing of other lines, with all drinks and gratuities included in the fare. On Windstar, you can choose all-inclusive pricing or opt for the pay as you go model, buying drinks as you go along.
Great dining is key, and Windstar is the Official Cruise Line of the James Beard Foundation, America's non profit organisation whose aim is to celebrate, support and elevate the people behind America's food culture and champion a standard of good food anchored in talent, equity and sustainability. As part of this collaboration, Windstar creates themed culinary cruises in conjunction with amazing guest chefs, who for 2023 include D.C.'s Jerome Grant (Filippino Caribbean), New York's Ayesha Nurdjaja (Indonesian Italian) and Boston's Tracy Chang (Spanish Japanese)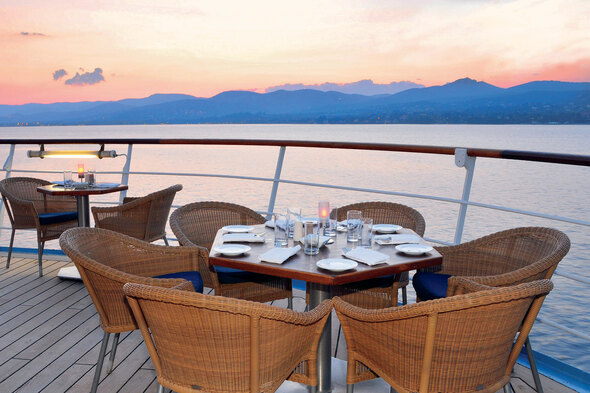 All three themed cruises in 2023 include two on-board cooking demonstrations, as well as four dishes by the JBF visiting chef at a hosted dinner with wine pairings. Each chef also will lead a market tour, gathering fresh and local ingredients for dishes served on board. In addition, all three chefs will provide multiple recipes to be featured on Windstar's menus across all cruises.